The SEC filed two back-to-back lawsuits last week against crypto exchanges Binance and Coinbase for violating U.S. securities laws. As a part of the lawsuits, the regulator went on to declare several tokens as securities. In the Binance case, BNB, BUSD, SOL, ADA, MATIC, FIL, ATOM, SAND, MANA, ALGO, AXS, and COTI were victims. In the Coinbase lawsuit, the SEC specifically deemed SOL, ADA, MATIC, FIL, SAND, AXS, CHZ, FLOW, ICP, NEAR, VGX, DASH, and NEXO to be securities.
Soon after, firms started re-assessing their crypto offerings. In fact, towards the end of last week, Robinhood announced that it will end support for Cardano, Solana, and MATIC by June 27th.
Meanwhile, several foundations have come forward in defense of these tokens. Recently, the Cardano Foundation explicitly disagreed with the SEC's classification of ADA under U.S. laws. Alongside this, the Solana Foundation has also pushed back against the SEC's characterization of SOL as security.
Polygon Labs, however, took a slightly different route and went on to assert that its blockchain was "developed" and "deployed" outside the U.S. Its statement read,
"Given our focus on network security, we made sure MATIC was available to a wide group of persons, but only with actions that did not target the US at any time. The team is confident in the actions they took in the past and underlined that the global community supports the network."
Also Read: Cardano Foundation Disagrees With SEC's 'Security' Claim: ADA Down 27%
Crypto 'SECurities' continue shedding value
CryptoQuant's Head of Research, Julio Moreno, recently took to Twitter to share that most assets that have been branded as securities by the SEC continue to see significant price declines [purple line] when compared to Bitcoin and Ethereum [orange line].
A day back, the assets on the radar were down 28%. However, at press time, the Crypto SECurities Index flashed a reading of merely 68.54, indicating that the loss had further bloated up to 31.46%. Bitcoin and Ethereum, on the other hand, were down by only around 4.92%.

Even though the firms associated with the assets have challenged the regulator's decision, investors seem to be playing safe at the moment. The total number of unique active addresses in stablecoin transactions has increased amid the altcoin market cap decline and the SEC lawsuits. Chalking out what this could possibly mean, a recent CryptoQuant analysis noted,
"The fear sentiment generated by the SEC lawsuits has influenced market participants' behavior and their preference for more stable assets."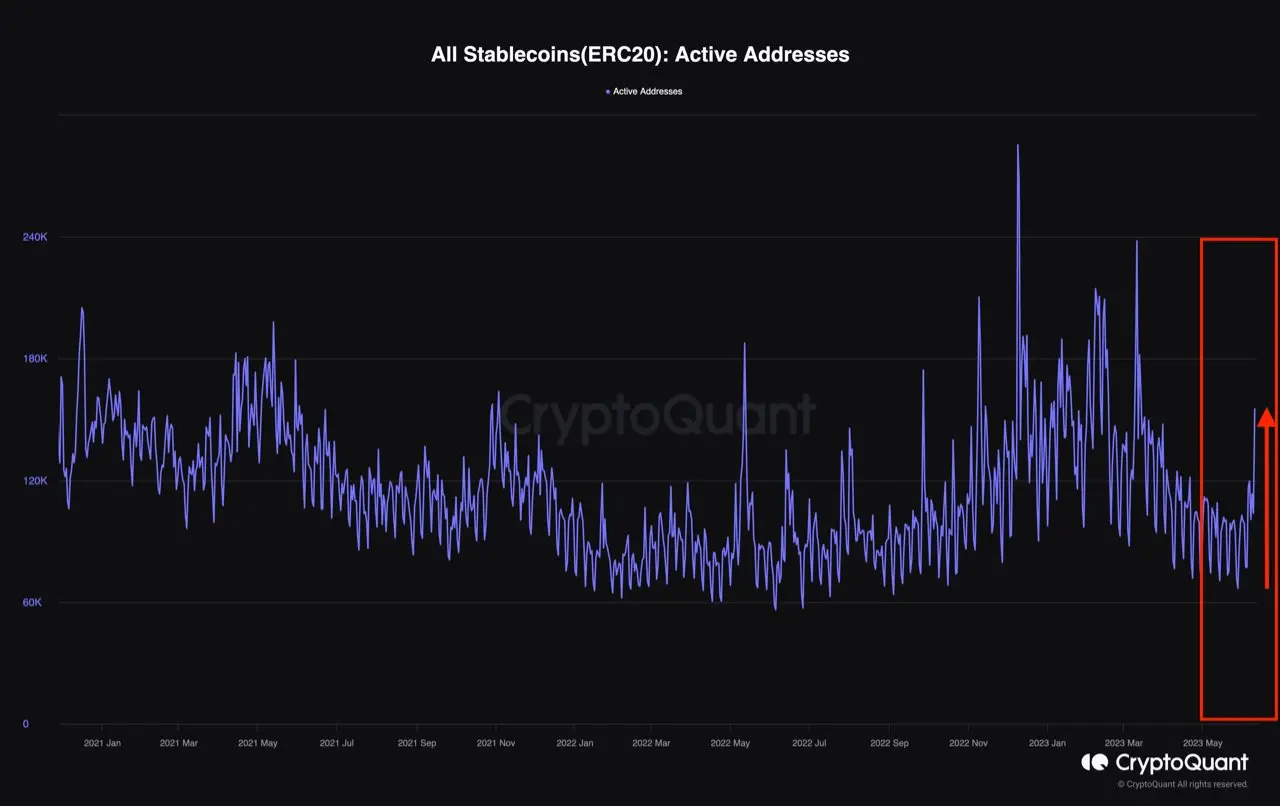 Also Read: Robinhood is 'Reviewing' its Crypto Offerings: SOL, ADA, MATIC on the Radar?