November has been kind to Binance Coin. BNB is currently up by 20% for the month, breaching above its long-term resistance at $600. In doing so, the asset also surged above the $100 billion market cap. However, in a collective fashion, the asset faced a strong correction over the past 24-hours alongside the rest of the market. However, there were a few positives that may allow the asset to recover before other tokens.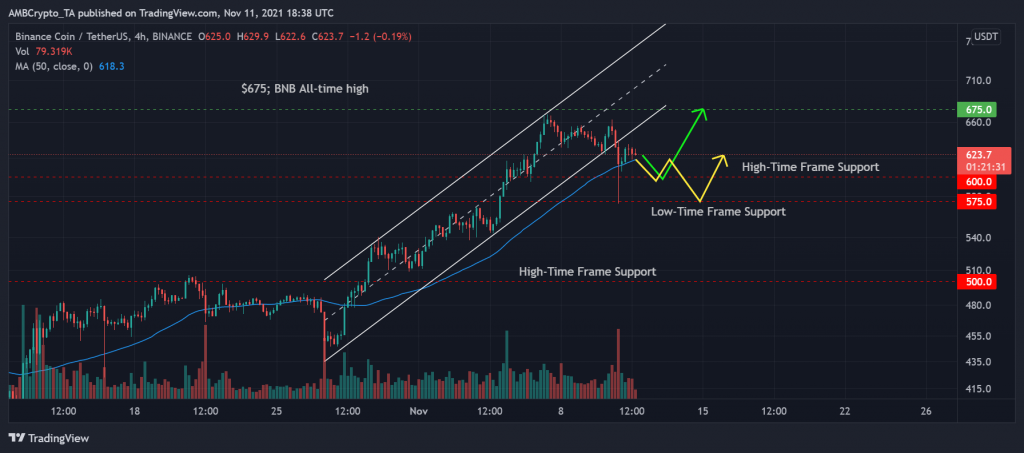 Binance Coin was oscillating within an ascending channel since the end of October. While the pattern leads to a bearish breakout, BNB toppled $600 in the process. However, at press time, the channel was broken as BNB stumbled down to $575. The aforementioned range is low-time frame support but it gets interesting. Although BNB dropped down to $575, it recovered above $600 in the same price candle.
In that process, the asset managed to remain above its 50-period Moving Average(blue line). Now, these signs are strongly bullish but it wasn't over. Over the past few hours, BNB hasn't established any form of upwards momentum. It has consolidated which may swing things in bearish favor. It is also important to note that trading volumes supporting the bearish breakout were highest in the past couple of weeks.
Market Indicator


While market structure suggested bullish hopes, market indicators were completely bearish. Relative Strength Index or RSI was below the 50-mark, which meant that selling pressure was rising. MACD or Moving Average Convergence Divergence suggested strong bearish momentum as well.
Lastly, On-balance volume registered a higher region of accumulation, which may lead to profit-taking by some of the investors.
How to trade this market
In spite of short-term concerns, Binance Coin remains bullish in the long term. However, there is a possibility the asset will re-test $600 one more time before bullish ascendence. Worst case scenario would allow BNB to drop down to $575, which is a strong high-frame frame support.