Binance Coin raised a few questions after two failing two breakout attempts at the 38.2% Fibonacci level. If a third breakout does not materialize, sellers could capitalize on a triple top and force another market correction. At the time of writing, BNB traded at $387, up by 4% over the last 24 hours.
Binance Coin 4-hour Time Frame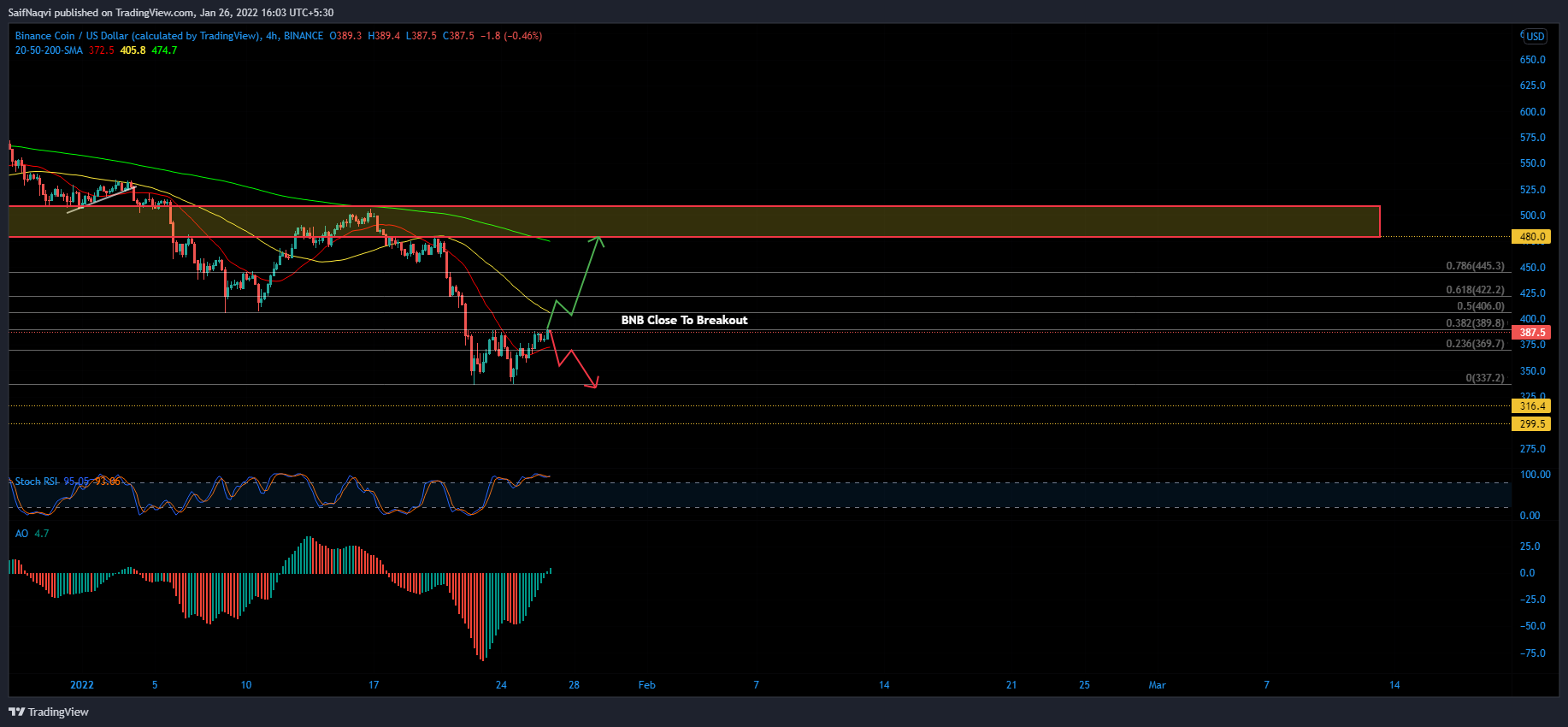 Sellers have halted BNB's recovery after denying two attempted breakouts at the 38.2% Fibonacci level. The resistance area was identified after applying the Fibonacci Retracement tool on BNB's descent from $480 to $337. If a 4-hour candle fails to close above $390, sellers were likely to inflict more damage via a triple top setup – a bearish pattern that is seen prior to a price reversal. The resulting correction would see BNB decline by 13% if the 20-SMA (red) does not trigger any pushbacks.
READ ALSO: Binance Coin Price Prediction: How to profit from this bearish pattern
Conversely, a close above the 38.2% Fibonacci level would carve a path towards $480 but investors should be careful of a bull trap if buy volumes dwindle. The abovementioned correction would still be in play if BNB fails to press above the conjunction of its 50-SMA (yellow) and 50% Fibonacci level.
Indicators
An overbought Stochastic RSI was off-putting for bullish investors. Sellers were likely to respond to such a signal and apply more pressure in the market. Bulls would have to maintain a chain of higher highs to extend the Stochastic RSI deeper into overbought territory.
The Awesome Oscillator opposed such readings by presenting a buy signal through a bullish twin peak setup. The formation is seen prior to a strong wave of upwards pressure.
READ ALSO: Binance CEO is Giving Away A Custom Doge Tesla And $50,000 Worth of Dogecoins
Conclusion
Since BNB's indicators were not in conformity, observers were advised to wait for further developments before trading BNB. A breakout above 38.2% Fibonacci level followed by a spike in volumes would push BNB to $480. However, a 4-hour red candle below $390 would likely extend into another correction.