Binance.US has already been drowning in troubled waters and its problems have now intensified with a lawsuit filed by a California resident against both the exchange and Binance's CEO, Changpeng Zhao [CZ]. The legal action, initiated by Nir Lahav in the Northern California District Court, accuses CZ of using his tweets to contribute to the downfall of FTX.
Within the lawsuit, the California resident claims multiple violations of both federal and California laws related to unfair competition. These violations revolve around Binance's alleged attempts to establish a monopoly within the cryptocurrency market by causing harm to its competitor, FTX.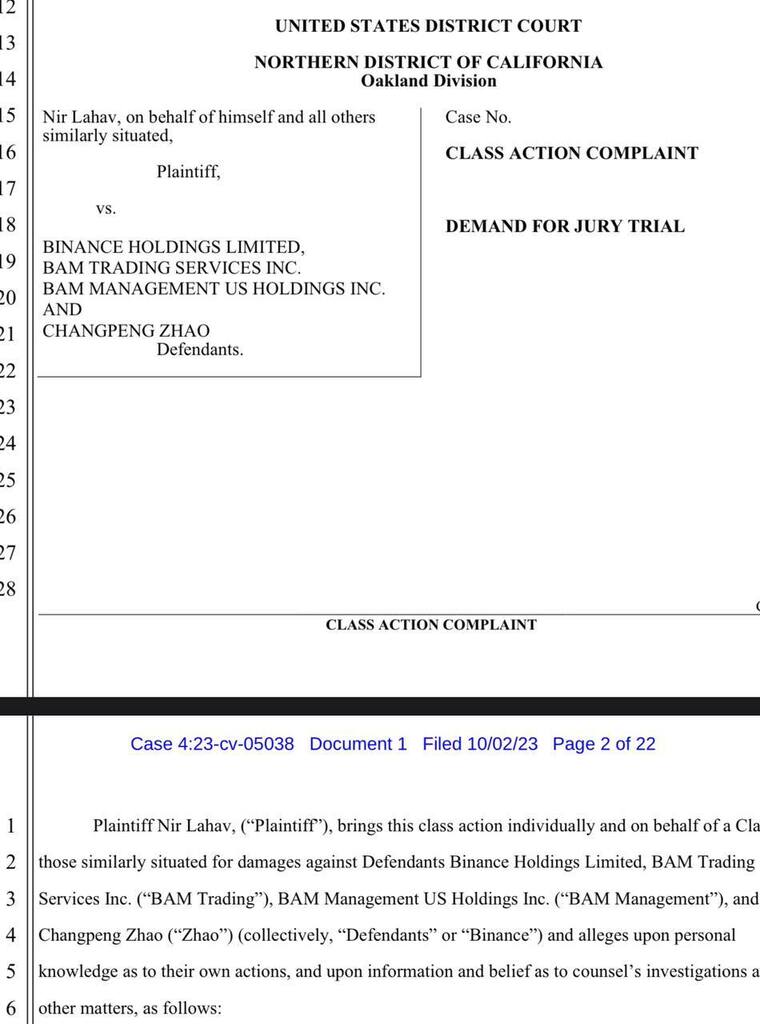 The core of the lawsuit revolves around tweets made by CZ in early November, coinciding with FTX's decline. On Nov. 6, Zhao publicly announced Binance's decision to sell its holdings in FTX's utility token, FTT. The plaintiffs contend that this announcement was not only misleading, but also motivated by malevolent intent. The claim alleges that Binance had already sold its FTT holdings before the tweet and that the announcement was designed to manipulate and lower the market price of FTT. The filing further read,
"Zhao publicly disseminated this information [on the withdrawal of the acquisition offer] on Twitter and other social media platforms to hurt FTX Entities that ultimately lead to a rushed and unprecedented collapse of FTX Entities."
Also Read: Binance Has Lost 50% Market Share to Exchanges In 2023
Was FTX's downfall part of CZ's big plan?
Following Zhao's tweet, there was a significant drop in FTT's price. The asset plummeted from $23.1510 to $3.1468, pushing FTX into financial distress. It further instigated the departure of its executives as well as the board of directors. This was done in disarray and incapable of resolving the crisis.
Considering these elements, the plaintiffs imply that this was a deliberate act. Furthermore, the lawsuit argues that Zhao's actions were not isolated events. It was rather a component of an extensive strategy to bring down FTX.
Additionally, Lahav wasn't the only one under this impression. Prominent American author Michael Lewis appeared on 60 Minutes and said,
"They had a great real business. If no one had cast aspersions on the business, if there hadn't been a run on customers' deposits, they'd still be making tons of money."
Nevertheless, the cryptocurrency community swiftly came to support CZ. Many within the community pointed fingers at the Securities and Exchange Commission [SEC] and its chair, Gary Gensler. Some even went as far as accusing Lewis of receiving funds from FTX in exchange for making the statement mentioned above.
CZ is yet to respond to the lawsuit as well as the allegations made against him and Binance.
Also Read: Paradigm Accuses SEC of "Circumventing Rulemaking" in Binance Case