The cryptocurrency industry has witnessed numerous advancements in recent years, and Binance has been at the forefront of multiple updates. In a recent announcement, the exchange revealed the successful integration of Bitcoin [BTC] on the Lightning Network.
In a blog post released on July 17, Binance announced that its users now have the ability to leverage a layer-2 scaling solution for withdrawing Bitcoin. Moreover, the exchange has allocated Bitcoin deposit addresses specifically for the Lightning Network. As a result, users can now access their Bitcoin deposit address on the Lightning Network through Binance.
The primary objective of the Lightning Network is to enhance the speed and affordability of Bitcoin transactions while eliminating congestion. It is achieved by enabling users to establish off-chain transaction channels.
In May 2023, the Changpeng Zhao-led exchange provided hints about the upcoming integration. The exchange temporarily halted Bitcoin withdrawals due to the significant volume surge resulting from heightened interest in Ordinals inscriptions. After successfully resolving the issue, the exchange stated,
"To prevent a similar recurrence in the future, our fees have been adjusted. We will continue to monitor on-chain activity and adjust accordingly if needed. Our team has also been working on enabling BTC Lightning Network withdrawals, which will help in such situations."
Shortly after, users noticed Binance's Lightning nodes, the exchange officially confirmed on June 20, that it is actively working towards onboarding the Lightning Network.
Also Read: Binance To Enable Bitcoin Lightning Network Withdrawals
Can Binance boost Bitcoin's lightning capacity?
Bitcoin Lightning Capacity illustrates the collective capacity held by all nodes operating on the Lightning Network. It offers a comprehensive view of the overall capacity that is accessible within the network.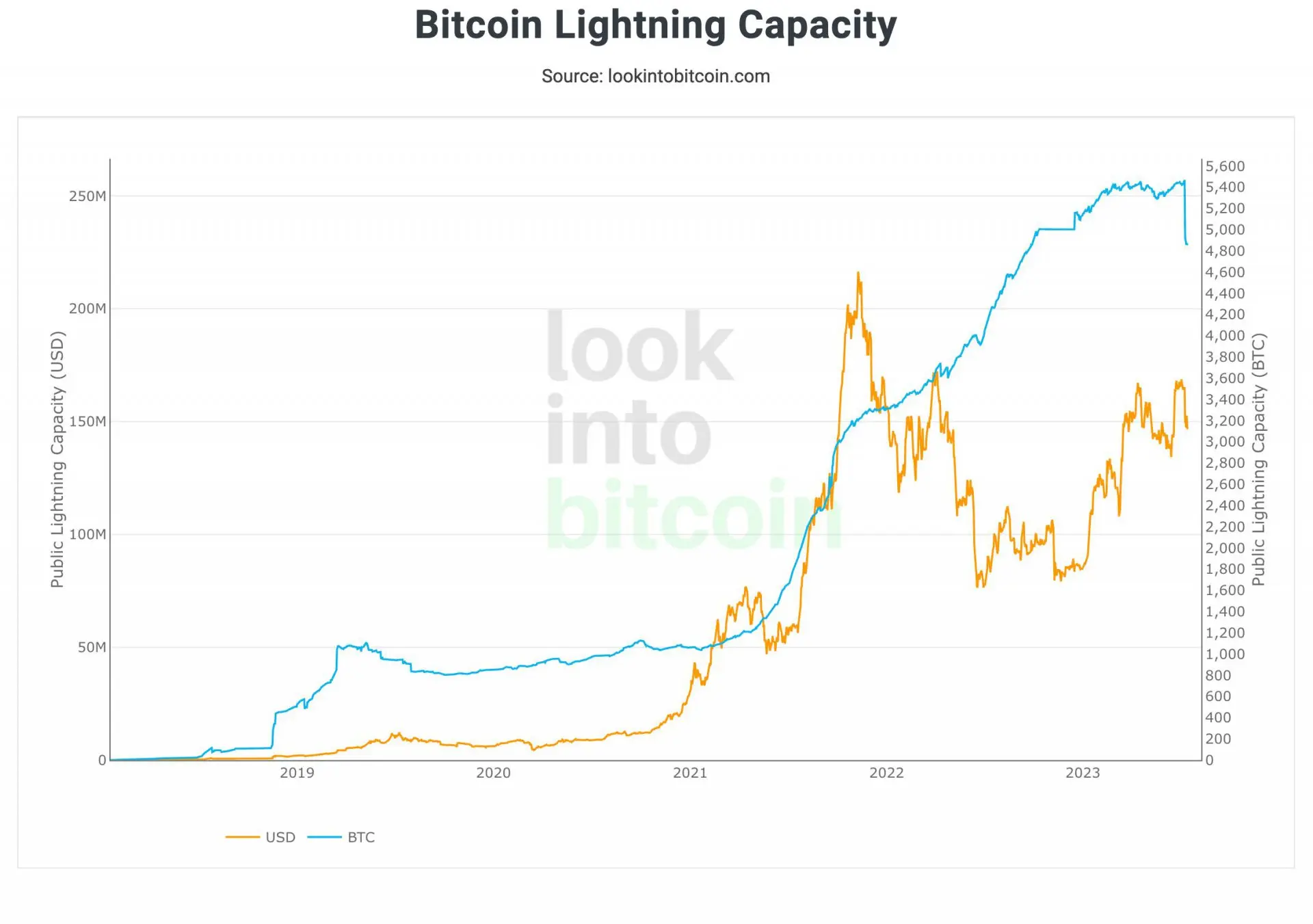 The chart reveals consistent BTC's lightning capacity growth over the past few years. However, this trend experienced a temporary disruption in the recent month. With Binance entering the Lightning Network space, it is expected that the total amount of Bitcoin held by nodes on the Lightning Network will significantly increase, leading to a spike in capacity. Amidst this, Bitcoin was trading for $30,315, at press time, with a 0.39% daily rise.
Also Read: Bitcoin Trails Behind Ethereum, Algorand in Daily Transactions