The dynamics of the crypto-verse keep shifting. Although numerous new assets have emerged, Bitcoin [BTC] has maintained its position as the top cryptocurrency in terms of value. While its position remains unchallenged, the network activity of other assets has been gaining momentum and showing signs of strength.
Despite Ethereum [ETH] being significantly lower than Bitcoin in terms of price and market capitalization, the ETH network appears to be significantly more active compared to Bitcoin. This is evident from the spike in daily transactions on the Ethereum network. According to data provided by IntoTheBlock, Ethereum recorded about 944.5K daily transactions over a 30-day period, whereas Bitcoin processed a considerably lower number of transactions at only 507.5K.
Furthermore, Ethereum is not the sole network that has surpassed Bitcoin in transaction volume. The Algorand network recorded an impressive 540.9K daily transactions, once again surpassing Bitcoin's transaction count. This development is surprising considering the recent dip in ALGO's price. The asset has experienced a decline of more than 10.54% over the past seven days.
Also Read: Bitcoin: Rising Outflows & Institutions Is Setting a Bullish Path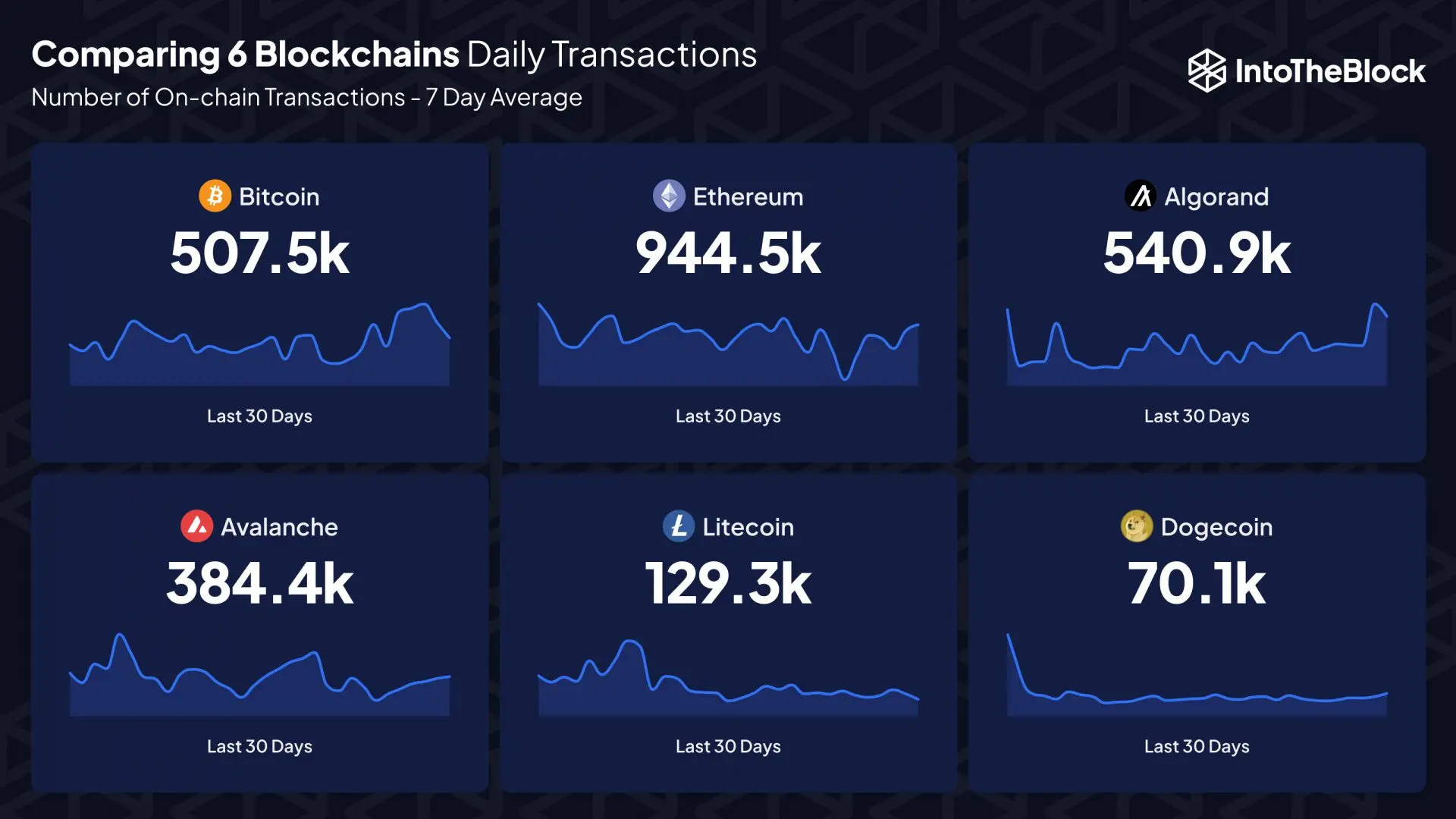 As seen in the above image, Avalanche [AVAX] and Litecoin [LTC] demonstrated significant transaction activity. The Avalanche network successfully handled a cumulative total of 384.4K transactions. Litecoin stood out prominently due to the growing excitement surrounding its upcoming halving event. The crypto network recorded approximately 129.3K transactions. The disparity between Bitcoin, Ethereum, Algorand, and these networks is quite high.
Also Read: Litecoin Halving 'Hype' Fails to Rally Price Despite High Interest
Dogecoin fails to rake in network activity
Meme coins have gained significant popularity within the crypto industry, occasionally even surpassing the likes of Bitcoin and Ethereum in terms of public interest. Nonetheless, Dogecoin [DOGE] did not manage to make a notable impact on this occasion. The network of this meme coin registered a modest number of transactions, totaling just 70.1K over the past month. It should be noted that DOGE recorded an uptrend of 6.23% throughout the month.
These above-seen data highlight the ever-changing nature of the crypto ecosystem. However, the future remains uncertain in terms of how these networks will adapt to the industry.
Also Read: Dogecoin: Miners Add Millions of DOGE to Reserves, What Now?