Amidst a plethora of newly launched crypto assets, Litecoin [LTC] has experienced a resurgence in popularity in 2023. Despite the introduction of MimbleWimble, which did not have a significant impact on the altcoin's price, the upcoming halving event has created a significant buzz. As the halving event approaches in less than a month, excitement and interest surrounding the Litecoin network have been steadily increasing.
Newly released data from IntoTheBlock indicated that search interest in Litecoin has reached its highest point in the past year. Various media discussions highlighted the upcoming halving event as a primary catalyst for this increased interest.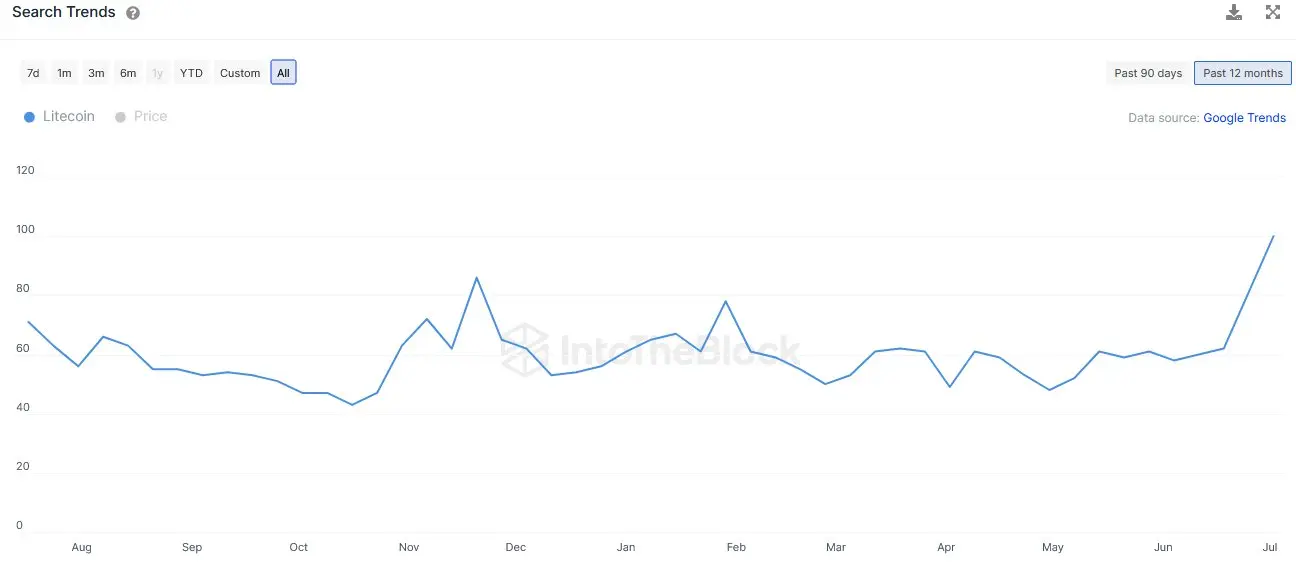 Although there has been a notable surge in popularity, the price movement of the altcoin has been lackluster. At press time, Litecoin was trading at a low price of $96.95, experiencing a daily decrease of 0.57%. It is worth mentioning that the asset has declined by more than 7% in the past few days. It appears that there hasn't been a significant market activity, as the daily trading volume of LTC has decreased by 30%.
Given the present trajectory of LTC's price, heightened volatility may not bode well for the altcoin. Nonetheless, the asset's volatility has experienced a significant surge this month, currently standing at 1.14.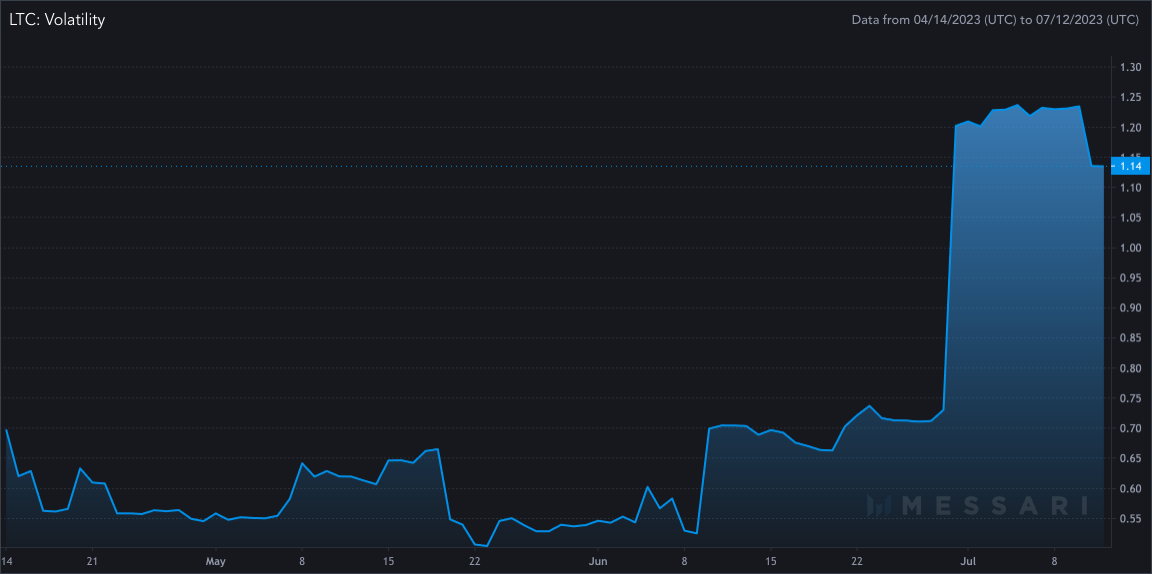 Also Read: Litecoin Rallies 22% But Is a Correction Incoming?
Litecoin's network activity remains strong
According to Messari, Litecoin ranked fourth in terms of on-chain activity. Despite facing price reductions, LTC managed to secure a place in the top five alongside Cardano [ADA], Bitcoin [BTC], and Ethereum [ETH] occupying the first three positions. The network exhibited a transaction volume of $1.05 billion and had 215,628 active addresses, which likely contributed to its inclusion among the top performers.
Furthermore, Litecoin payments processed through BitPay exceeded those of Bitcoin. In June, the percentage of payments conducted in LTC reached 34.9%, surpassing Bitcoin's share of 34.06%. Ethereum held the third position with a share of 9.56%. This development further emphasizes the increased popularity of LTC resulting from the halving event.
Also Read: Litecoin: Pre-Halving Period Witnesses a Rise in 'Millionaires'