With the upcoming halving scheduled to take place next month, Litecoin [LTC] has regained relevance in the crypto market. On August 2, the block rewards for LTC will be reduced by half, decreasing from 12.5 to 6.25 LTC. This event has spiked significant interest from investors. The heightened popularity is evident through the increasing price and market capitalization of Litecoin.
LTC, commonly referred to as 'digital silver' soared to a high of $113.91 earlier this week. At press time, however, the asset was trading for $104.77 with a 0.44% daily drop. This follows the overall correction that the market encountered. Nevertheless, it is worth noting that LTC registered a weekly growth of 25%. Consequently, the market cap of LTC also pushed the asset back into the top-10 rankings. Currently, Litecoin's market cap stands at $7.64 billion.
The upward momentum in LTC is undoubtedly advantageous for LTC holders who have shown patience. As a result, the percentage of holders in profit has surged to 69%, while only 25% of holders are currently facing losses. Simultaneously, Litecoin's millionaire addresses also recorded an increase.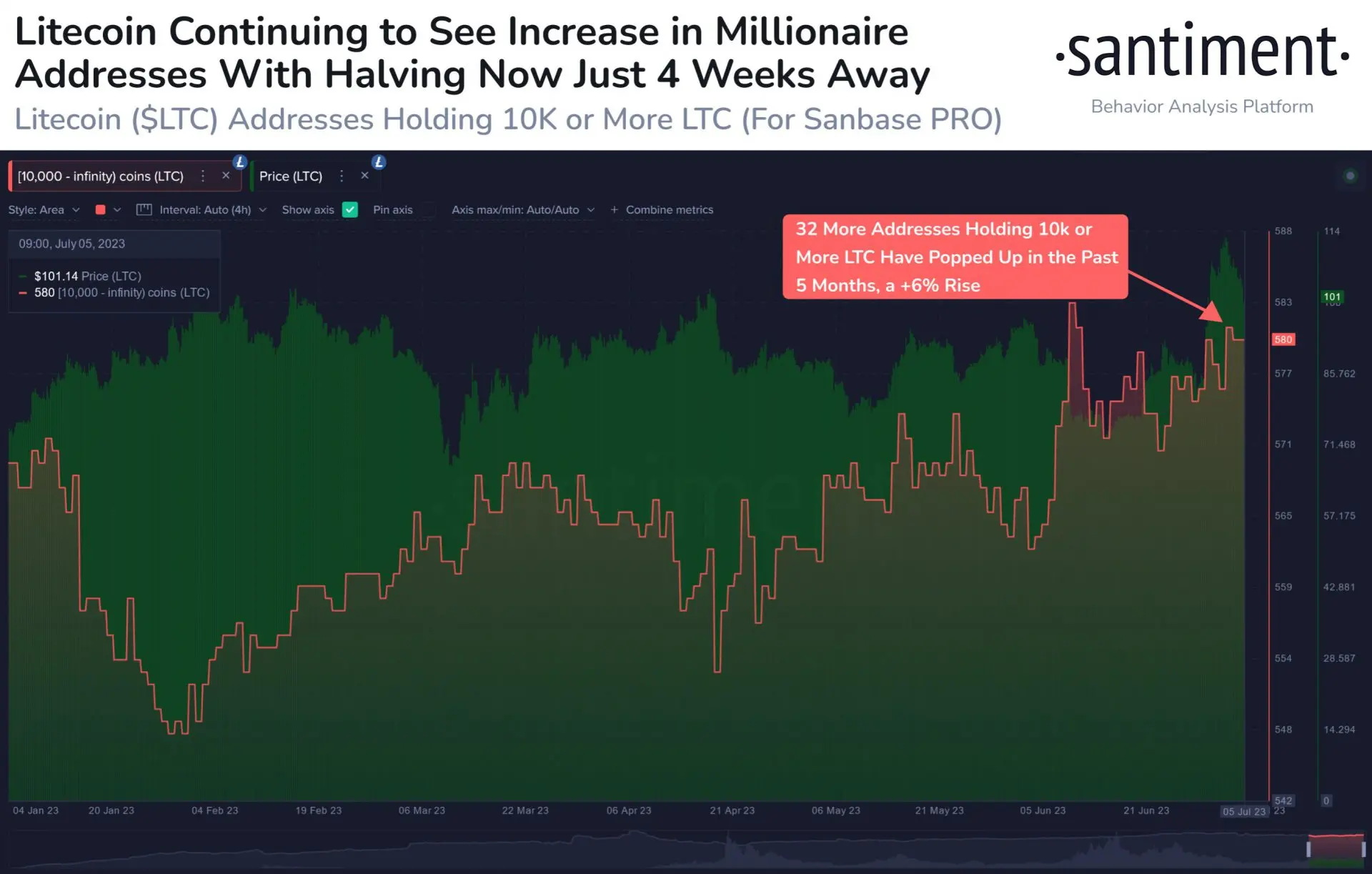 In the past five months, a remarkable increase of 6% has been observed in the number of addresses holding 10,000 or more LTC, with an impressive total of 32 such addresses emerging. In addition to this rise, long-term holders of LTC have reaped the rewards. Data from IntoTheBlock highlighted that approximately 13% of all LTC in circulation has remained untouched for over five years, indicating an average holding time of 2.1 years for LTC. However, it should be noted that this could be lost coins as well.
Also Read: Litecoin Price Prediction: Can LTC Reach $1000 in 2023?
Miners prepare for the halving
This halving seemed to be the most bullish event so far for the Litecoin network. Leading up to the halving event LTC miners, have adopted a bullish outlook. On-chain data indicated that these miners have been actively accumulating LTC since the beginning of June.

The above chart demonstrated that LTC miners have augmented their reserves by acquiring an additional 270,000 coins within the period from June 1 to July 4.
Will a bigger correction disrupt Litecoin's hot streak?
Amidst this hot streak, a potential hurdle could be detrimental for the altcoin. According to crypto analyst, Ali Martinez, the current 30-day MVRV Market Value to Realized Value [MVRV] for LTC stands at about 35%. The analyst highlighted that historical patterns indicate that MVRV levels above 30% have often preceded significant price corrections. Ali suggested that LTC might potentially experience a correction ranging from 30% to 40%. Despite concerns surrounding the LTC network, historical data conveys that pre-halving rallies for LTC are imminent.
Also Read: Litecoin Rallies 22% But Is a Correction Incoming?