Ethereum's Shanghai upgrade just went live a few hours back. It was triggered around 22:27 UTC, and finalized by 22:42 UTC. The upgrade has now officially opened the doors for stake Ether withdrawals. Data from beaconcha.in revealed that around 30 minutes post the upgrade was activated, about 285 withdrawals involving roughly 5,413 ETH worth $10 million were processed. At press time, around 783.95k Ethereum tokens worth $150 billion were pending withdrawal.
Also Read: Users are Leaving Ethereum and Joining Binance Smart Chain: Why?
Staked Ether withdrawals on Binance to open next week
The world's largest crypto exchange by volume, Binance, announced on Thursday, April 13, that users who staked ETH via its exchange could start redeeming them with their BETH holdings on a 1:1 basis. That option, however, is not available currently and will open only next week, on April 19 at 08:00 UTC.
Also Read: Are Ethereum Traders 'Hesitant' Ahead of Shanghai Upgrade?
Requests could take "15 days to several weeks" to fully process
Due to the processing limitations on the Ethereum network, Binance's announcement noted that ETH withdrawal requests may take up to "15 days to several weeks" to be fully processed. Furthermore, owing to the processing limitations on the Ethereum network, Binance will set a daily ETH redemption "quota" for each user that will be subject to changes. Additionally, Binance's announcement cautioned stakers and said,
"Users cannot cancel their ETH withdrawal requests after submission."
Once withdrawal requests are fully processed, the redeemed ETH will be returned to users' spot wallets. That said, it should be noted that the BETH tokens locked in pending ETH withdrawal requests will 'not' generate any ETH 2.0 staking rewards.
The Shanghai upgrade turned out to be a non-event, for ETH's price did not pump.
At press time, it was up by merely 0.1% over the past 4-hours and was trading at $1924.5.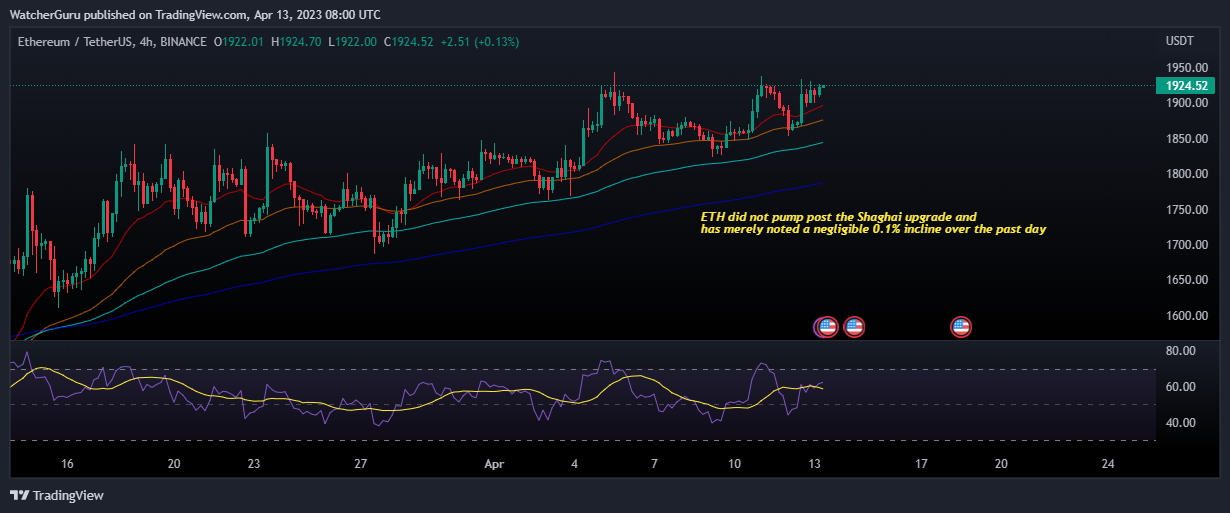 Also Read: MicroStrategy's Bitcoin Stake 'in Profit' Finally: Investors Add Ethereum, XRP