During the bear market of 2022, Binance, the world's largest crypto exchange, attracted significant attention. Amid widespread layoffs across numerous firms, Binance reassured its employees of job security. However, as the market gradually rebounded, the exchange proceeded to terminate approximately 1,000 individuals, which received substantial criticism from various quarters. In light of this mass layoff, a Binance spokesperson said,
"As we prepare for the next major bull cycle, it has become clear that we need to focus on talent density across the organization to ensure we remain nimble and dynamic. This is not a case of rightsizing, but rather, re-evaluating whether we have the right talent and expertise in critical roles."
Nonetheless, as per a series of tweets by Adam Cochran from Cinneamhain Ventures, it was revealed that Binance had been implementing measures to reduce costs. Cochran shared an internal email from the exchange, suggesting that the true motivations behind the layoffs, which Binance's CEO Changpeng Zhao had attributed to talent acquisition, were different.
As seen in the image below, Binance announced the termination of a series of employee benefits. The email revealed that this was due to the "current market environment and regulatory climate that has unfortunately led to a decline in profit."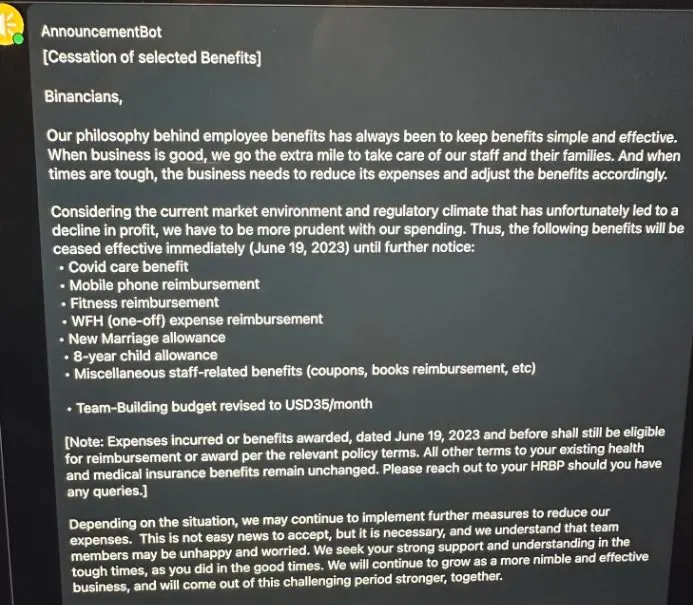 Binance announced its intention to reduce extended benefits. This included mobile phone reimbursement and an allowance for children up to the age of 8. The company also stated that it may implement additional measures in the future to further cut expenses.
Binance's controversial layoffs
The recent wave of layoffs at Binance was linked to the ongoing investigations by the U.S. Department of Justice and the lawsuits from the Securities and Exchange Commission. However, Cochran further indicated that if that were the case, the company should have downsized its workforce specifically in affected jurisdictions. Contrary to that expectation, a significant number of employees from various locations worldwide were let go. The cuts had a significant impact on customer-service workers, causing global ramifications. As a result, around thirty-six customer-service jobs in India were removed.
Also Read: Will the US Govt Cause Bitcoin Price Volatility Post 'Binance Move'?
Binance's Advancements Show Ongoing Progress
The exchange's attention appears to have shifted towards development. Earlier today, an announcement was made regarding the integration of the Bitcoin Lightning Network. Additionally, a new feature was introduced that allows users to acquire multiple deposit addresses on a single network. This development could be advantageous for "airdrop hunters". It enhances user privacy safeguards, a feature that has previously been introduced on other CEXs.
Also Read: Binance Officially Integrates Bitcoin Lightning Network