Several cross-chain bridges witnessed ruthless attacks this year. While some managed to recover these funds a few other networks had to forget about the whole recovery process. Sadly, the world's largest crypto exchange's blockchain, BNB Chain went on to endure a major attack that cost Binance $100 million. This further forced the exchange to halt any activity pertaining to the BNB Chain. Now, reports confirmed that the BSC chain has resumed services.
The BNB Chain was halted on Friday right after the exploit. Once again, around 6:40 UTC Binance resumed operations. This was reportedly done after chain validators managed to update their software which enabled the closure of the exploit employed by the hacker.
The steps involved in the upgrade were limited to downloading the binary, stopping the node if it's still running, replacing the old binary with the new one, and finally restarting the node with a new binary.
BNB Chain further tweeted,
"The validators are confirming their status and the community infrastructure are upgrading as well."
The loss surrounding the attack was initially estimated to be around $100 million. However, the network managed to freeze about $7 million of these funds. This was mostly due to Binance's internal and external security partners.
Node service providers were also lauded for their "quick and attentive response." The list included Hash, Neptune, TW Staking, BSCScan, Legend, CertiK, Figment, NodeReal, Namelix, Defibit, Fuji, InfStones, MathWallet, Pexmons, Ankr, BNB48 Club, Avengers, Tranchess, as well as Coinbase Cloud.
It should be noted that an array of blacklist addresses were barred from making further transactions following the exploit.
Here's how Binance's native asset has been faring
While most assets in the market witnessed limited volatility, BNB recorded a slight plummet. At press time, BNB was trading for $285.22 with a 3.32 percent drop over the last 24 hours.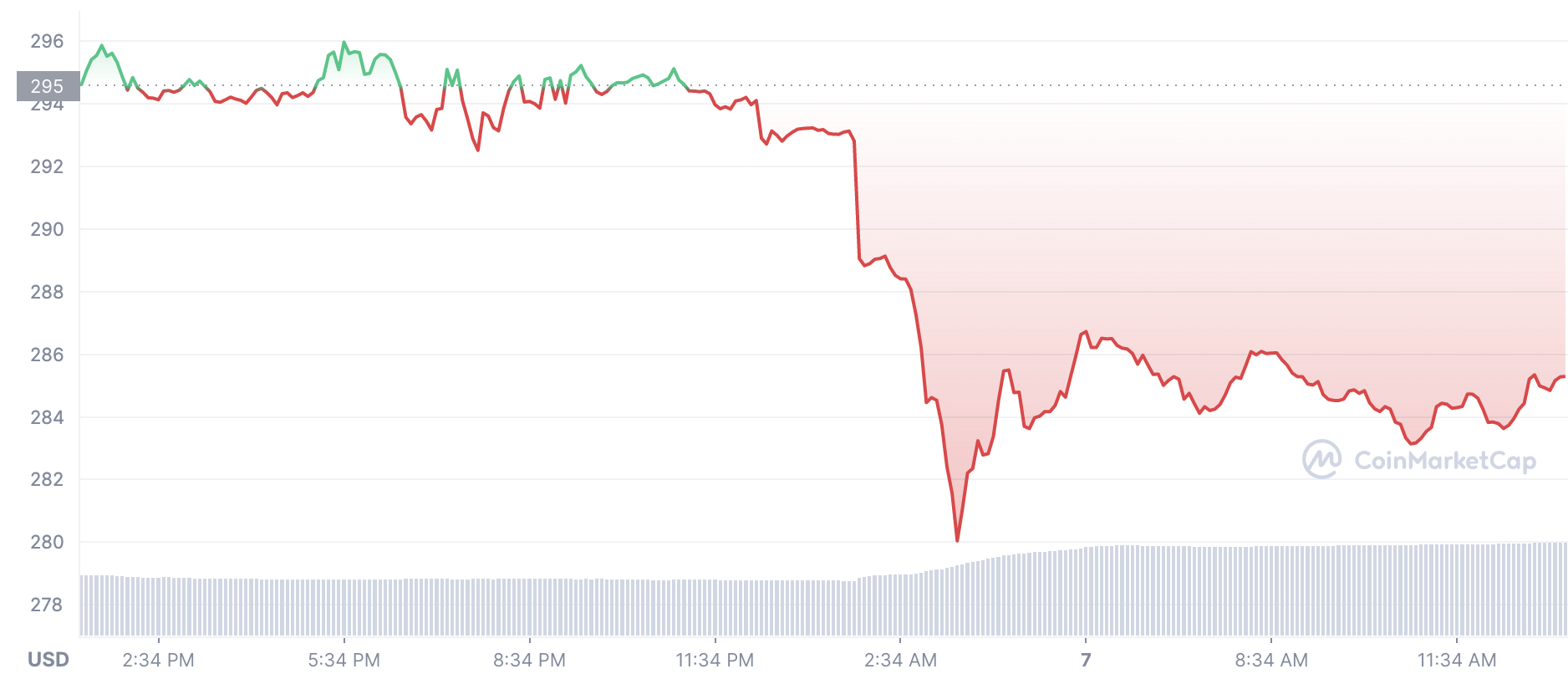 As seen in the above chart, BNB dipped from a high of $296 to a low of $279.80.