The crypto-verse started out with just one currency. However now, the market is home to thousands of digital assets. It becomes quite a task for exchanges to list legit ones. Exchanges continue to get a plethora of tweets and comments from different communities for the same. Binance, one of the world's largest crypto exchanges is a popular choice for cryptocurrencies. Having to deal with increased spam, the CEO of the firm Changpeng Zhao aka CZ rolled out a blog highlighting listing tips. However, things took a different turn.
Prominent meme crypto network, BabyDoge Coin has been urging Binance to onboard the cryptocurrency for the longest time. The BabyDoge community has been trying their luck through Twitter by posting multiple reasons why the asset deserved to be a part of Binance. However, all its efforts went unnoticed. But when CZ finally did take notice of the asset, it wasn't in the best way.
CZ's listing tips entailed an array of things from filling out applications to updating project progress. However, one thing that CZ highlighted was "Tip: spamming in my tweet comments don't help, may even deduct points." To which one Twitter user commented, "1000000 points deducted for #babydoge team right here."
The Binance CEO not only seconded this but also went on to categorize the BabyDoge network as bots. The network was visibly displeased with CZ's comment and tweeted,
Despite being fairly new, BabyDoge managed to emerge as one of the "biggest dogs on BSC." Yet, Binance seemed to be hesitant about listing the meme coin.
BabyDoge is not interested in Binance anymore?
The BabyDoge community was definitely offended by CZ's latest comment. Several told CZ that they were real investors of the cryptocurrency and not bots. One Twitter user wrote,
"@cz_binance we never expected from u at least 😑 u think our community is bot? If Elon tweets Doge u immediately post doge for a few days, why? We are working hard day in and day out not for this. I appreciate u take ur words back. we will prove we are the best and #Binance will need us"
With the hashtag "byebyeBinance" another user shared this image.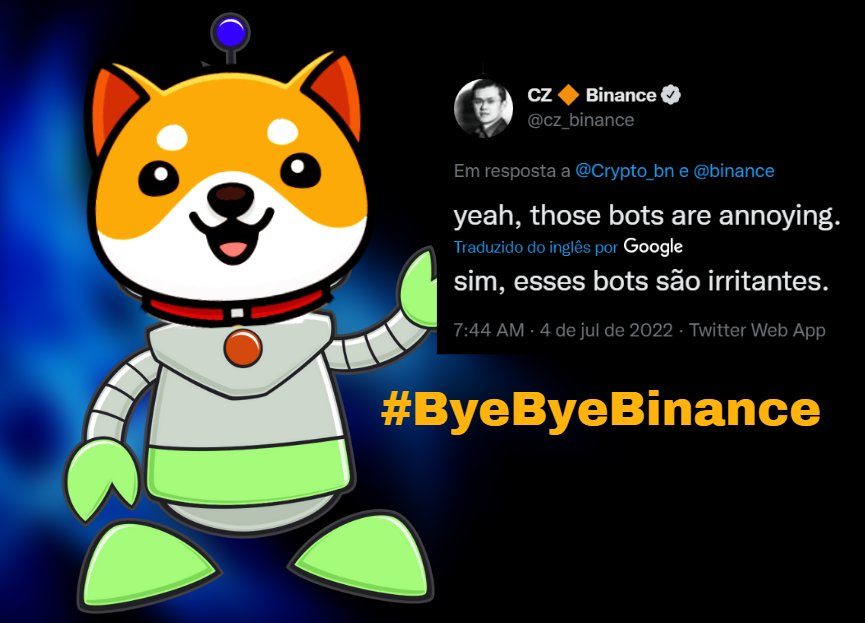 While CZ's tweet pointed out how Binance wasn't very sure of listing BabyDoge yet, the community seemed to be losing interest in the same.
Additionally, at press time BabyDoge was trading for $0.000000001488 with a 5 percent daily surge.