Changpeng Zhao's cryptocurrency exchange, Binance has been in a lot of trouble lately. Regulators from across the globe have been exerting increased scrutiny. The exchange kicked off this week by canceling its UK registration. Amidst this, several concerns pertaining to its physical office in the region were making the rounds.
The recent revelation that Binance's UK address is a nondescript garage building in the small town of Mildenhall, Suffolk has raised concerns about the exchange's physical presence and transparency in the country. This shared address with thousands of other companies has sparked questions about Binance's operations and compliance practices, particularly as regulatory scrutiny around the world continues to intensify.
A post on the r/buttcoin subreddit on June 19 shed light on the registered office address of Binance Ltd. This was located in a shared space known as OfficeServ in Mildenhall. This address, often referred to as a "utility closet," belongs to a virtual registered address service provider. This offers legitimate business locations for various companies. While the use of shared addresses like this, is not unusual in the tech industry and among large corporations, Binance's move has caught the public eye.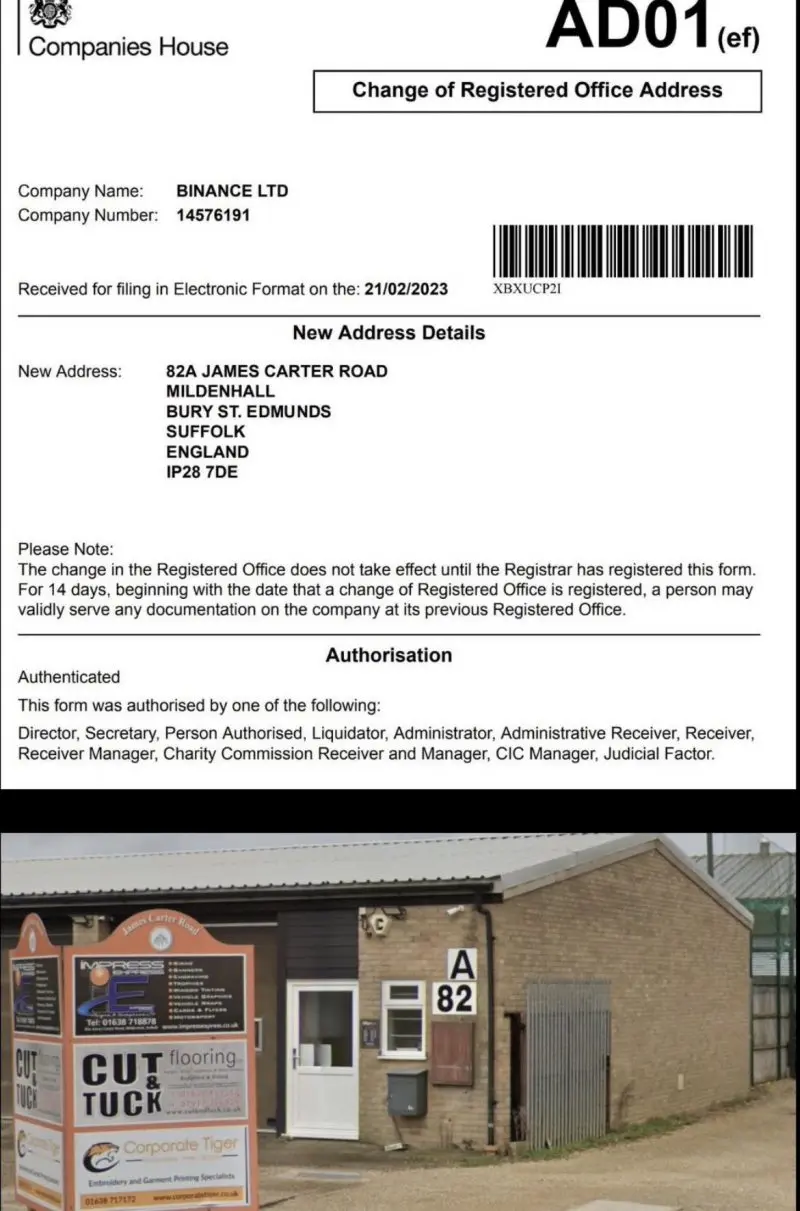 According to Companies House, the official register of companies in the UK, Binance Ltd shares its address with an astonishing 2,403 active companies. This discovery has prompted inquiries regarding the actual physical presence of Binance at that address and the extent of its operations from that location.
Furthermore, Companies House noted that Binance Ltd is registered to offer "other service activities not elsewhere classified." It is worth noting that, Binance has approximately six entities in the United Kingdom. Each of these is registered at different addresses and engaged in providing IT and financial services.
Is this the end of Binance's UK venture?
Over the last couple of weeks, Binance has been withdrawing from a number of regions. After biding adieu to the Netherlands, the exchange was exiting the UK market as well. Binance canceled its registration with the Financial Conduct Authority [FCA].
Despite the above-mentioned physical presence, the exchange noted that the deregistration would not have an operational impact. This is due to its claim that it has never done business in the UK.