Binance's U.K. subsidiary, Binance Markets Limited [BML], is no longer authorized to cater to clients, according to the Financial Conduct Authority. As stated on the regulator's website, "the firm can no longer provide regulated activities and products."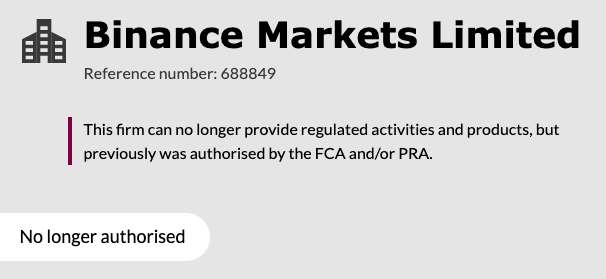 Also Read: Binance Under Investigation in France for Alleged Money Laundering
According to reports, the exchange has officially deregistered in the U.K. An update from the FCA clarified that Binance recently submitted the cancellation request for its FCA permissions. The same was green-flagged last month. Specifically, the statement noted,
"Binance Markets Limited has recently submitted a cancellation request of their FCA permissions which was completed on 30 May 2023. Following the completion of the cancellation of permissions, the firm is no longer authorized by the FCA. No other entity in the Binance Group holds any form of UK authorization or registration to conduct regulated business in the UK."
Binance has been in a fix of late. At the beginning of this month, the U.S. SEC initiated legal action against the exchange for alleged securities law violations. In addition to the ongoing aforementioned challenge, Binance encountered another obstacle in the Netherlands. As reported last week, the exchange will be exiting the Dutch market, after not being able to secure a VASP license.
Also Read: Netherlands 'Dismiss' Binance's Licence Application
Binance's U.K. Arm Has Remained Dormant Since Acquisition: Executive
However, it is essential to note that the latest U.K. development might not necessarily hurt the exchange. Binance's Sub-Regional Manager for Growth in the U.K. and Europe, Ilir Laro, underlined that the cancellation of BML's registration "did not have an operational impact." BML was a non-operational entity and reportedly never conducted any business, per se. Laro said,
"BML was successfully acquired back in 2020 by Binance Group, intended to launch a regulated business in the UK. This attempt was not successful, however, and has since then remained dormant since its acquisition."
He added,
"To clarify, BML has never conducted any type of regulated business in the UK. In keeping with the FCA's firm's guidance on canceling unused FCA permissions, BML is now no longer authorized by the FCA."
A day back, Laro took to Twitter to address the latest FUD doing the rounds. He said that in Europe, the company already has 5 regulated entities in France, Italy, Spain, Poland, and Sweden. As MiCA kicked into force in the coming months, Binance is "getting ready." This will require "some consolidating in order to passport throughout Europe," he said.