The excitement surrounding Bitcoin exchange-traded funds [ETFs] remains undiminished, despite their persistent delays. On the contrary, approval of these applications has sparked a surge in bullish wagers. CryptoQuant, a data analytics company, has more recently disclosed that if Bitcoin spot ETFs receive approval, BTC could become a $900 billion asset. Along with this, the overall cryptocurrency market could expand by $1 trillion.
Presently, Bitcoin holds a market capitalization of $557 billion, with the leading cryptocurrency trading at $28,582.96. The total market capitalization currently stands at $1.09 trillion. The addition of another $1 trillion could potentially push it to the $2 trillion mark.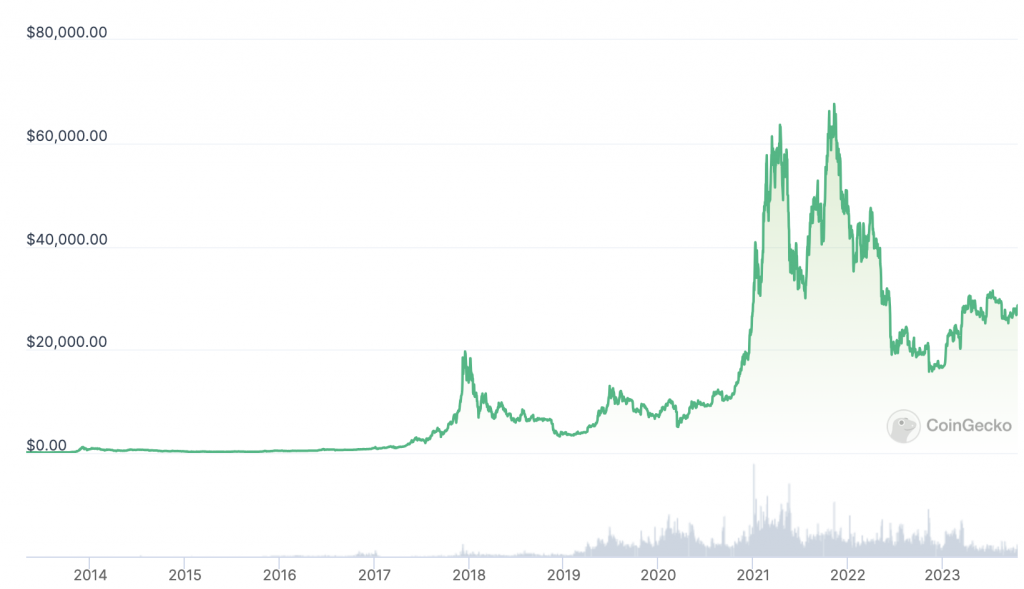 In this context, CryptoQuant is actively considering that the institutional adoption seen in 2020–2021 resulted from institutions incorporating BTC into their balance sheets. The firm envisions that the upcoming trend might involve financial institutions granting their clients access to BTC through spot ETFs.
CryptoQuant suggests that if the entities seeking approval to list Bitcoin ETFs allocate 1% of their Assets Under Management [AUM] to these ETFs, it could introduce around $155 billion into the BTC market. This would account for nearly one-third of Bitcoin's existing market capitalization. In the event of such a development, it could theoretically drive Bitcoin's price to a range between $50,000 and $73,000.
Earlier this week, a false report claiming that BlackRock's application had received approval caused a nearly 10% surge in the price of BTC. Consequently, the aforementioned forecast doesn't seem entirely unattainable.
Also Read: Fake BlackRock Bitcoin ETF Report Triggers $65M BTC Liquidation
Bitcoin Spot ETF Approval: How Near or Far is the Crypto Market?
Numerous prominent financial institutions have submitted applications to introduce Bitcoin ETFs based on the spot market in the United States. Approvals for these ETFs are anticipated, with the latest expected date being March 2024. However, several conjectures regarding their approval have been surfacing. For instance, cryptocurrency analyst Miles Deutscher has disclosed a high likelihood of a Bitcoin spot ETF receiving approval in the coming 85 days.
Also Read: BlackRock: Spot Bitcoin ETF Application Still Under Review by SEC