If one word summed up the state of the market, then "mundane" would be perfect. With volatility hovering around lows, top cryptos have been trading within tight, range-bound regions on the price charts. Resultantly, there has been little action over the past few weeks. Bitcoin noted a minor 1.3% decline in the seven-day period, while Ethereum has registered an inclination of roughly the same figure.
Apathetic period
The effect of the same was seen in the lack of demand for crypto-centric investment products. Per CoinShares' latest weekly report, the noted category of assets' outflows summed up to $5 million last week, in a continuation of the "apathetic period" that began in September.
As far as the macro picture is concerned, the report highlighted,
"Investment product volumes which were US$758m, the lowest since October 2020 and far off the average of US$7bn a week seen this time last year."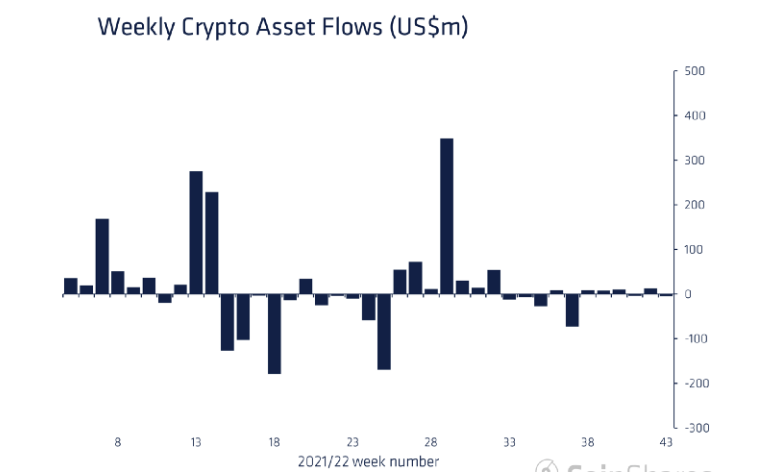 Amid the bear market, institution-centric crypto products have not been able to fare well. In fact, as analyzed in a recent article, funds—like ProShares' BITO—have been bleeding more than Bitcoin.
Read More: ProShares' Bitcoin ETF underperforms BTC: By How Much?
In fact, Grayscale's Bitcoin Trust shares have been trading at historic lows as of late, owing to the widening discount.

In contrast, Bitcoin saw inflows for the sixth consecutive week, with $4.6 million noted this time. On the other hand, short-Bitcoin investment products saw outflows of $7.1 million. Chalking out the monthly trend, the CoinShares' report noted,
"While flows have been mixed recently for short-bitcoin, October represents the largest outflow on record of US$15m, representing 10% of total assets under management (AuM), and the only investment product showing some semblance of conviction in direction of trade at present."
Altcoins like Solana and XRP followed Bitcoin's path and noted minor positive flows. Ethereum, on the other hand, registered outflows of $2.5 million. Cardano and Binance Coin, notably, were a part of the same outflow boat.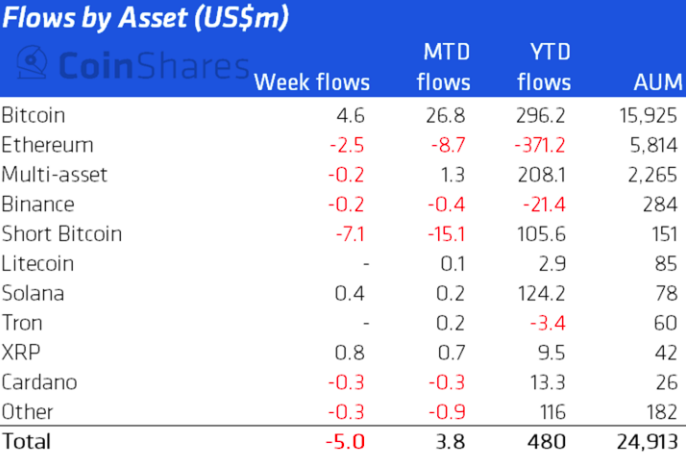 Also Read: Why did Shiba Inu miss out on this Cryptos' list?