Law enforcement agencies are continuously adapting to combat the evolving nature of criminal activities. However, the crypto community may face concerns. This is because the recovery of funds transferred through Bitcoin ATMs has been declared as "virtually untraceable." According to a press release shared on the local police department's Facebook page, a woman residing in Clive, Polk County, Iowa, was targeted and became a victim of a scam that used a Bitcoin ATM.
According to reports, the woman received a call from someone pretending to be a Polk County Sheriff's deputy. Subsequently, she was deceived into sending $6,600 to the scammers using a Bitcoin ATM. The scammers used a false threat of arrest to manipulate her into complying. The Clive Police Department issued a warning to the community about this incident. They highlighted that funds transferred through Bitcoin ATMs are extremely difficult to trace and recover, posing a significant challenge in retrieving the money. They wrote,
"Bitcoin ATMs, which are becoming increasingly popular worldwide, allow users to convert cash into cryptocurrencies like Bitcoin. Unfortunately, scammers are taking advantage of this technology to exploit innocent victims. Once the funds are transferred, they become virtually untraceable, making it incredibly challenging to recover the money."
Furthermore, the Clive Police Department noted that law enforcement officials would never request funds from the public via Bitcoin ATMs.
Also Read: Scammer Scores $315,000 Worth of Ethereum Through Meme Coins
How popular are Bitcoin ATMs?
Bitcoin ATMs have gained significant popularity, with a total of 36,004 ATMs available worldwide. The United States leads the way with 30,837 ATMs. However, in March 2023, there was a decrease of 3,627 ATMs in operation.
Furthermore, a recent report by Chainalysis focused on cryptocurrency-related crimes and revealed that a mere 1% of payments made by victims of scams originated from crypto ATMs. Additionally, only 2.2% of the funds sent from ATMs in the previous year were directed toward illicit addresses. This accounted for approximately $67.5 million out of the substantial $20.6 billion in illicit transaction volume recorded during the same period.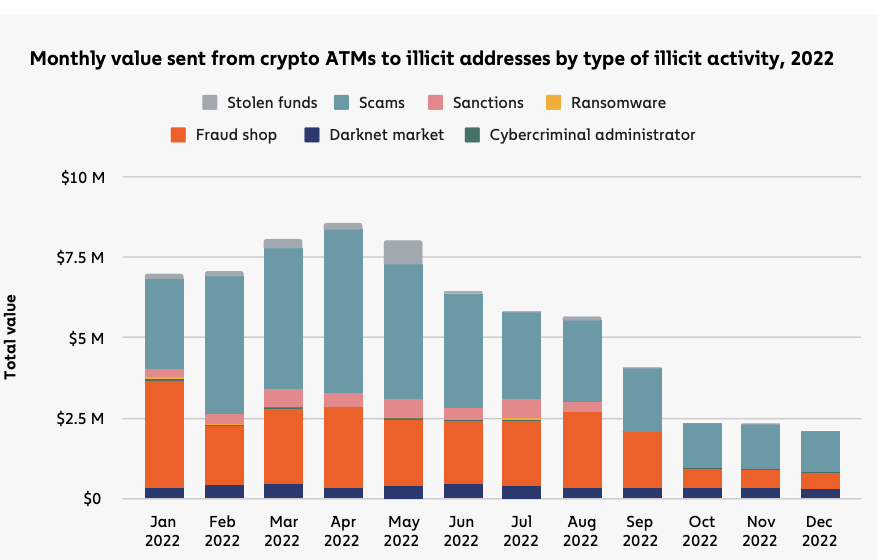 The percentage may seem relatively low. However, according to Chainalysis, ATMs are not commonly utilized for sending funds to various other types of illicit addresses.
Also Read: Bitcoin ATMs: What They Are, How Do They Work and Where to Find Them