A multitude of speculations emerged after the Merge, suggesting that Ethereum [ETH] would eventually surpass Bitcoin [BTC]. Nonetheless, one-year post this upgrade, ETH still lags behind BTC. However, the approval of nine new ETFs for Ether futures ignited optimism once more. Yet, a recent report underscores how the underwhelming performance of these futures ETFs has sparked a desire to shift focus back to Bitcoin.
Eric Balchunas, an ETF analyst at Bloomberg, shared on X that there has been some activity in the Ether futures ETFs market. However, it hasn't met the expected levels. VanEck has managed to surpass ProShares, while the total flow stands at over $15.6 million.
The initial trading volume of Ether futures ETFs represented just 0.2% of the trading volume that the ProShares Bitcoin Strategy ETF (BITO) achieved on its first trading day in October 2021. Given the lackluster performance of these products both at launch and in the present, analysts Anders Helseth and Vetle Lunde from K33 Research have suggested that it's "time to pull the brakes on ETH and rotate back into BTC." They further added,
"The gravitational pull in crypto for the time being stays in BTC, with a promising event horizon down the line, still favoring aggressive accumulation."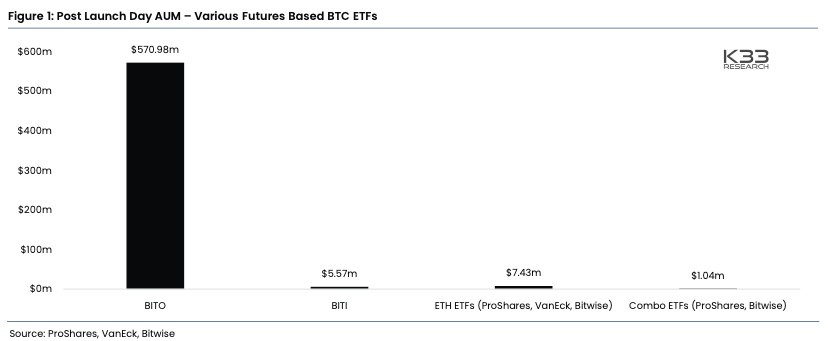 Also Read: Ethereum Futures ETFs Under-deliver: Record Only $2 Million in Volume
Is Ethereum Facing Unwarranted Criticism?
In the report, Lunde wrote that the launch of the ETH futures ETF offers a valuable lesson in assessing the consequences of making cryptocurrency investments more accessible to traditional investors. He emphasized that heightened institutional access will only generate buying pressure if there is substantial unfulfilled demand in the market. He also pointed out that this is not the case for ETH at the moment.
However, Ethereum recently witnessed the transfer of over 110,000 ETH, equivalent to $181 million, out of exchanges earlier this week. This marked the largest outflow in a single day since August. The quantity of Ethereum held outside of exchanges has now reached a record high of 115.88 million ETH, while the supply available on exchanges is at its lowest point in approximately 5.5 years.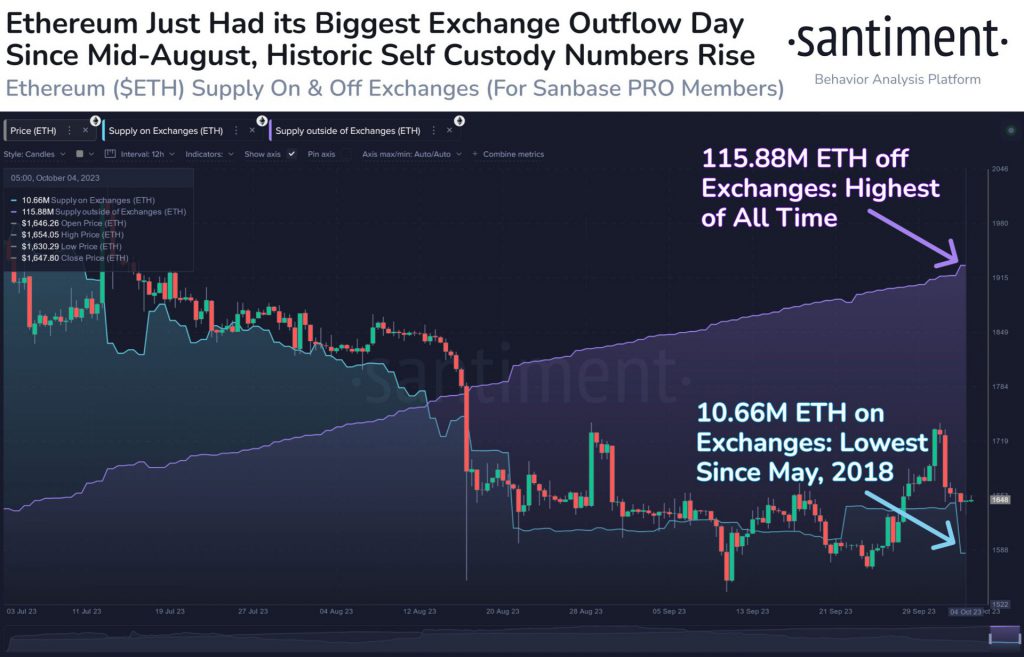 Undoubtedly, this development is a positive sign. With fewer ETH tokens available on exchanges, there is reduced potential for selling pressure. The Ethereum community has remained steadfast in its support of the network, emphasizing that a lack of enthusiasm for futures ETFs doesn't necessarily indicate a bearish outlook for ETH. One X user wrote,
"And people are screaming bearish due to the lack of interest in the futures ETF? Why would you get exposure through a futures etf when you can get the same exposure + yield for the same $ amount?"
At press time, the second largest crypto was trading at $1,643.26, after registering a 0.16% daily rise.
Also Read: Ethereum Hailed as 'Aggressive Growth Investment' Amid 4% Price Dip