Proof-of-Reserves [PoR] reports have become increasingly common in the cryptocurrency space. An array of exchanges across the industry have been releasing these reports in order to eradicate the fear instilled by FTX. In light of that, OKX has been making significant strides in regularly posting updates about the same.
Earlier today, OKX revealed Bitcoin, Ethereum, and Tether [USDT] reserve ratios in its 4th Proof-of-Reserves report. According to the report, the exchange is overcollateralized with a reserve ratio of 104% for Bitcoin and Ethereum. Tether, on the other hand, has a ratio of 102%.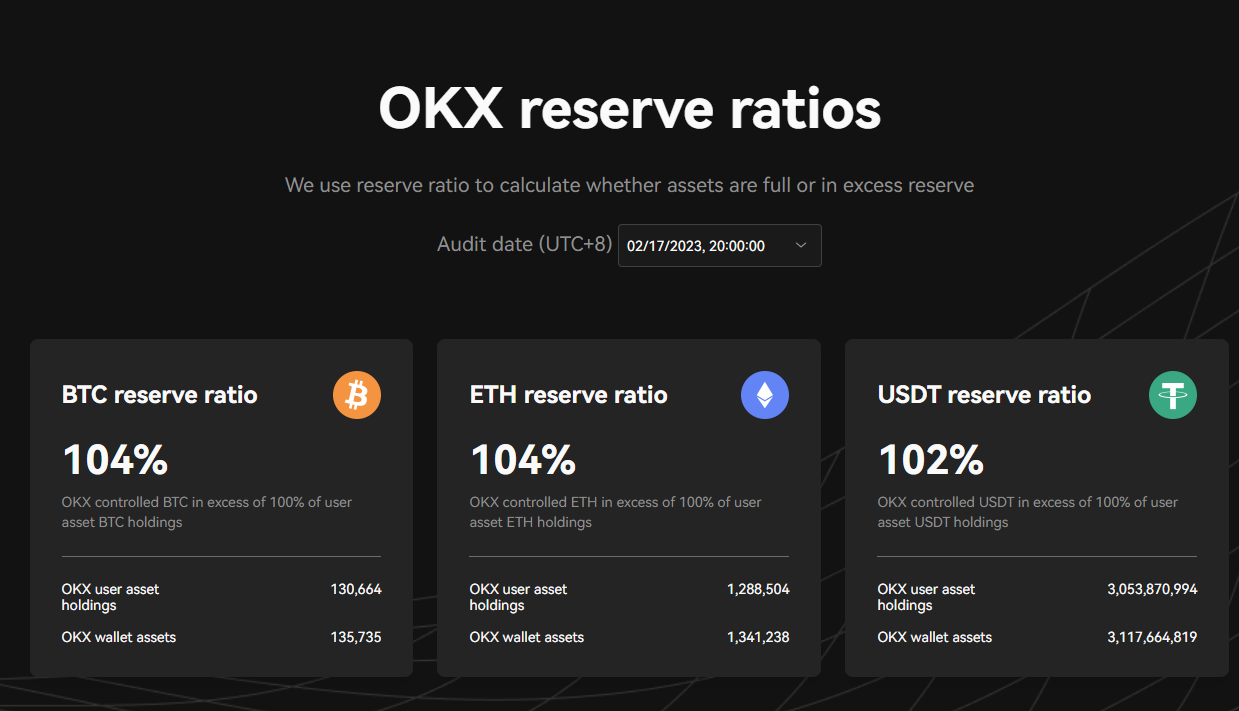 The total user asset holdings for Bitcoin were at 1,30,664. Ethereum's were higher than that of Bitcoin at 12,88,504. Tether had the most holdings at 3,05,38,70,994.
Additionally, it should also be noted that OKX declared clean assets of $8.6 billion. Exchanges are rated as "clean" according to how dependent they are on their native coin. Huobi and Binance have cleanliness ratings of 61% and 94%, respectively, while OKX has an astounding 100%.
Similar to the other two exchanges, OKX also has its very own token. OKB was ranked as the 25th largest cryptocurrency and was trading for $52.58 with a 30% weekly rise. Furthermore, just two days ago, the altcoin hit an all-time high of $58.46.
How popular is OKX's PoR report?
According to the exchange, its PoR report has a total of 175,000 unique users visiting the page. This, however, represents the number of users from the time it was launched. It was previously declared by the exchange that proof of funds will be made available on the 22nd of every month. OKX Managing Director of Financial Markets Lennix Lai elaborated on the same and said,
"Proof of Reserves is far from a niche topic – it is of vital importance to building user trust and we are dedicated to ensuring OKX shows continued leadership in this area."