With Bitcoin [BTC] recording a high in 2021, the community expected the asset to move beyond $69K. However, in a whole new turn of events, the bears decided to settle down in the crypto-verse. Alongside this, the downfall of several crypto businesses followed suit.
Amidst this, Bitcoin went from a high of $47,200 at the beginning of 2022 to a low of $15,599.05. While some believe that the king coin has already hit its bottom, others were seen making strong bets on $13K.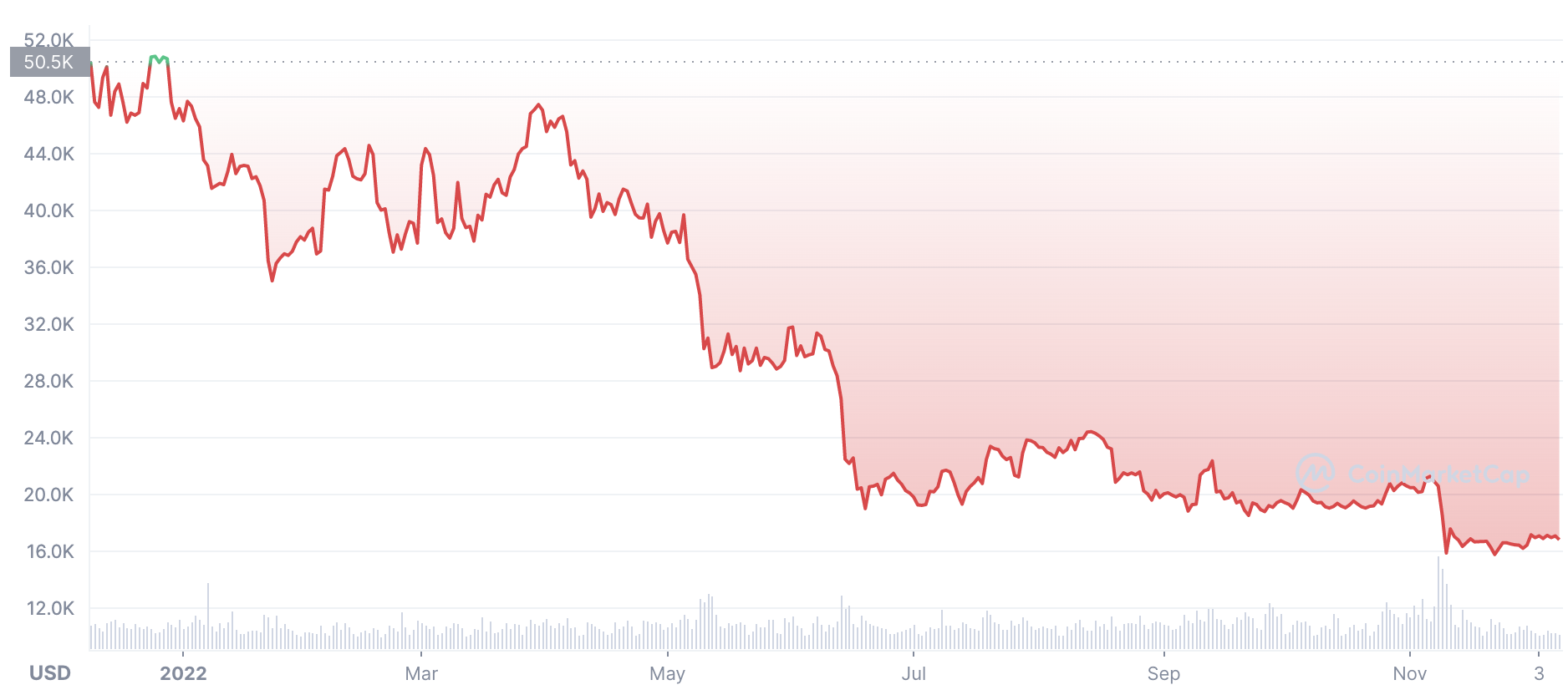 Standard Chartered even went on to put forth the possibility of BTC slumping to a low of $5K in 2023. Crypto exchange Huobi belonged to the former as it believed that the asset had already reached its bottom.
In a recent report, Huobi highlighted that considering the current state of the market, the crypto-verse has already at a "cyclical bottom." Further elaborating on the price of Bitcoin and Ethereum, the report read,
"Mainstream crypto assets, such as BTC and ETH, have become major asset class in long-term investment portfolio. The price of BTC may reach the bottom at $15000 and $1000 for ETH in this round of bear market, and it may consolidate to 1 quarter of 2023, after which there will be a decent rebound."
Despite this, the platform believed that the bear market would prolong.
Here's why crypto's bear market would be carried onto 2023
There is little potential for a reduction unless a more serious systemic danger is shown, such as fluctuations in responding to regulations. Additionally, leverage on the centralized institutions and on-chain DeFi protocols has decreased. The current users are influenced by macroeconomics.
In terms of macro, the U.S. CPI has significantly suffered following four consecutive interest rate increases of 75 basis points. Furthermore, it is anticipated that the rate increases will be lower starting in December. This will, however, stop around March 2023. The rate of rise is reducing, the hardest portion of this cycle is over, and the bottom of monetary policy is almost ready to be formed.
With regards to crypto, Huobi stated,
"…we believe the opportunistic and blind optimistic emotions in the market have been swiped out by the magnitude and duration of the market downturn; the FTX incident may be the last bullet that problematic institutions and projects will be swept out of the scene."
Furthermore, Huobi believed that the bottom will be formed during the first quarter of 2023.