Despite the ongoing bearish market, the dominant cryptocurrency, Bitcoin is becoming more scalable with each passing day. The latest data update displayed that bitcoin's layer 2-scaling solution for fast and cheap bitcoin payments, the bitcoin lightning network capacity reached a new all-time high (ATH) at over 4200 BTC.
According to data from TXStats.com, the bitcoin lightning network housed 4281 BTC in its over 89,000 channels, at the time of reporting. This in turn ascertained a phenomenal growth in the network's bitcoin capacity as opposed to last year this time when the capacity stood slightly over 1800 BTC.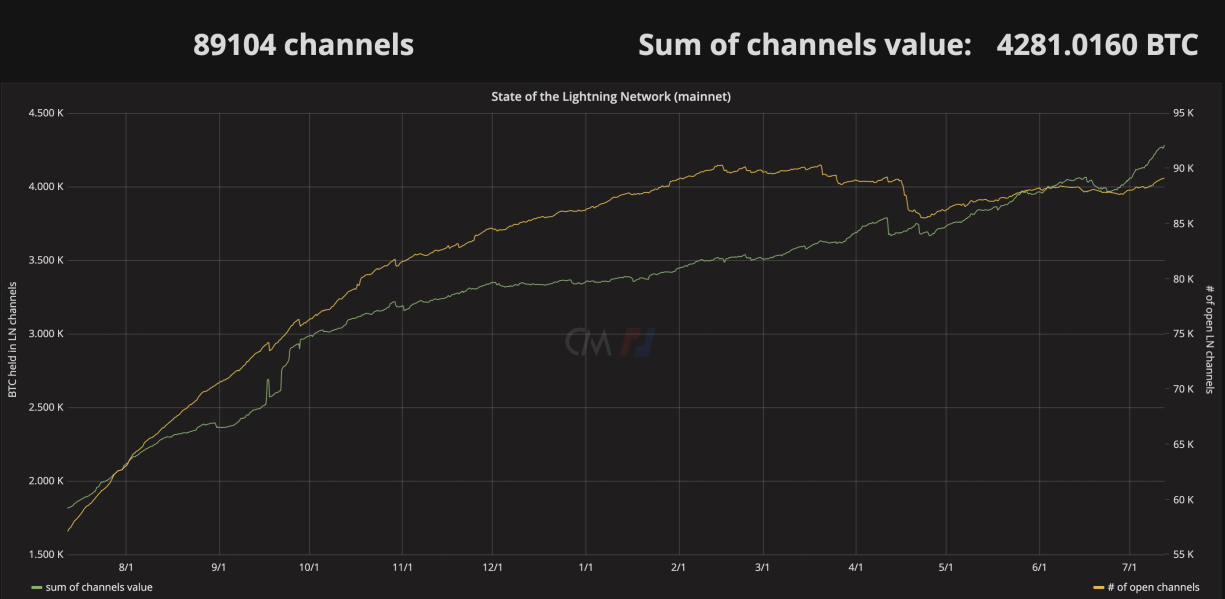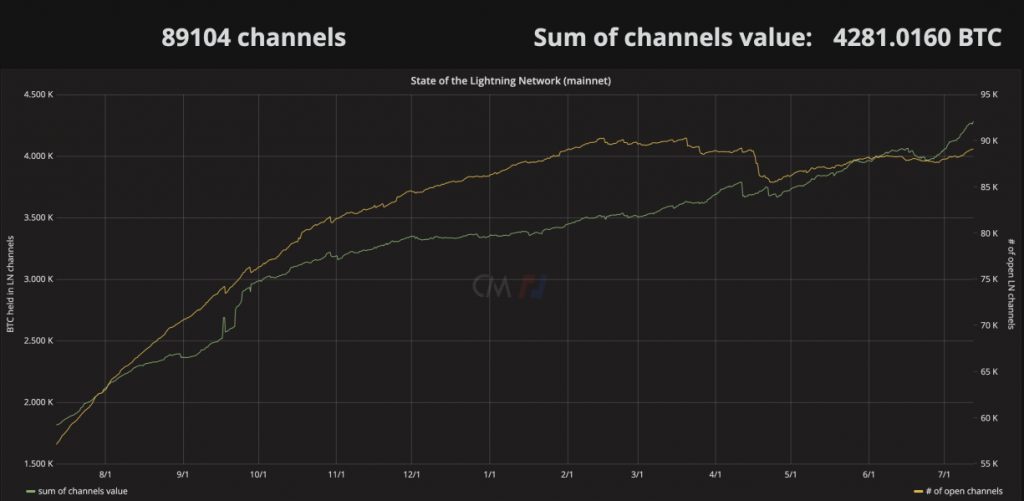 In 2022, BTC adoption is progressing with heightened scalability given the Lightning Network can handle about a million per second in contrast to the BTC network which can only facilitate around seven transactions per second.
Bitcoin Lightning Network To Stabilize DeFi
Amid the rapid growth of the lighting network, Bitcoin (BTC) maximalist and MicroStrategy CEO Michael Saylor recently asserted that the BTC Lightning network may resolve the ongoing turmoil in the decentralized finance (DeFi) industry.
Last month, while replying to Bloomberg's DeFi drawbacks coverage, Saylor argued that Bitcoin is a "sound ethical, economic & technical foundation for DeFi". He added that the "next generation of DeFi will be built using the Lightning protocol and the BTC token".
Saylor also referred to the NYDIG report that highlighted the efficiency of the lightning network, further enabling Lightning Finance (LiFi).
The report stated that "like the telephone, Lightning is a "network effect" technology. The more users, the better the user experience. Lightning facilitates the development of an emerging ecosystem of Lightning-based financial products, called LiFi ("Lightning Finance"), which leverage the security, transparency, and decentralized nature of Bitcoin". In light of this, the lightning network is indeed expanding since it had 17,697 nodes aka users, at the time of reporting.