On Wednesday, April 19, the crypto market noted a flash crash. Within minutes, assets like Bitcoin and Ethereum noted significant haircuts in their respective valuations. Owing to the same, the aggregate crypto market cap dropped to $1.22 trillion.
As shown below, Bitcoin registered quite a large candle on its hourly chart. On both the spot market and the perpetual market, the asset shed 3% of its value in the time frame and dropped to new local lows. In the former market, BTC stooped to $29k, while in the latter, it sunk down further to $28.8k. In both cases, Bitcoin's sell volume of around $30k spiked up, likely triggering the drop in price.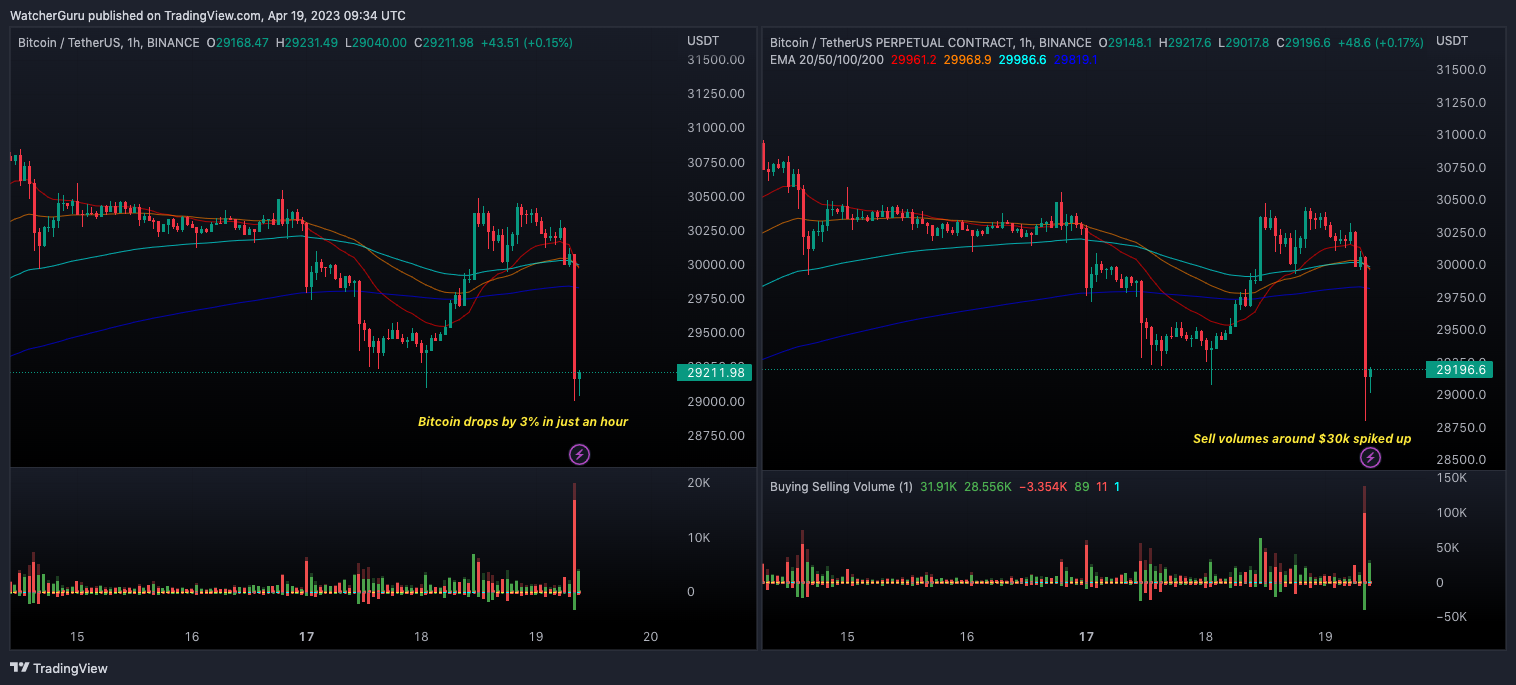 When zoomed out further, it can be noted that such a large spike in sell-side volume was last noted in mid-March prior, in both the spot [left] and perpetual [right] markets.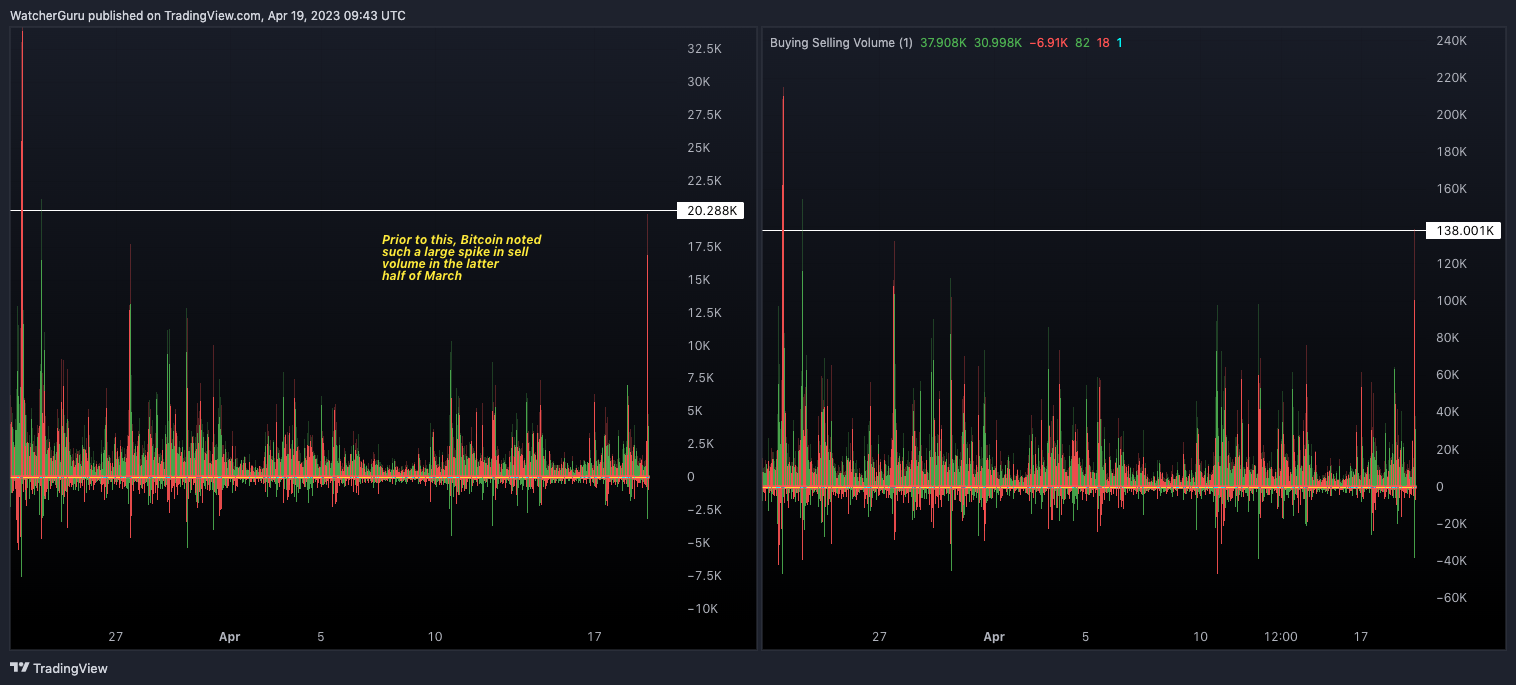 At the moment, the community saw this move coming and had been talking about it on Twitter. A particular trader with the username "Crypto Jonas" tweeted a couple of days back that $30k is a zone where "a lot of people" are going to sell.
Also Read: Holding Bitcoin has been Profitable 89% of the Time
Ether drops harder, longs wiped out
Alongside Bitcoin, even Ethereum noted a 4.17% drop in the hourly in both the spot and perpetual markets. Even in ETH's case, the sell-side volume registered a large spike. In the former market, ETH dropped to a low of $1966, while in the latter, it fell to $1948.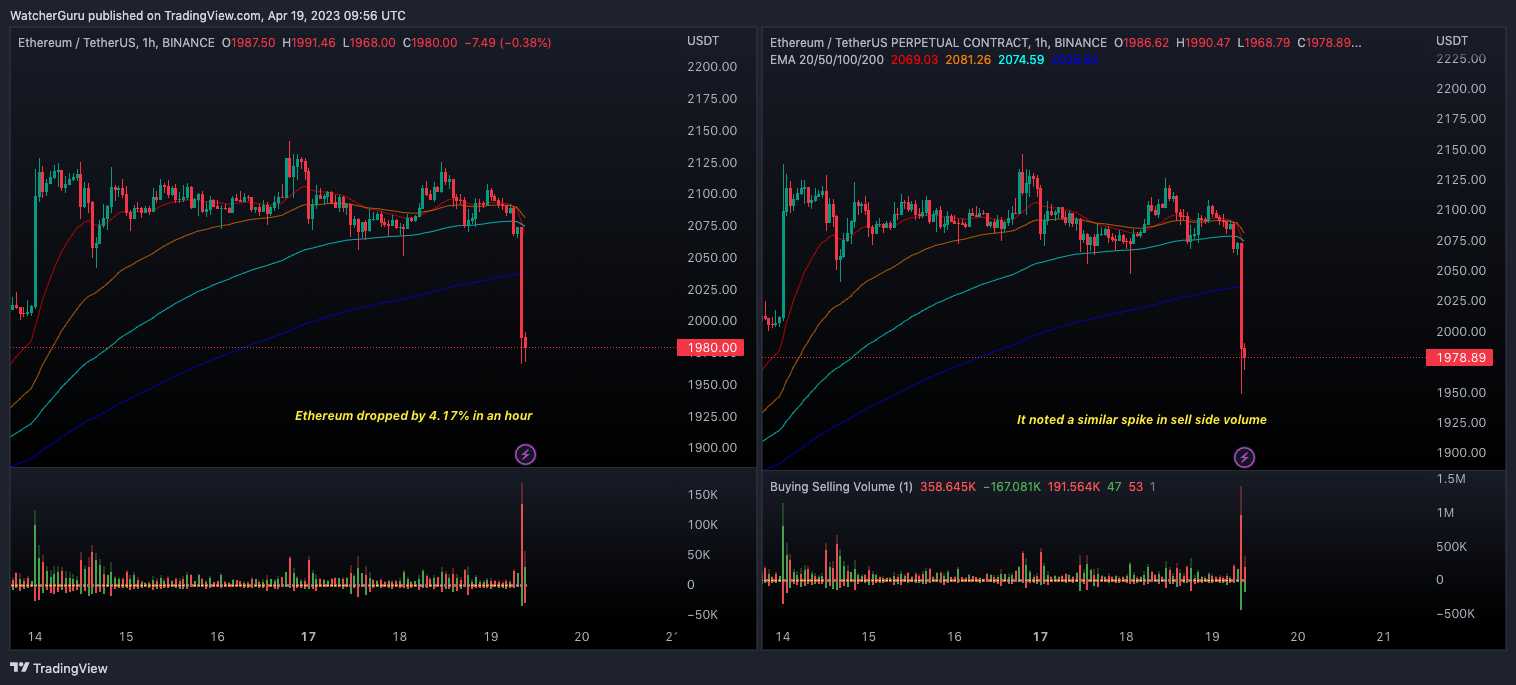 Owing to the price drop, liquidations also started piling up. On the four-hour timeframe, close to $40 million Ethereum contracts were wiped out of the market, while for Bitcoin, the number stood lower, at $30.48 million. Longs made up most of the liquidations in both cases [$26.72 million for Bitcoin, $36.58 million for Ethereum], bringing to light the occurrence of a long squeeze.