Earlier this year, President Joe Biden released his annual budget proposal outlining his policy priorities for the coming year. With respect to the digital asset industry, the proposal touched upon crypto mining. Specifically, Biden called for a 30% tax on all electricity used to mine Bitcoin and other cryptos. Right after that, the White House's Council of Economic Advisers also backed the proposal.
However, the U.S. debt ceiling agreement ended up dropping out the aforementioned mining tax. Specifically, Republican Congressman Warren Davidson took to Twitter to confirm that scraping off the tax was "one of the victories" of the new agreement.
Well, miners were quite delighted with the development. They were in their capitulation mode all this while. In the initial few months of 2023, their reserve remained flat, while after that, it started declining.
However, the tables have turned over the past few days. On May 27, the miners' had 1.826 million BTC in the reserve. However, the number is already up to 1.845 million, implying that they've added around 20,000 coins in less than a week. At press time, the worth of the newly added coins was roughly $540 million.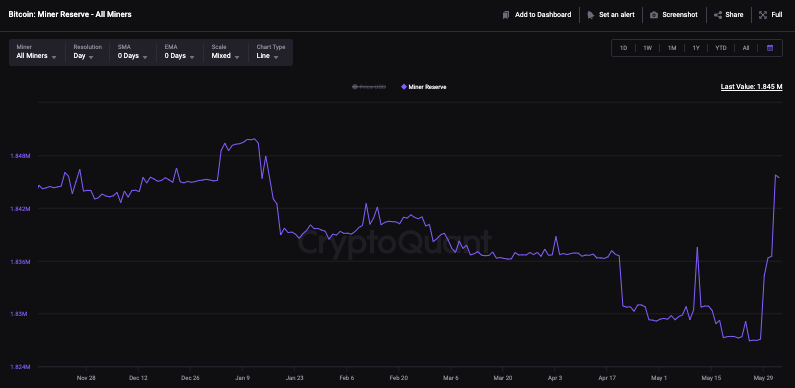 Bitcoin adoption on the rise
Of late, a host of positive developments pertaining to Bitcoin have taken place. Coinbase, for instance, is set to launch BTC futures contracts for institutions in the coming days. Voltage organization is working with Google Cloud to scale Bitcoin and Lightning Network infrastructure. Parallelly, USDT issuer Tether is set to regularly buy Bitcoin for its stablecoin reserves using a portion of its profits as part of a new investment strategy.
These exhibits are all signs of the rising mainstream adoption of Bitcoin. However, one shouldn't get carried away by the bullish wave. It doesn't outrightly warrant more companies coming on board immediately. Elaborating on the same, Didar Bekbauov, Founder and CEO of Bitcoin group mining company Xive, told Watcher Guru via textual commentary,
"Although Tether has made a promising move, it doesn't necessarily mean that more mainstream companies will join the action."
That being said, it is not fair to steal the spotlight away from the positive developments. Expressing his opinion on the macro-side of things, Bekbauov said,
"The series of positive news in the industry is a sign that the focus on Bitcoin is taking a new shape and reflects the journey onto mainstream adoption. While the industry may be free from the 30% tax for now, more rules should be anticipated in the near term even though they may not be as stringent."