On Monday, it was reported that the Bitcoin hash rate was treading at an all-time high level. With more miners on board, more blocks were expected to be mined. And as a result, speculations were being made that Bitcoin's fourth halving could happen by the end of next year itself as opposed to 2024.
Read More: Bitcoin hashrate at ATH: Next halving to happen by 2023 itself?
Bitcoin mining difficulty follows suit
However now, in what is the latest development, Bitcoin mining difficulty has clinched a new all-time high. Per data from BTC.com, the said metric's reading stood at 32.045 trillion hashes at press time.
The difficulty is a measure of how difficult it is to mine a Bitcoin block. Per the thumb rule, a high network difficulty means that it will take more computing power to mine the same number of blocks, making the network more secure against attacks, and vice versa.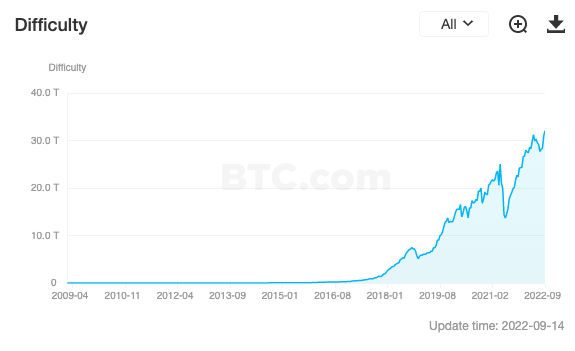 Bitcoin's mining difficulty is updated every 2,016 blocks—or roughly every fortnight. As depicted below, the latest adjustment marked a 3.45% rise when compared to the one that took place towards the end of August. Back in July, the difficulty was in a downtrend, but since August, the same has been elevating.
Owing to the rise in difficulty, it now takes approximately 9 minutes and 40 seconds to mine one block on the Bitcoin blockchain when compared to last fortnight's 9 minutes and 9 seconds.
The rising difficulty is a positive from the security front but it will play a role in delaying the next halving, for it now takes more time for miners to mine blocks.

Are miner HODLings intact?
Bitcoin miners, on their part, were on a sell-spree over the past few months. However, in the month of August, their HODLings went up. In July, all public miners held a total of 33,799 BTC, while the number rose to 34,657 last month.