After the 2021 bull-run, 2022 sure is a downhill rollercoaster. Bitcoin (BTC), the original cryptocurrency, has once again slumped after showing some signs of relief. BTC rose to a high of $69k in November of 2021 but crashed to $17.7k in June of this year. Nonetheless, the token rebounded to nearly $25k before falling to the $21k level. Moreover, mining revenue has been declining since October of 2021. A combination of rising electricity costs and falling BTC prices has made it much harder for miners to turn a profit.
According to the data available on Bitinfocharts.com, mining profitability hit multi-month lows in July. As per the data on the crypto tracking website, most of 2021 was profitable for miners, other than the slump in the summer and another in the fall.


Bitcoin miner revenue data from Blockchain.com also corroborates the mining profitability for 2021 and 2022. Miner revenue hit an all-time high of 80.172m in mid-April of 2021 before falling to a low of 13.065 in June. However, miner revenue picked up steam once again. However, in 2022, miner revenue has been on a constant downtrend.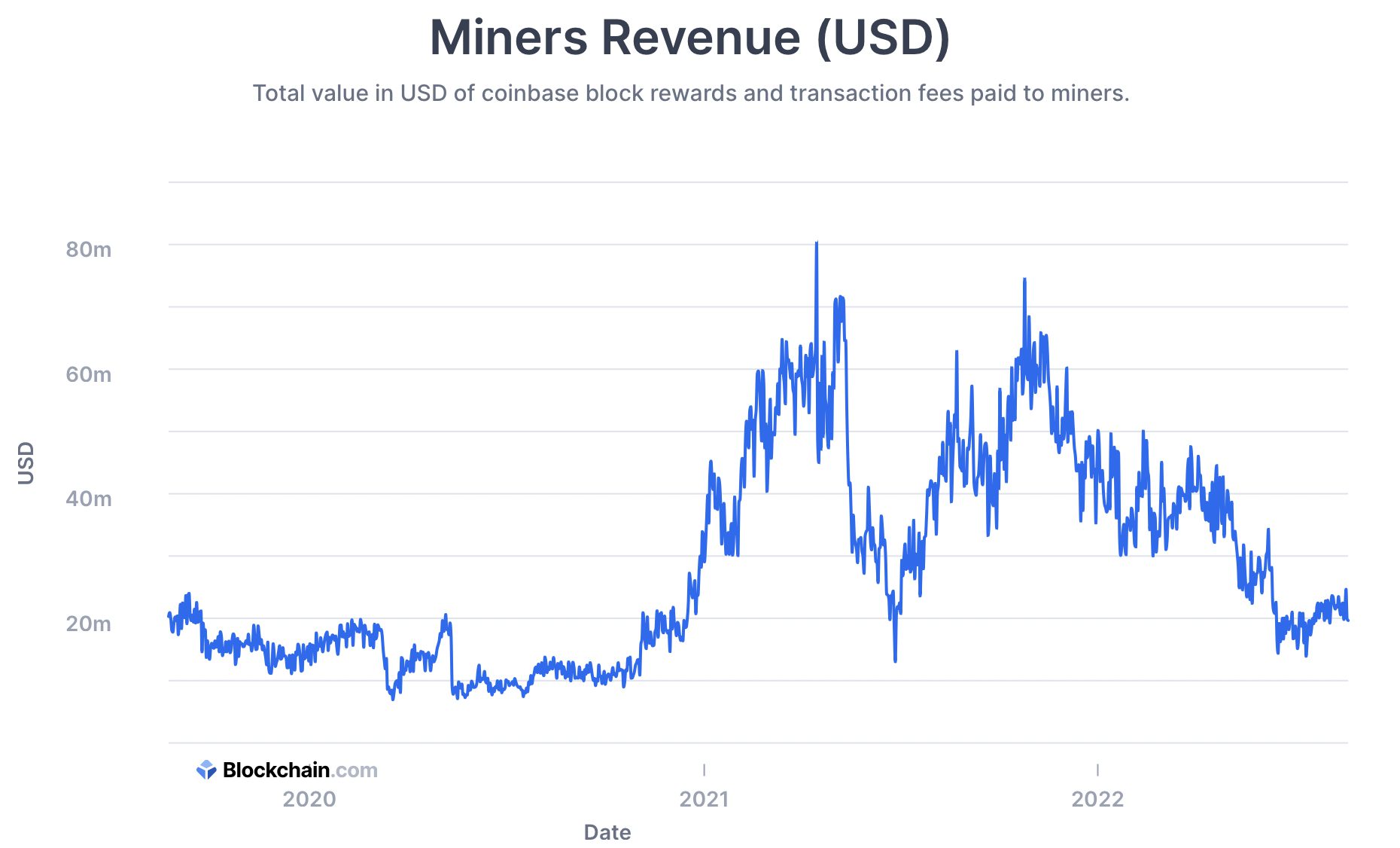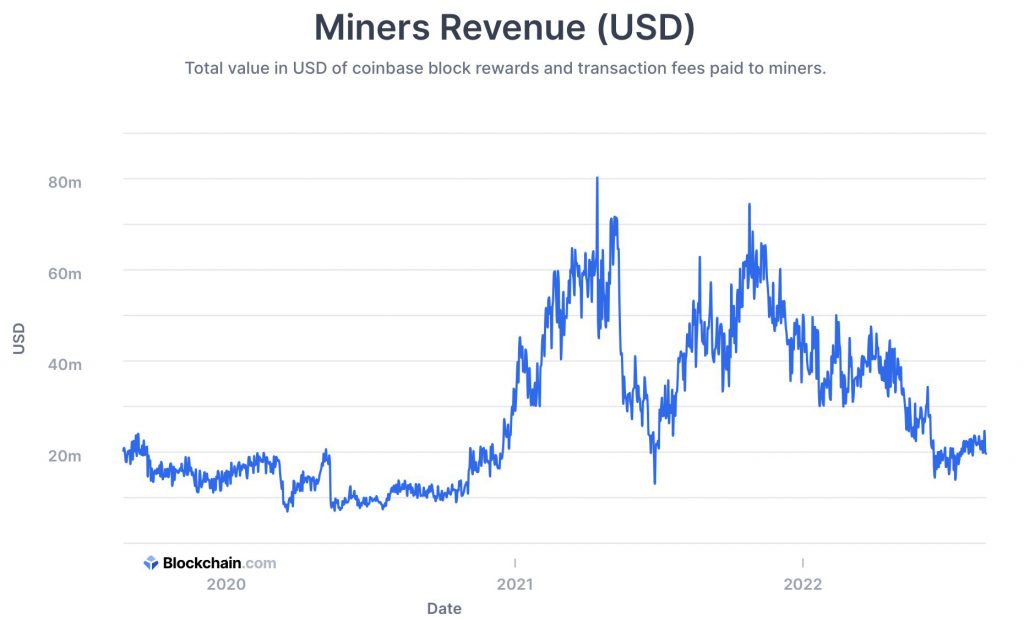 Why is Bitcoin mining profitability down?
Mining profitability is down as the price of the tokens has slumped, and the cost of crypto has declined for various reasons. One is that many countries have witnessed record inflation numbers. This has led to banks increasing interest rates, which impact how people allocate money. Another reason for miner profitability being down is the ongoing Russia-Ukraine conflict. The war has had detrimental effects on global energy needs. This aspect was absent in 2021; energy costs were lower, leading to higher profits.
BTC miner revenue hit a 2-month high on the 19th of Aug 2022 at 24.6m before falling to 19.6m yesterday. Although there has been a slight trend reversal since mid-June, it is still far from its peak. Nonetheless, with the hash rate bouncing back up, it could be a sign that the worst is over.
According to a new report by Arcane Research, 2022 has been a "reality check" for miners. According to the renowned analytics firm, only miners with access to very cheap electricity will be able to survive in the long run.
Despite the most recent price decline, on-chain data demonstrates that most Bitcoin miners have ended a capitulation period that lasted more than two months. According to the hash ribbons metric, a comeback is currently taking form, which analyzes changes in miner involvement using two moving averages of hash rate. The change has long been predicted. Blockware, a mining company, indicated that the capitulation phase of hash ribbons would end either this month or the next.
At press time, BTC was trading at $21,256.59, down by 1.4% in the last 24 hours.