Bitcoin seems to have taken a hard tumble as the price falls below $36,000, bringing the entire market alongside. Now might not be the ideal time to scroll through your phone to take a look at your portfolio. The whole market seems to be running a blood marathon.
The bitcoin price fell more than 9% and went down to $35,856. The entire market, crypto, and the global stock market seem to have taken a toll by the soaring inflation and FED's decision. FED decided to hike the interest rates by 0.5%, and nothing else seems to be the reason for this bloodshed other than the FED's monetary policy and the inflation crisis.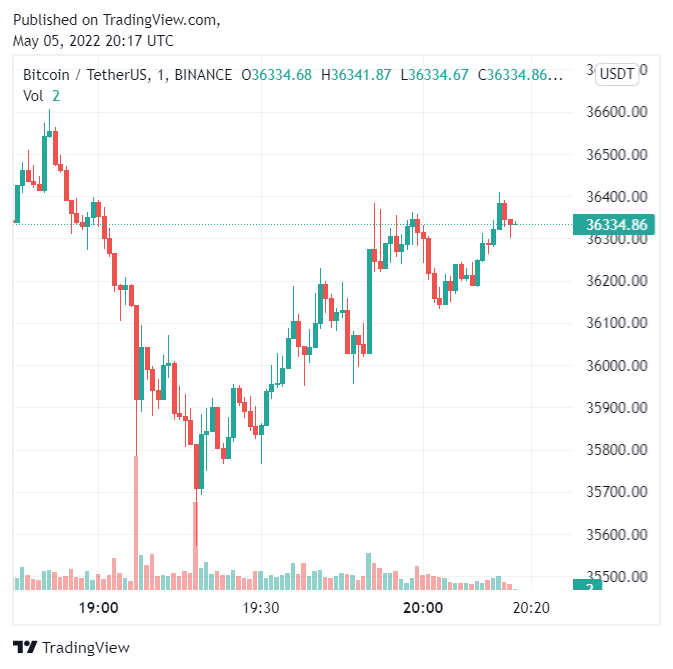 WIll bitcoin hold up?
Bitcoin has been hovering tightly around $36,000 and $42,000. One can give entire credit for the high volatile market, to the rising inflation and monetary policies by FED. The FED has raised the interest rate, the highest that the country has ever seen in two decades.
FED's decision to hike the rates is to tackle the soaring inflation that reached over 8.5% in March.
The crypto market has been heavily tailing the stock market, accounting for global adoption and dropping prices. Ether started following and has fallen over 7.5% to trade at $2732. Bitcoin couldn't see the sunshine above $50,000 ever since December 25.
Bitcoin lost over 47% of its value from its all-time high on November 10, 2021. Pandemic, growing inflation, and FED's actions have contributed to the drop in price. Despite BTC struggling to show the signs of a major recovery, experts still believe that bitcoin will cross the $100,000 threshold.
For the weak-hearted investors, the bloodshed is expected in the market, and every fall will help you come back stronger. So the big dips and short swings should be entirely expected. If you are in for the long term, hold and brace yourself.
"Volatility is as old as the hills, and it's not going anywhere." "It's something you have to deal with."

Bill Noble, chief technical analyst at Token Metrics