Bitcoin (BTC), the original cryptocurrency, has once again fallen below $27k. Although BTC is still up by 62% since January of this year, the asset has taken a beating in the last few weeks. BTC briefly touched $30k in mid-April but has since fallen by 11.6%.
BTC is currently facing resistance at around $27815, with support at $26135. Trading View data shows that Bitcoin's (BTC) RSI (relative strength index) currently stands at 48.19, which could mean that the asset is overbought. This leaves room for speculation if BTC may fall further in the coming days.
Furthermore, BTC's Awesome Oscillator indicates a selling opportunity at the moment. This metric casts further doubt on Bitcoin's bullishness.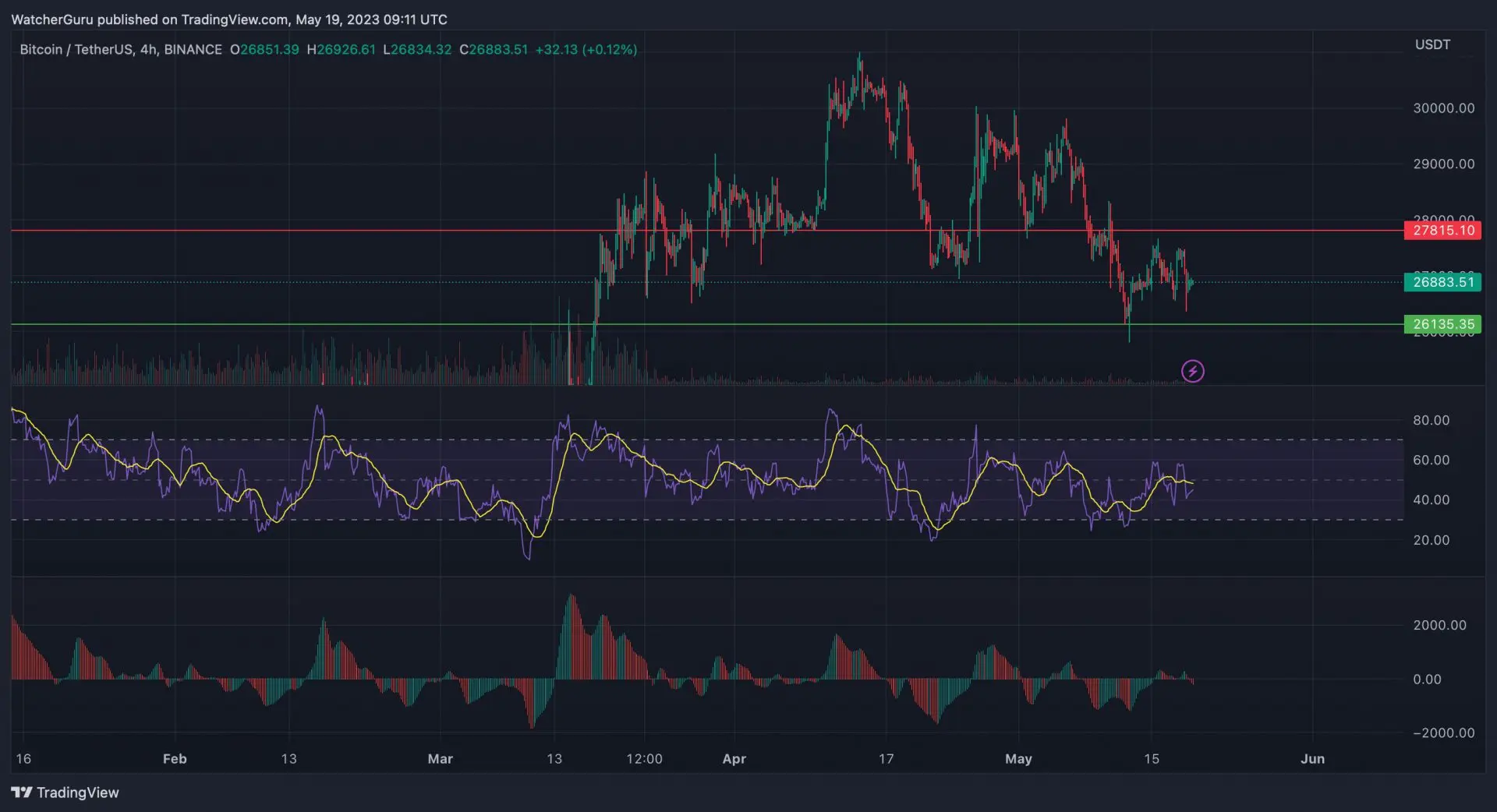 Popular crypto researcher Micheal van de Poppe also spoke about BTC falling below $27k. The popular figure said that he'll be waiting for $26,500 or $25,000.
However, BTC might fall below Poppe's anticipation as well.
Will Bitcoin fall further?
There is a good chance that the original cryptocurrency could slowly fall towards $24k-$22k. This level has a lot of liquidity and is a healthy point for BTC to bounce back up from. Additionally, the $22k level is a point where we could have a lot of institutional money flowing in. It is possible that current prices are not attractive to institutions, and a further slide could see more interest from that group.
Moreover, even though inflation in the U.S. came in lower this month, global financial woes are far from over. The inflation rate in the U.S. is still more than double the Fed's target of 2%. Although there is talk of interest rates going lower, there is no confirmation from the Fed as of yet. Therefore, there is not a lot happening that could help Bitcoin's cause. However, many investors and experts have their sights on 2024 for a healthy bull run once again. At press time, BTC was trading at $26,883, down by 1.9% in the last 24 hours.