Bitcoin (BTC) has just completed an inverse head and shoulders pattern in the daily chart. The pattern, upon completion, signals a potential price trend reversal. The pattern is made of a peak (shoulder), followed by a higher peak (head), and then a lower peak (shoulder). In the case of BTC, it could mean that the original crypto falls down to the $25k level.
It should be noted that veteran trader Peter Brandt saw the signs of a head and shoulder pattern emerging on Bitcoin's (BTC) daily chart yesterday. However, the asset has since completed the pattern.
BTC fell below its previous support at around $27K and is heading towards fresh support at around $25K. The $25K level was previously tested in Mid-March, February, and August 2022. There is also the possibility that BTC falls below $25K, and hovers somewhere between $25K and $22K.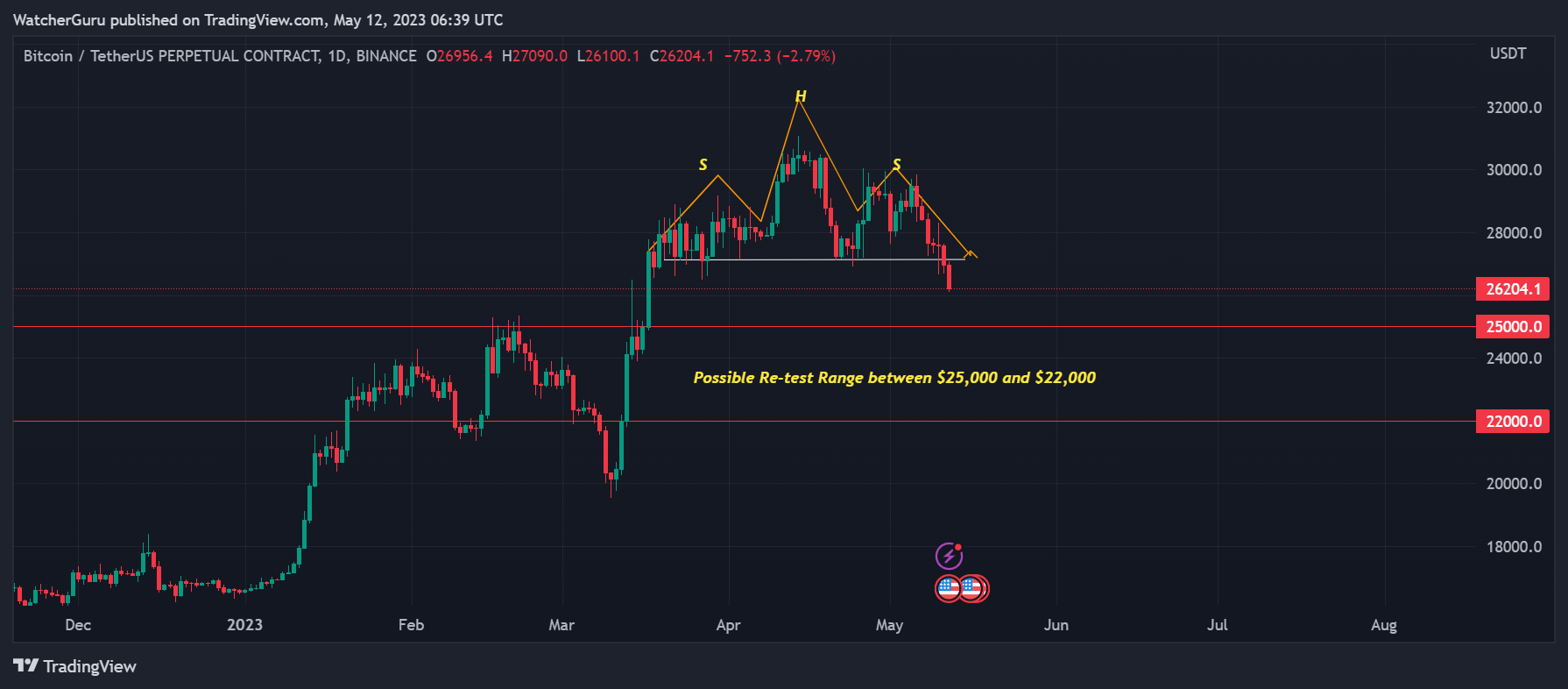 The current slump could be attributed to rumors about the U.S. Government selling its BTC holdings. The rumors may have spooked investors, who ran to exchanges to sell their holdings.
Will Bitcoin rebound from $22K-$25K?
Ideally, the $22K-$25K area is a healthy level for Bitcoin (BTC) to bounce back from. According to IntoTheBlock, the $22K-$25K level has a lot of liquidity. Many investors have purchased the original crypto at that price range. Moreover, it is possible that there could be renewed institutional interest when BTC reaches the aforementioned price range.
Furthermore, inflation in the U.S. has come in at 4.9%, which is lower than expected. This gives room for the Fed to lower, or even pause interest rates. A cooler monetary policy can potentially lead to increased investments in risky assets, such as crypto. However, it is possible that institutions are waiting for BTC to reach a lower price level, before taking their positions.
Therefore, there is a chance that BTC will rebound, however, only after it falls to a certain level. That being said, there is also a possibility that if BTC falls below $22K, which may have further consequences of liquidation. Such a development would mean that Bitcoin (BTC) is undergoing a reversion, which may turn the 2023 bullish trend, into a bearish one. However, there is still quite a bit of time for that scenario to pan out.