Yesterday, 2 November 2021, Bitcoin Reddit members increased to 3.5 million, surpassing the 3 million subscriber mark. The page has had 100k new subscribers every month since its launch.
Reddit
Reddit is a social news site in America that is popular for online forums. The site is also famous for its content rating. Members can post content to the site, ask questions, hold discussions and arguments. The site allows for a star rating from other users on any reply given. In addition, users can share links, videos, images, which users either like or vote down.
Bitcoin Reddit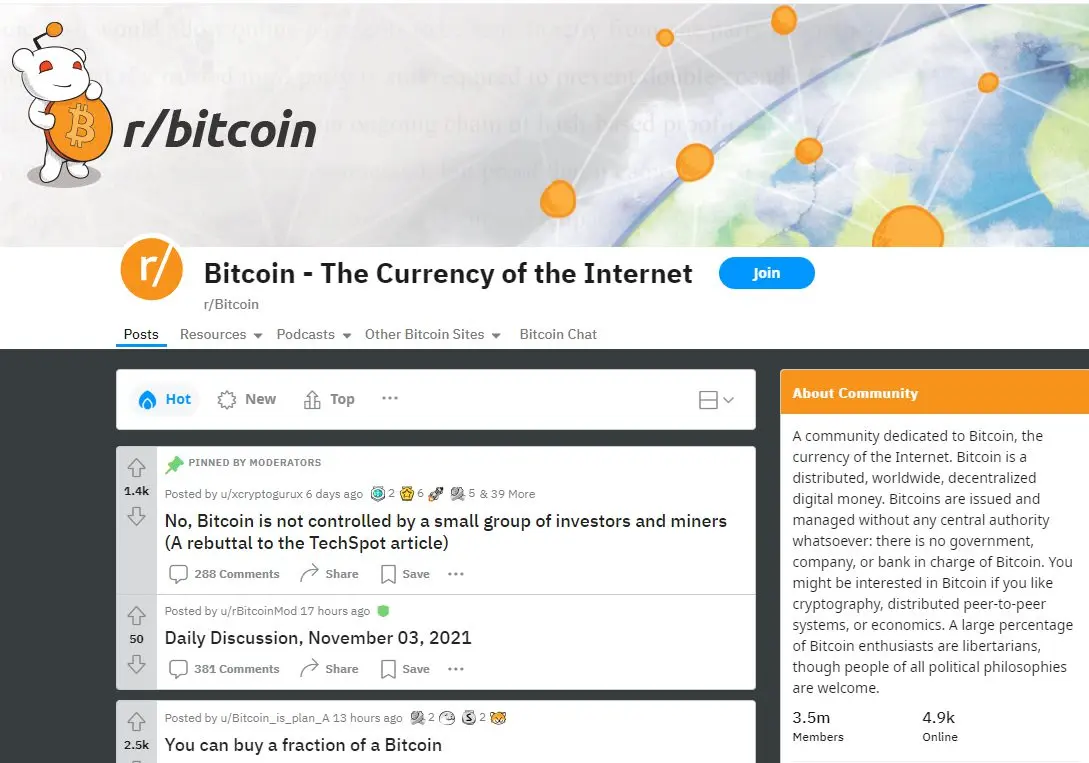 Cryptocurrency has a lot of media attention, especially Bitcoin. Reddit took this as an opportunity and saw it fit to create a Bitcoin Reddit page. The page is a part of Reddit's main website, "reddit.com/r/Bitcoin." This means that Reddit redirects any user who wants to access Bitcoin Reddit from its main page to the Bitcoin Reddit page. To access the page, you have to Sign up using Gmail first.
The site is like "Twitter," only that it is a page within Reddit. Bitcoin Reddit has information concerning it on its top page, explaining the meaning and use of the page,
"A community dedicated to Bitcoin, the currency of the internet. Bitcoin is a distributed, worldwide, decentralized digital money. Bitcoins are issued and managed without any central authority whatsoever: there is no government, company, or bank in charge of Bitcoin. You might be interested in Bitcoin if you like cryptography, distributed peer-to-peer systems, or economics. A large percentage of Bitcoin enthusiasts are libertarians, though people of all political philosophies are welcome."
How to Join the Page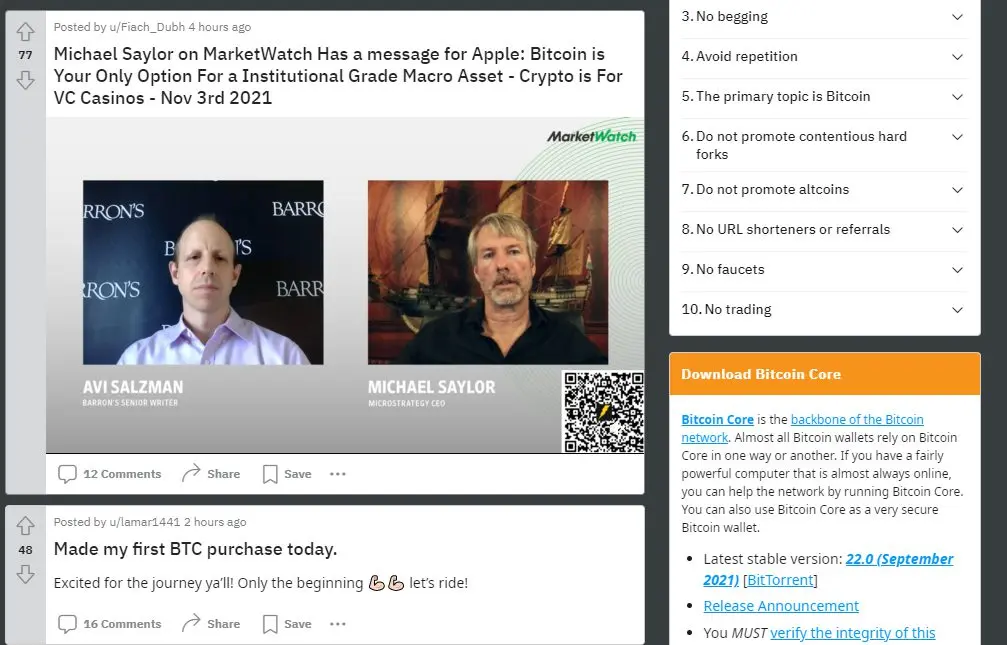 1. Open your browser.
2. Search for Bitcoin Reddit and click the first link, or paste this link
3. Click Enter to search.
4. Bitcoin Reddit opens up with an option for signing in or continuing with the browser.
5. Sign in using Gmail.
6. Congratulations! You're in. Feel free to post, comment and share.
Reddit Site Sections
The site has three segments, and the description says Bitcoin is the currency of the internet and a button below it with the words, "Join Community." So you will sign in to join the community. It also shows the total number of subscribers, which is 3.5 million, and the total number online, 4.5k users.
The other two sections are the POSTS and ABOUT. The Posts section allows for users to share any information or ask questions. You can see the top posts on the forum, which follow time order. Top posts are the ones that are newly shared. You can scroll down, read, join a post discussion, see the number of discussions on a particular post, react using emojis, and even share a link to the post. Names of people sharing appear alongside the posts, just like on Twitter.
Congratulations Bitcoin Reddit!
The site is excited to surpass the 3.5 million mark. The site even goes the extra mile to thank every and congratulate every subscriber, welcomes newbies, and advocates for Bitcoin. Bitcoin Reddit encourages users to spread the word concerning Bitcoin as a gateway to freedom and financial sovereignty.