Volatility was painted all over the crypto market. Bitcoin [BTC] recent drop to a low of $18K caused immense chaos in the market. Sadly, the entire market mirrored this notion and found itself drowning in losses. Despite this carnage, an array of individuals expressed interest in certain assets. Bitcoin was clearly not one among them.
As per Santiment, an online analytics platform, interest in altcoins like Ethereum [ETH], XRP, Shiba Inu [SHIB], Cardano [ADA] as well as Polygon [MATIC] was higher than that of other coins. The platform pointed out that these assets were being widely discussed by the crypto community.
The fact that Ethereum and Cardano were on the list did not come as a surprise. While the Ethereum network just celebrated the finalization of the Merge, the Cardano community awaits the occurrence of the Vasil upgrade. The social sentiment did not reflect on the price of these assets, while ADA dipped by 10 percent over the last couple of days, ETH recorded a 21 percent fall.
Shiba Inu, XRP as well as Polygon's MATIC, however, have had no major upgrades like Ethereum. Despite this, the crypto community seemed to be inclined towards these projects.
The Shiba Inu Army is considered to be one of the most active communities on Twitter. As a result, Shib's presence on this list was expected. Surprisingly, Shib's rival Dogecoin wasn't part of the list.
XRP on the other hand seems to have caught the attention of the community with its price. While most assets were painted red, XRP was up by 7 percent over the last 24 hours. The altcoin's 7-day price change was at a positive 5.70 percent.
Bruised Bitcoin
As mentioned earlier, the alts seemed to be veering under the spotlight leaving no space for Bitcoin.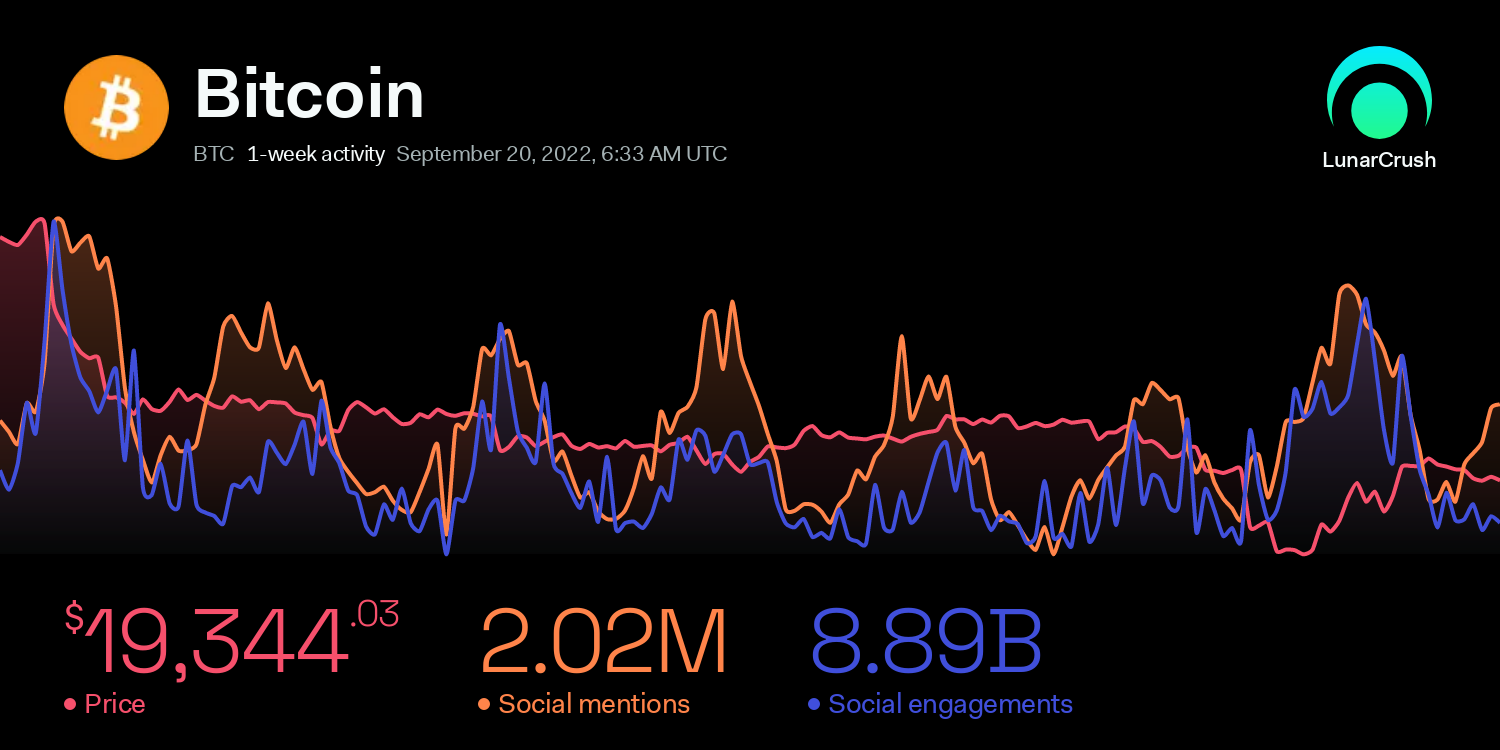 Similar to its price, Bitcoin's social engagement took a huge hit this week as seen in the above chart.
It should be noted that Bitcoin dropped to a low of $18,390 just yesterday. However, following a 4.65 percent daily surge, BTC was trading for $19,341, at press time. While Bitcoin remains undefeated in terms of market cap and price, the altcoins were stealing BTC's social limelight.