Bitcoin (BTC), the original cryptocurrency, has surpassed the $27k mark for the first time since June 2022. The largest digital asset has made gains of up to 8.6% in the daily charts and 32.9% in the weekly charts.
Over the last seven days, the overall market capitalization of cryptocurrencies increased by $217.83 billion, rising from $918.17 billion to $1.19 trillion. Now, Bitcoin's latest rally comes amid a banking crisis that has gripped the United States. Three banks collapsed within the span of just a few days, sending shockwaves through the finance industry. It is possible that the crisis in the banking industry has pushed investors to pour their money into cryptocurrencies. There is a lot of uncertainty in the American banking sector, although authorities have assured customers that the industry is in a stable condition.
BTC is currently facing resistance at the $27k mark, with support at around $25,900, in the 4-hour chart.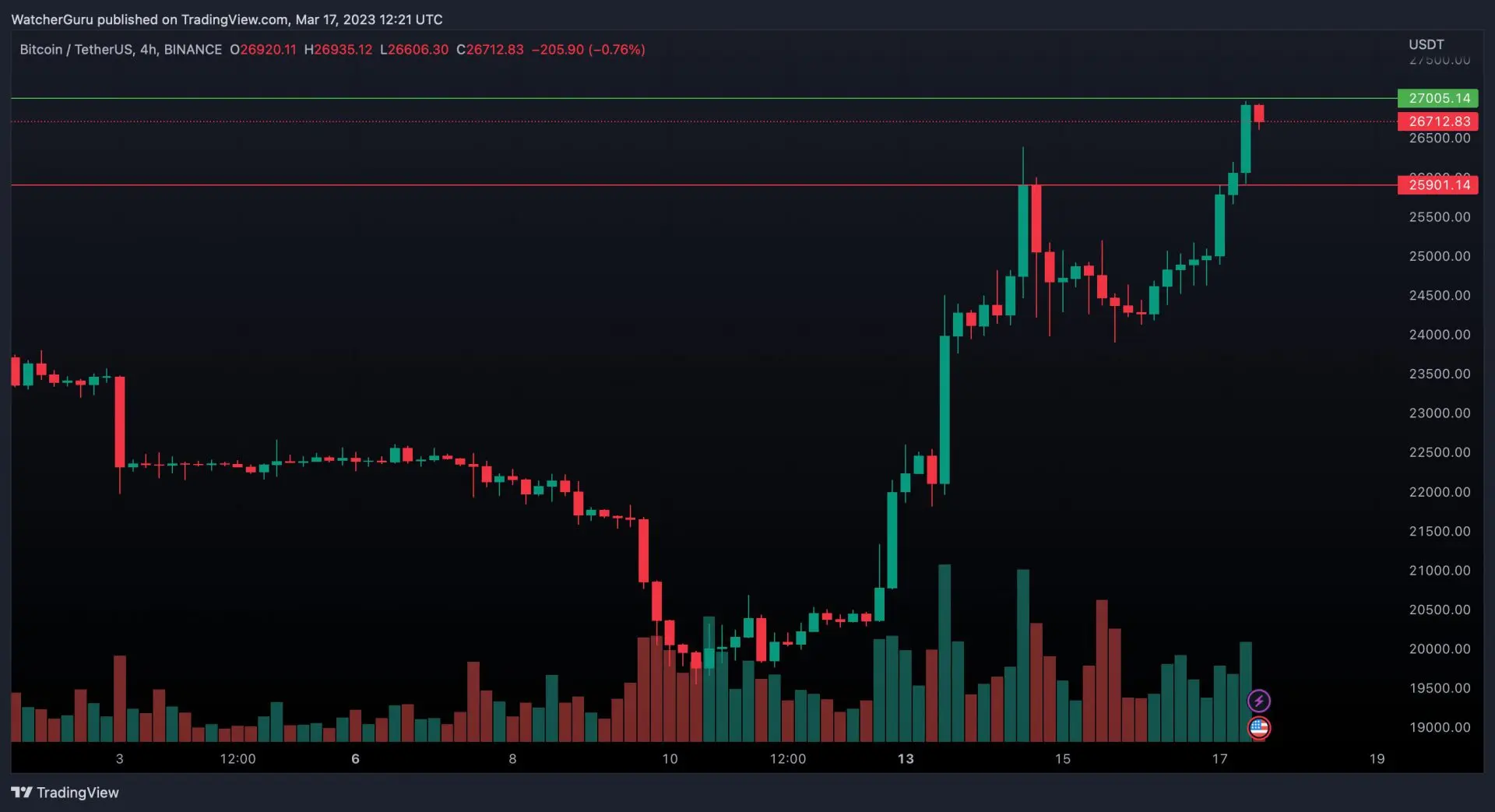 Amid Bitcoin's (BTC) new 10-month high, a total of $150 million worth of liquidations was observed. It's hardly surprising that the bulk of liquidated trades were short positions given that the majority of altcoins are currently trading in the green. Additionally, the number of trades has climbed to well over 44,000 at press time.
Is Bitcoin entering a bull run?
A significant multi-month rally may be coming, according to several crypto specialists, who have been encouraged by Bitcoin's spectacular rebound. Nonetheless, the likelihood of a significant pullback or sideways consolidation is still present. However, this does not render the bullish market structure worthless.
Markus Thielen, head of research and strategy at Matrixport, says that BTC has a chance of climbing to the next technical level at $28k. BTC has risen, responded, and retested within wider price swings from $4,000 point increments ($16k, $20k, and $24k), from which the current breakthrough is currently aiming for $28K. At press time, Bitcoin (BTC) was trading at $27,051.23, up by 1.1% in the last hour.