Bitcoin continues to astonish market participants by rising on the charts, despite the ongoing macro banking turmoil. On Friday, March 17, the largest cryptocurrency asset surpassed $26.6k and was back to trading around its June 2022 levels.
BTC has swiftly glided by around 7% over the past day, pulling up the prices of most other assets alongside. In retrospect, billions of dollars have been added to the global cryptocurrency market cap, with the same flashing a reading of $1.14 trillion at press time.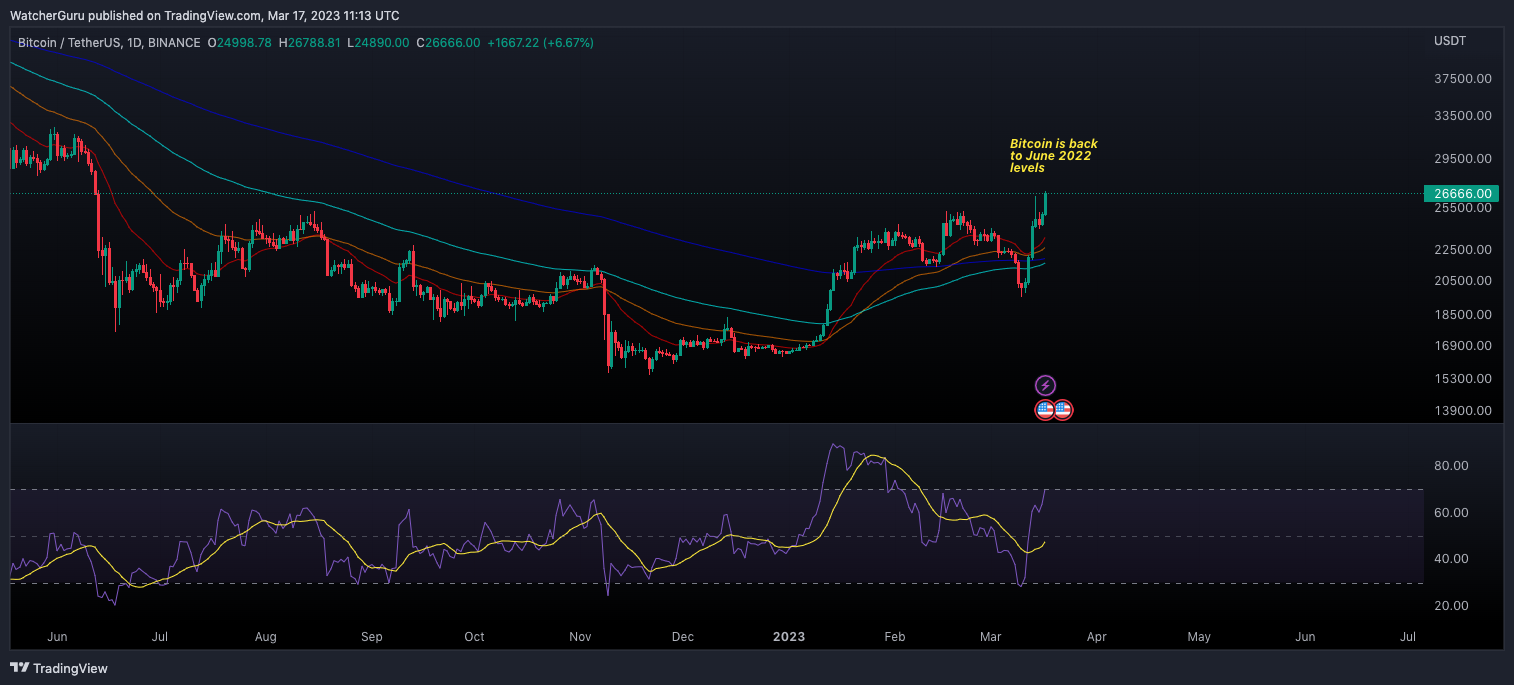 Also Read: BlackRock CEO: More Bank Seizures Could Occur Going Forward, Inflation To Persist
Bitcoin to $100k soon?
With the recent rally in the picture, most proponents have already started making bullish predictions. Recently, Messari's Founder, Ryan Selkis took to Twitter to chalk out what to expect over the next 12 months.
According to him, the space will witness more banks fail over the next couple of weeks. For now, three well-known banks have already collapsed, while other smaller ones like the First Republic Bank continue to remain in distress. In fact, analyst Michaël van de Poppe, also recently asserted, "Let the banks fail," for it will pave the path for a better system.
According to Selkis, the regulators would then be treading on the quantitative easing path. Even though "moderate inflation" would sustain, Bitcoin would act like a hedge and climb up. Then, as the "sound money" narrative gets stronger, Selkis predicted that Bitcoin would end up claiming $100k. Alongside, he also added that institutions would "buy faster than Feds can shut down."
He further clarified,
"This is an optimistic bet on the future, as BTC is treated as a life raft and peaceful exit option. But the key is threading the needle so institutions can buy it and defend it alongside us. Best case scenario right now."
As analyzed in a recent article, Bitcoin has just broken past its macro-bearish trendline. A confirmation has not yet been established. However, several analysts from the space—like Rekt Capital—believe that it is now, just a matter of time until Bitcoin bids farewell to its ongoing macro bear market. Tweeting on what is the need of the hour, the analyst recently claimed,
Also Read: Will Bitcoin Drop Below $20k to Finish the 'Unfinished' Job?