Right after the inflation data release earlier this week, Bitcoin breezed past $26k and went on to register a new 2023 high. Most other crypto-assets followed suit. However, the hype rally was too good to last. On Thursday, March 16, BTC was down to $24.6k, while the global cryptocurrency market cap was down by 2.6% at press time.
Despite the pullback registered of late, positive signs continue to flash on the board for Bitcoin. On the monthly chart, for instance, the asset has just broken past its macro-bearish trendline. Even though it has not yet undergone confirmation, it is still a positive takeaway.
In fact, several analysts from the space believe that it is now just a matter of time until Bitcoin bids adieu to its ongoing bear market.
Also Read: U.S. Inflation Rate Falls to 6% in February
Mind the gap(s) please, Bitcoin!
Before getting overwhelmed by the bullish tides, it is worth noting that Bitcoin has a few unfilled CME gaps at this stage. For context, the CME market is not open all the time—24/7*365—like the spot cryptocurrency market. It follows the usual exchange working hours and also closes on holidays. As a result, the formation of gaps on its chart is quite a common phenomenon.
On most occasions in the past, CME gaps have been bridged within a few days. Having said that, it should also be noted a few gaps remain to be unfilled for long periods of time when macro-trend reversals take place.
At the moment, there are a few unbridged gaps in plain sight. A notable one is on the downside, while there are two others towards the upside.
The first one extends from ~$19.9k to ~$21.2k. To fill that gap, Bitcoin would have to drop by around ~19%. Given that the asset's price has sharply spiked this week, there are odds of a correction materializing. In an event of the same Bitcoin could be pulled down to the said gap, before putting on its macro bullish boots.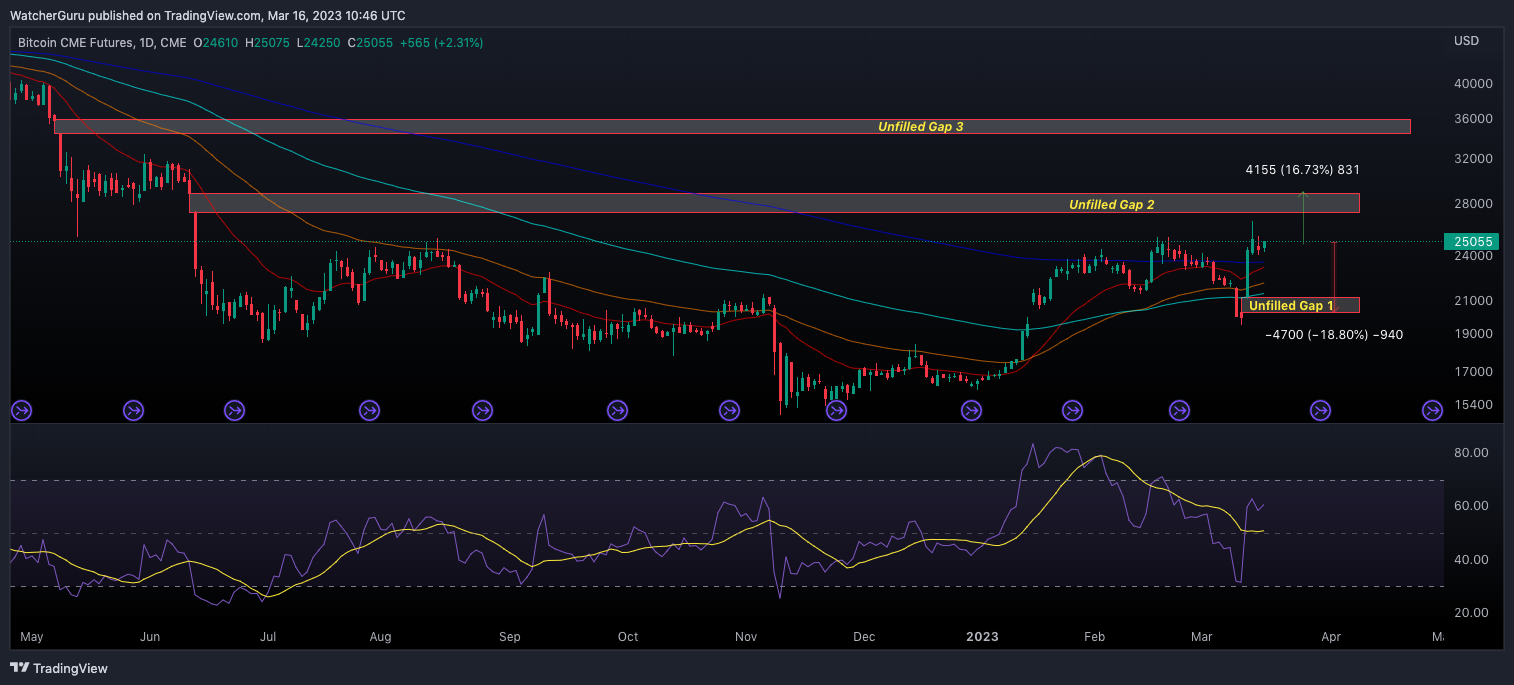 However, it is also interesting to note that Bitcoin has another unfilled gap of around $28k as well. So, if the bullish momentum continues rolling, and BTC glides up by ~17%, it'd end up filling the same.
After that, there's another hollow around $36k [gap three on the chart], and another one around $9.6k-$9.7k. However, both the said levels seem to be a bit far-fetched from the current price, and only time can tell if BTC will end up filling them or not in the future.
Also Read: Will This 'Gap' Pull Bitcoin Down To $9.6k In 2023?