Bitcoin has been attempting to recover over the past few weeks, but it has been obstructed by sellers. Resultantly, it has remained stagnant around the $20k mark. Miners, as a whole, are under distress and have been parting ways with their Bitcoin HODLings.
In the month of September, Core Scientific—a US-based mining company—sold 1576 BTC at an average price of $20,460 per Bitcoin. As of 30 September, the Company held 1,051 Bitcoins and approximately $29.5 million in cash.
In fact, Core Scientific produced less than what it sold last month. As per the recently released statement,
"Core Scientific's self-mining operations produced 1,213 bitcoins in September, for an average of 40.4 bitcoins per day. "
Elaborating on why brakes were applied on the production front, the statement noted,
"Curtailment activity across multiple data centers and unanticipated electrical equipment challenges limited production advances."
Nevertheless, the Company deployed approximately 2,900 new servers during the month for its self-mining operation.
Macro spend picture of Bitcoin miners
Over the past month, miner outflows have surpassed the 1k BTC mark every day. In fact, on a couple of instances, it also managed to cross the 2k threshold, indicating the persistent sell urge.
Just a day back, the mining hashrate surpassed the 300 EH/s to create a new ATH. Alongside the mining difficulty is also expected to rise going forward. The two factors collectively put pressure on miner profitability numbers, and to tread through the current phase, miners might continue selling.
Read More: Bitcoin Hashrate crosses 300 EH/s to create new ATH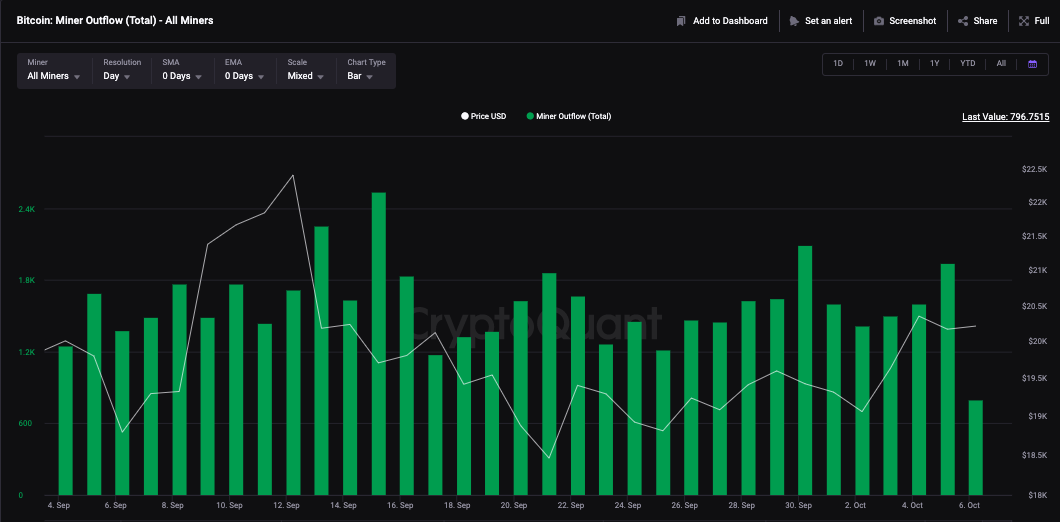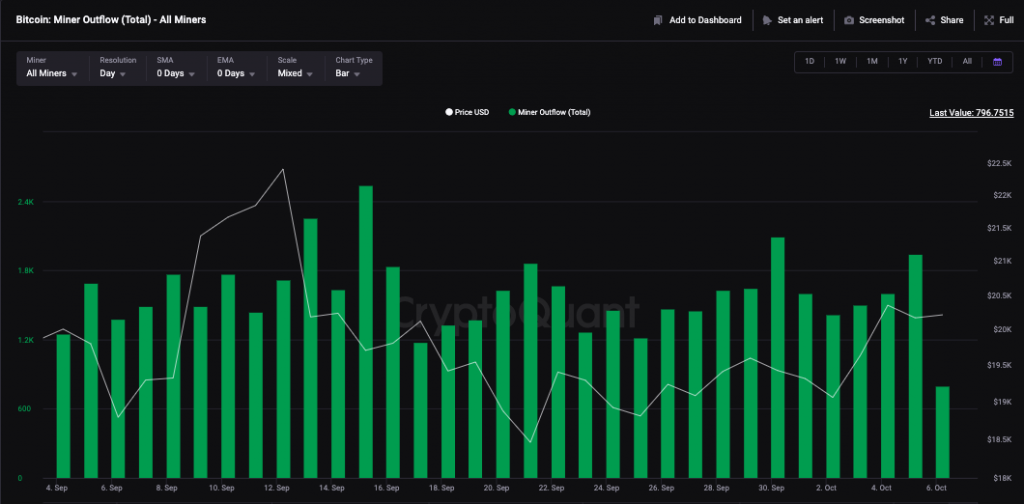 The overall produced-spent ratio also doesn't seem to be in good shape. Per data from the on-chain analysis platform ByteTree, miners continue to spend more Bitcoin than the amount generated. Over the past day, the net number stood in red and reflected a reading of 22 BTC. On the weekly, the same was at -32 BTC.
Over the past 5 weeks, however, the scenario seemed to be slightly different. Out of the 6.5k BTC produced per week, miners sold 6.4k BTC, making the net inventory positive [33 BTC/week].