In a recent transaction, a Bitcoin enthusiast paid an astonishing 19 BTC as a fee. This was equivalent to a staggering $509,563. It is worth noting that this marks the highest-ever transaction fee paid in US dollars. This substantial fee was paid for the transfer of a modest 0.074 BTC. F2Pool has announced its decision to temporarily set aside the 20 BTC fee, and if it goes unclaimed for three days, it will be distributed to miners instead.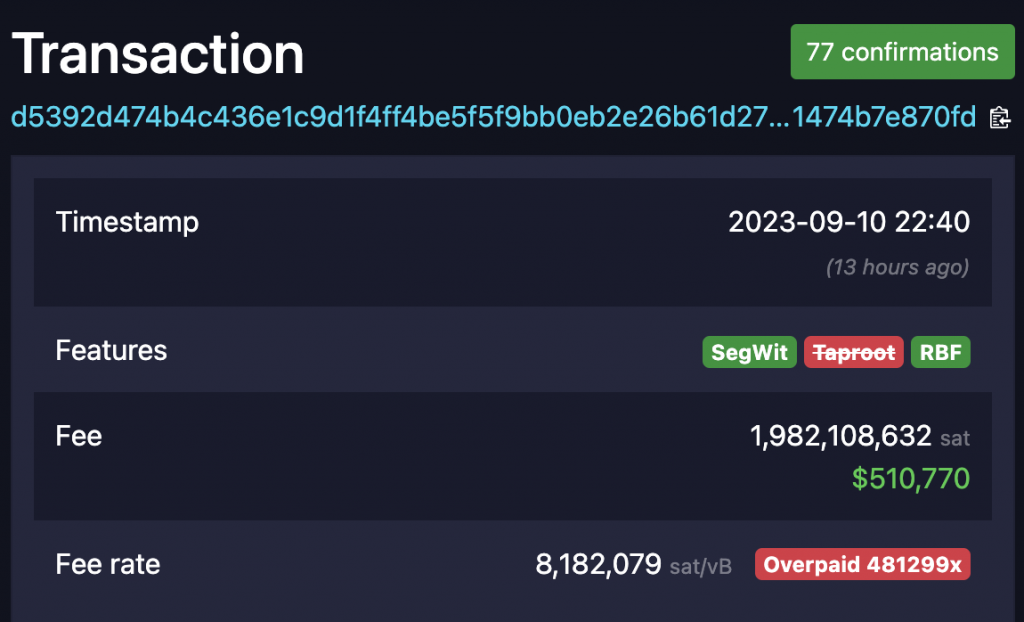 The typical cost for a Bitcoin transaction is currently approximately $2.176. This is a significant decline since July. The latest situation is notably unusual and unexpected. It is important to understand that average fees can vary due to network congestion, with instances like the 2017 cryptocurrency surge causing fees to spike to nearly $60.

Nevertheless, several speculate that such an exorbitant fee might have arisen due to an error or a misconfiguration in the transaction software. The latest incident also sparked renewed discussions about Bitcoin's network scalability and effectiveness. It provides an opening for proponents of other networks to voice their criticisms of the digital asset.
Also Read: When Will Bitcoin Reach $100,000?
Bitcoin adoption takes front stage
Despite these mishaps, reduced prices, and the emergence of alternative networks, Bitcoin remains prominent. Recent data revealed that a total of 717,331 new Bitcoin addresses were generated over the weekend, marking the highest number in the past five years.
This achievement indicated an increasing level of engagement and interest among individual investors in BTC. At press time, the king coin was trading at $25,827.44, with no major fluctuations in price over the last 24 hours.
Also Read: Bitcoin, Ethereum battles a 'PVP Market' Amidst Drying Spot Volumes