The crypto verse is evolving. While numerous new cryptocurrencies have emerged, Bitcoin [BTC] continues to be one of the most lucrative assets. As the leading cryptocurrency anticipates a significant surge in the upcoming year, many are gearing up in their own unique ways. One specific long-dormant whale, inactive for six years, has chosen to reemerge.
Recent information sourced from Arkham Intelligence reveals that a Bitcoin whale has purportedly conducted transfers involving 3,000 BTC, equivalent to approximately $82.37 million, across various wallets. These transactions mark the first activity in six years. It's noteworthy that a substantial portion, precisely 500 BTC, was sent to a specific wallet, while the remaining 2,495 BTC found its way to another wallet. Importantly, both of these addresses are entirely new, adding to the intrigue of this move.
The wallet address bc1q55j8ankt9qlpvg6r9mgc0ty0r0jwpzw2dpwnpu currently holds an amount of nearly 2,500 BTC. The value in USD is approximately $68.62 million.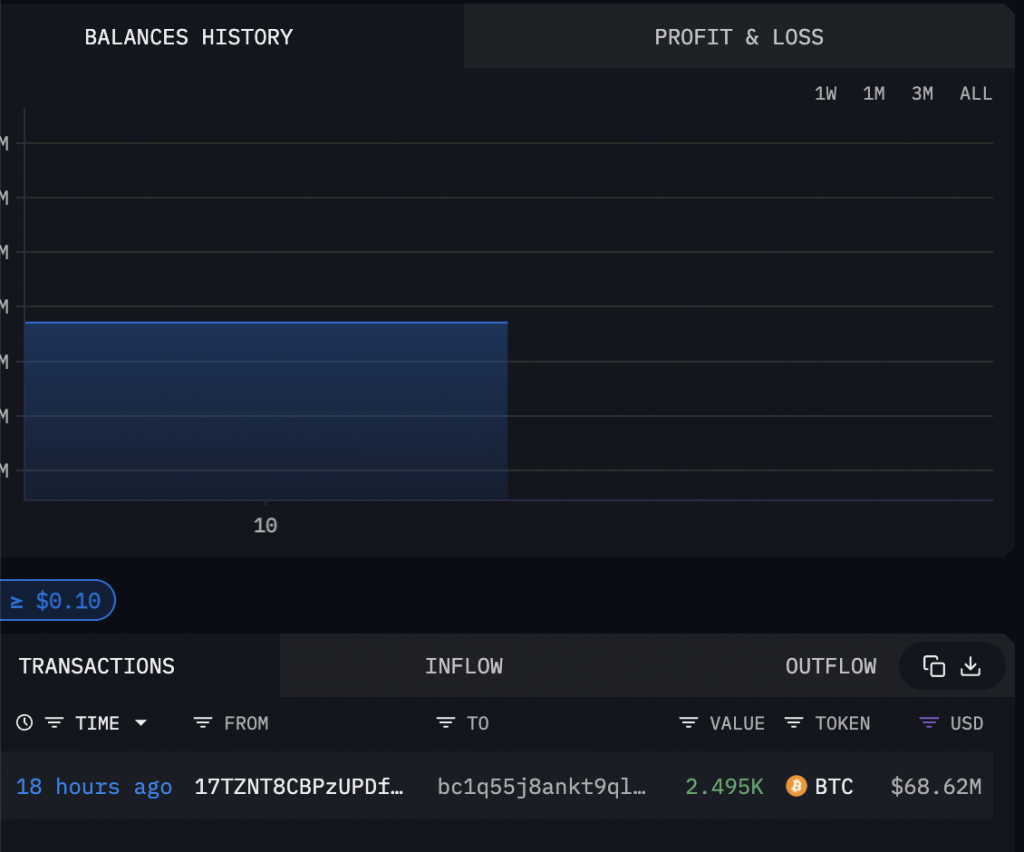 It's worth mentioning that the previously inactive whale, identified by the address 17TZNT8CBPzUPDfKTXC25RQHrW6M2q6kRo, has been amassing Bitcoin over the years. Initially, the whale made its first purchase of 3,200 BTC seven years ago. Subsequently, there were smaller investments over in the following years. However, six years ago, the same address conducted a transfer of 204 BTC to another wallet, which currently holds no balance.
Also Read: Fidelity Labels Bitcoin Most Secure and Decentralized Crypto
Dormant Bitcoin Whales Make a Splash
Dormant wallets have started to make significant waves within the market. This is not an isolated incident. Quite recently, a Bitcoin address that had remained inactive for three years initiated a transfer involving approximately 5,000 BTC. Similarly, back in August, there was a notable occurrence when a Bitcoin address was thought to have its origins in the era of Bitcoin's creator, Satoshi Nakamoto. It was reactivated after lying dormant for nearly 13 years. This address made a transfer of 1,005 BTC, valued at approximately $29.7 million.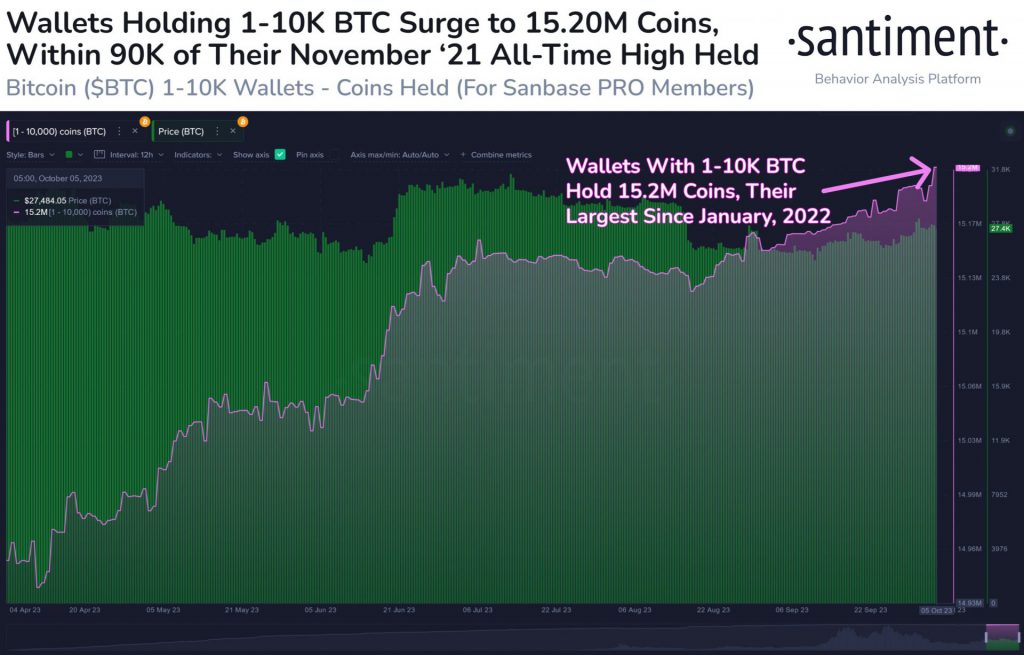 In the meantime, wallets holding a balance ranging from 1 to 10,000 BTC have significantly increased their accumulation efforts over the past six weeks. With their recent acquisitions, the total supply controlled by this group reached 15.2 million. This marks the highest level since January 2022. Notably, these holdings were approaching an all-time high of 15.29 million, which was achieved during the peak of the bull market in November 2021.
Also Read: Bitcoin's Rise to $28,000 Faces Hurdles Amid Low Activity
At press time, Bitcoin was trading at $27,672.51 with no major fluctuations.