Bitcoin [BTC] has been striving to establish a foothold at the $28,000 mark. Despite facing several obstacles on its journey, a recent positive development has caught the attention of on-chain data provider Santiment. During the past weekend, Bitcoin experienced a notable surge in outflows from exchanges, marking one of the most significant outflow days in over a month. Santiment reported that Bitcoin observed its largest movement of coins, exceeding 10,000 BTC, away from exchanges since Sept. 7. This development is viewed as a bullish indicator for the crypto.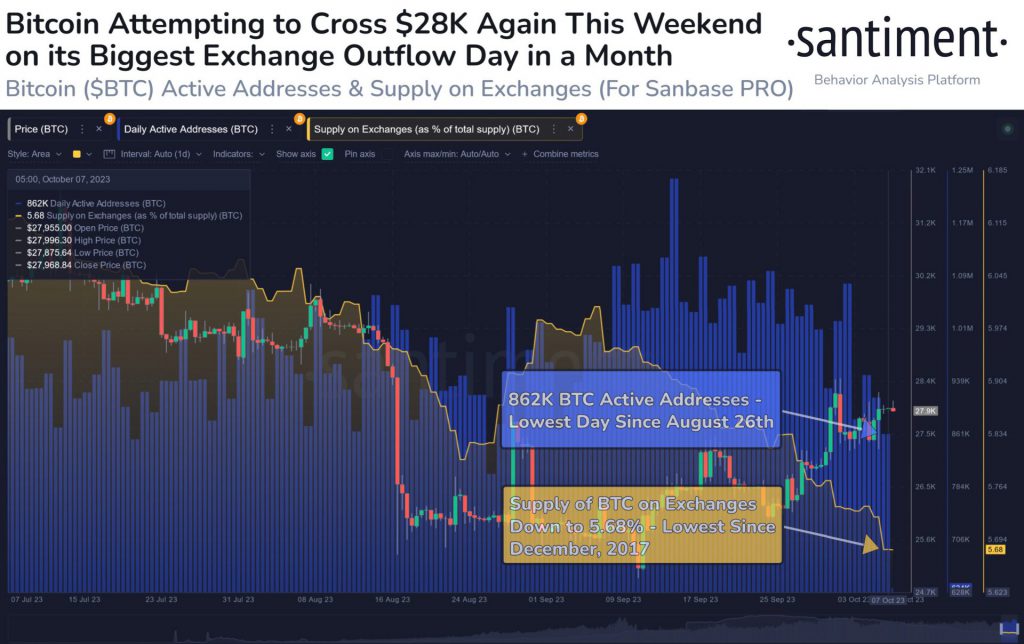 As depicted in the chart, the amount of BTC available on exchanges has declined to a historic low of 5.68%, a level not witnessed since 2017. This represents a positive trend, indicating that BTC is increasingly moving from exchanges to private wallets. This shift implies reduced selling pressure on the market, which is in turn good for the king coin.
Currently, BTC is priced at $27,901.82, experiencing a slight 0.23% daily dip after yet another unsuccessful attempt to remain above the $28,000 mark. Consequently, the potential reduction in selling pressure could play a crucial role at this juncture. Nevertheless, the situation is not without its challenges.
Santiment's most recent chart also emphasizes the importance of utility in this context. This becomes evident as the count of unique addresses has dropped to its lowest level in six weeks. Moreover, with only 862,000 active addresses, Bitcoin has witnessed sluggish activity, marking the lowest point since Aug. 26.
Also Read: Joe Rogan Says Bitcoin Can Become a Universal Currency
Is Bitcoin's Role Shifting Towards That of a Store of Value Asset?
The NVT Signal has undergone a change in its calculation method, employing a 90-day moving average of daily transaction volume instead of using the raw daily transaction volume. According to a recent tweet by IntoTheBlock, transaction value, and volume have traditionally been relied upon as key metrics. However, recent increases in NVT ratios suggest that Bitcoin's value is now less dependent on its transactional utility, indicating its increasing role as a store of value.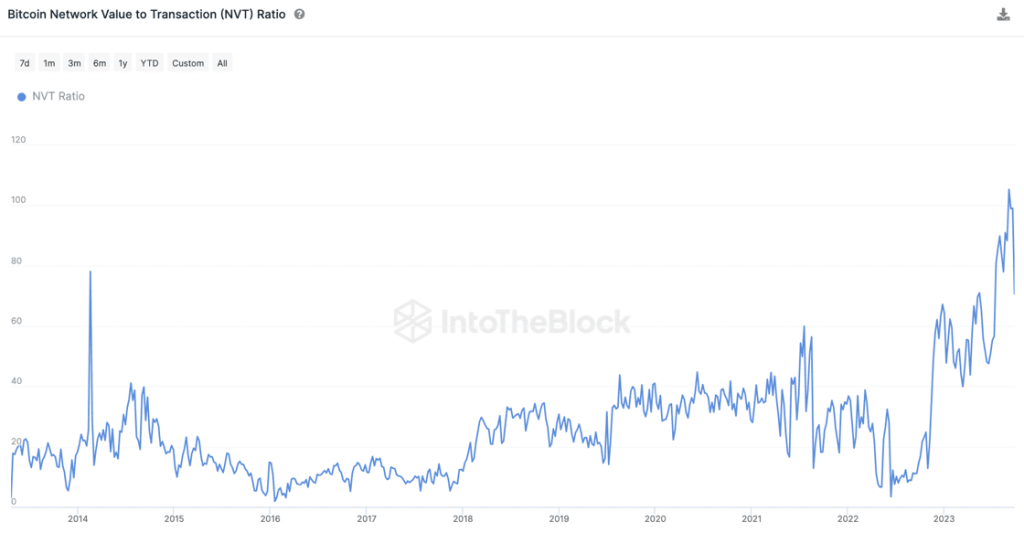 In the past, the NVT signal typically surged before a BTC price increase and declined before a price drop. However, despite a significant rise in BTC's NVT signal this time, the coin's price failed to follow suit.
In conclusion, overall activity in the Bitcoin market continues to be subdued, signaling a lack of significant bullish momentum. This lack of momentum is reflected in the stagnant price of Bitcoin.
Also Read: Bitcoin Whale Resurfaces with $140M Wallet After 3 Quiet Years