According to cryptocurrency analysis firm Glassnode, Bitcoin (BTC) whales are at lows not seen since 2019. On Feb. 19, the number of wallets holding at least 1000 BTC dropped to 2027, a number last seen in August 2019.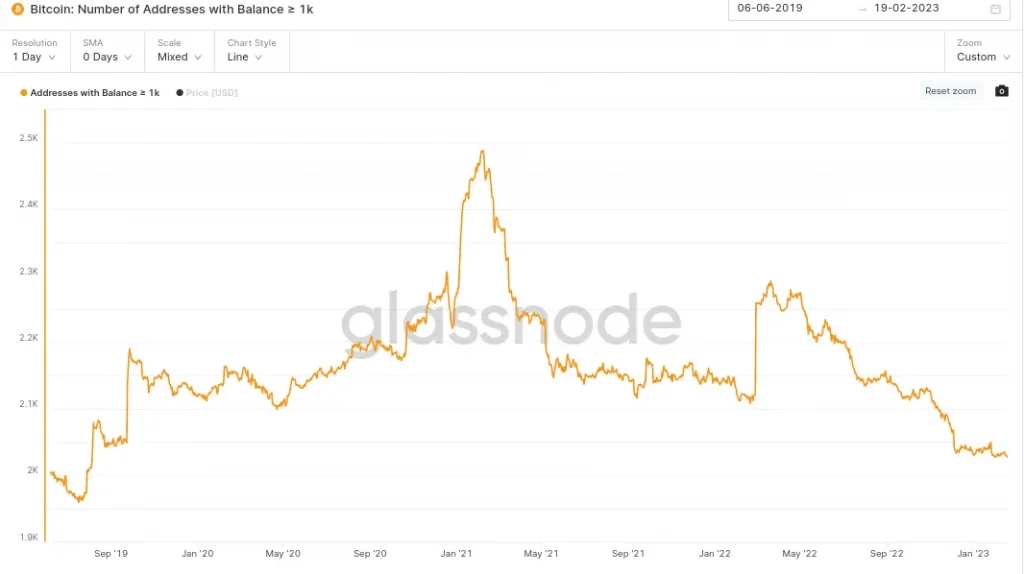 In 2021, during the last cryptocurrency bull run, the number of Bitcoin (BTC) whales reached an all-time high of almost 2500. The statistic has gradually fallen over the past year. The reason for the plummet is uncertain. Some whales turned into mega-whales, while there is a possibility that others booked profits and exited the cryptocurrency market.
However, mega whales and shrimps have increased while BTC whales have fallen. The number of mega whales holding at least 10,000 BTC, or $247 million at today's pricing, has surged. There are now 117 mega whales, close to their historical highs of 126 in October 2018 and 123 in November 2022.
During the past few years, the number of "Bitcoin shrimps," or smaller holders, owning less than 1 BTC, has progressively climbed, regardless of the sharp decrease in the price of BTC.
Bitcoin Transaction Count Momentum highest since January 2021
According to Glassnode, Bitcoin Transaction Count Momentum is the highest since January 2021. However, the analysis firm noted that the surge is due to the demand for Inscription transactions. The spike in transaction count reflects an increase in network activity as demand for on-chain transactions gathers pace.
An inscription is a digital object saved on the BTC network. It is stored in the BTC transaction's OP RETURN field, which has a limited capacity. Inscriptions can be used to create non-fungible, one-of-a-kind digital items.
Glassnode observed that the amount of Bitcoin value being moved continues to be small. For coins that were less than six months old, there were fewer than 115,000 BTC every day. This indicates that earlier coins may still be stored or dormant.
Moreover, the overall supply, less than six months old, hasn't changed much this year, staying around 4.3 million BTC. While experienced traders continue to hoard, the supply older than six months reached a record level of about 15 million BTC. These bear market patterns typically appear after a significant selloff.