The number of Bitcoin (BTC) whales is currently at its lowest level in three years, according to Glassnode. There are only 1,663 distinct entities with 1,000 BTC or more. A cluster of addresses that are under the control of the same network entity is how Glassnode defines a unique entity. Moreover, whale entities peaked in February 2021 with 2,161.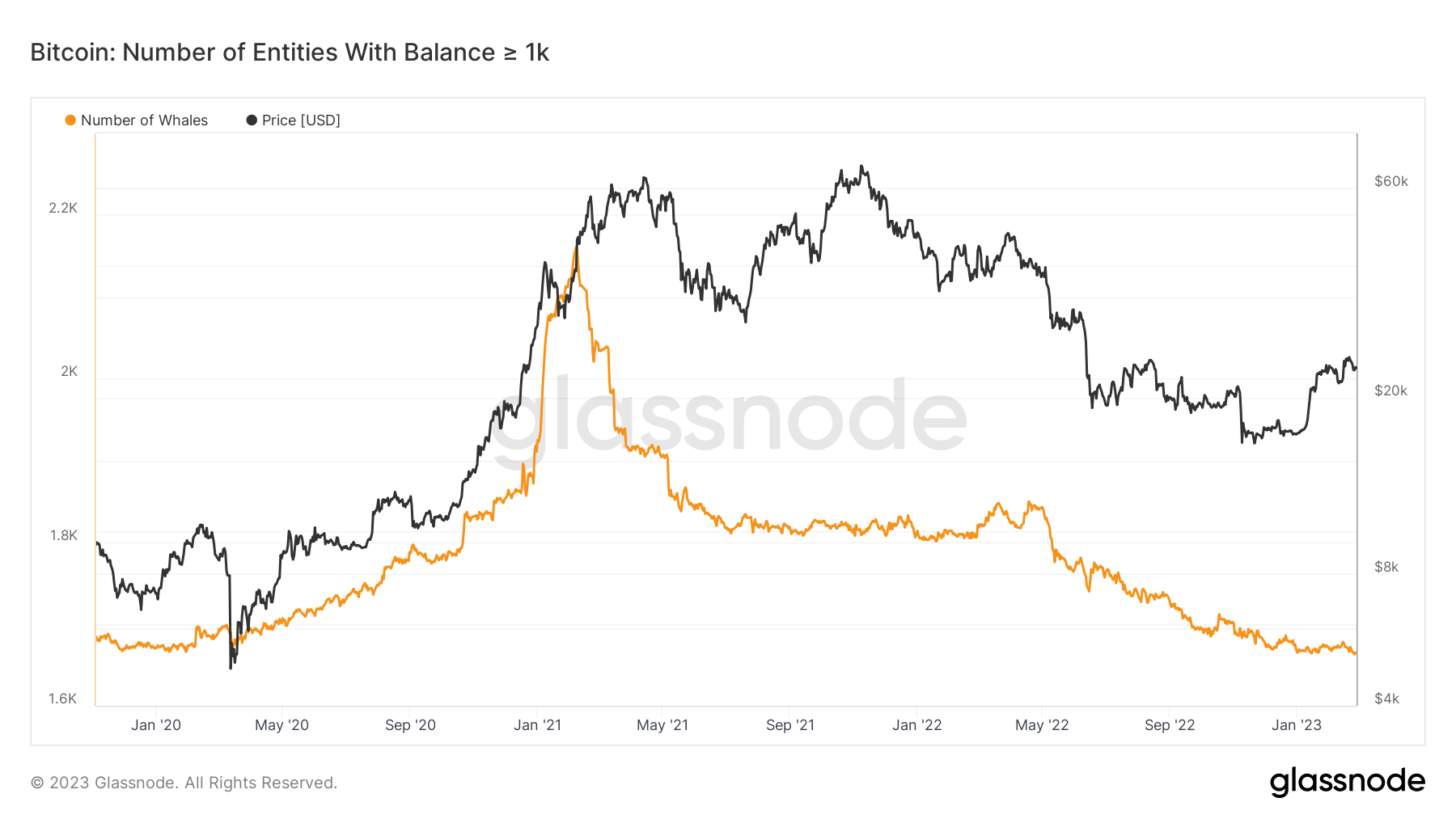 The biggest Bitcoin (BTC) investors have not yet decided to return to the market as the price is still 65% below all-time highs.
Bitcoin whale moves move BTC
1,000 tokens that had lain dormant since their purchase four years prior were relocated by a whale. The coins were moved after making significant gains. During the past five years, the value of 1,000 bitcoins has increased by an astonishing 575%.
According to CryptoQuant certified author JA Maartun, the 1,000 BTC tokens were purchased on February 23, 2019. Back then, Bitcoin (BTC) was selling at $3,468 per coin.
The tokens, at $3,468 per BTC, were purchased for $3.4 million. Today, the value of the coins is approximately $23.4 million. The whale would have made a profit of $19.9 million from this trade, assuming they liquidated the recently transferred assets. However, as Maartun noted, there is no evidence to support the notion that there was a selloff. The assets may have been moved to another location controlled by the same entity.
Nonetheless, given Bitcoin's precarious status, the most recent development has market observers on edge. Recently, for the first time in more than ten days, the asset fell below $23,000. The recent decline in BTC's price below $23K has been attributed to the dollar index's rise, which has affected the riskiest assets. Furthermore, there are concerns that the FED will take a hawkish stance and decide to raise interest rates for a longer period of time.
At press time, BTC was trading at $23,393.98, up 1% in the last 24 hours.