After Bitcoin attained its $69k peak in November last year, its valuation started witnessing a massive correction. Nevertheless, a section of the community believed that the new year would bring along with its momentum and help turn the tables. Such a scenario, however, did not transpire. Bears dominated throughout the year and most recoveries initiated turned out to be futile.
At the moment, we're on the verge of stepping into yet again another new year. Hopes of market participants seem to be renewed once more. So, will it be fair to ride along the same wave or should one expect a bearish extension next year?
What Does 2023 Have In Store For Bitcoin?
Well, even though nothing can be said with certainty, analyzing past trends and comparing the current conditions could give us a plausible hint. When the charts are viewed, 2022's Bitcoin price movements seem to be a replica or a mirror reflection of 2018.
As shown below, Bitcoin attained its then peak in December 2017. From that price to 2018's year-end level, the asset dropped by almost 82% in value. Last year, instead of December, the peak was attained in November. Since then, the price is down by almost 76%.
The first and last week of January 2019 was reasonably bearish. However, in the mid-two weeks, some recovery was noted. Post that, barring one exception in February, successive green candles were registered on the weekly. The momentum started building thereon and by the end of the quarter, Bitcoin was all geared up to take off.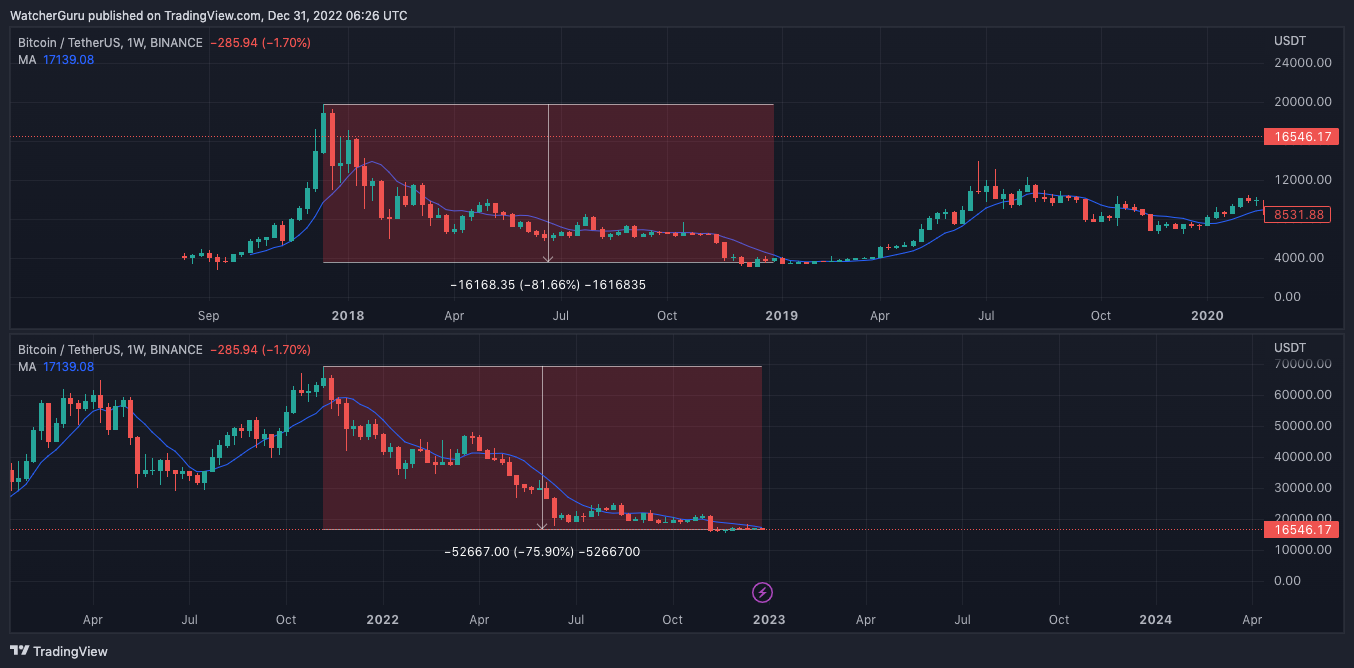 Also Read: Mark Cuban Wants Bitcoin To 'Go Down A Lot Further'
Zooming in further revealed that January 2019 was not a very happening month for Bitcoin. Throughout the month, a mere 10% deviation was noted by the price. After that, however, things started changing for the better.
History doesn't always repeat itself, but it sure does rhyme. So, if the same path is followed by Bitcoin, then January 2023 can be expected to be a slow month. Eventually, bears can be expected to give up and a tale similar to 2019 could be scripted.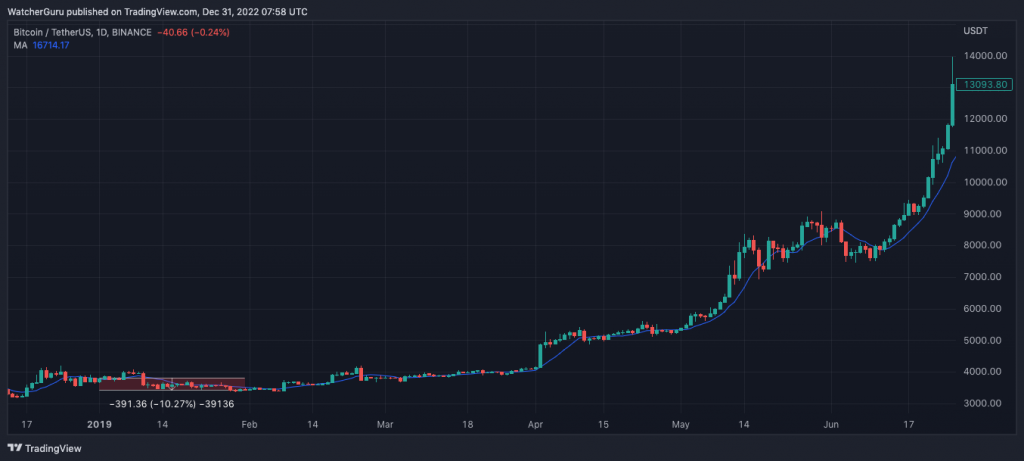 Also Read: Bitcoin Mining Companies Together Owe $4B In Debt
Getting The On-Chain Confirmation
The NUPL indicator was also seen hinting towards a trend reversal at press time. This indicator basically looks at the difference between unrealized profit and unrealized loss to determine if the network, as a whole, is in a state of profit or loss. Values below zero indicate that the network is in a state of net loss and vice versa.
As shown below, the current negative value is congruent with what was registered in the 2018-19 transition period. It signifies that the coin has faced a strong period of investor capitulation leading to a correction.
In due course, the negative value on this indicator started getting negated and the momentum started building. In due course, 2019's recovery materialized. At this stage, the red bars on the chart have already started getting shorter, likely indicating that recovery is impending after all.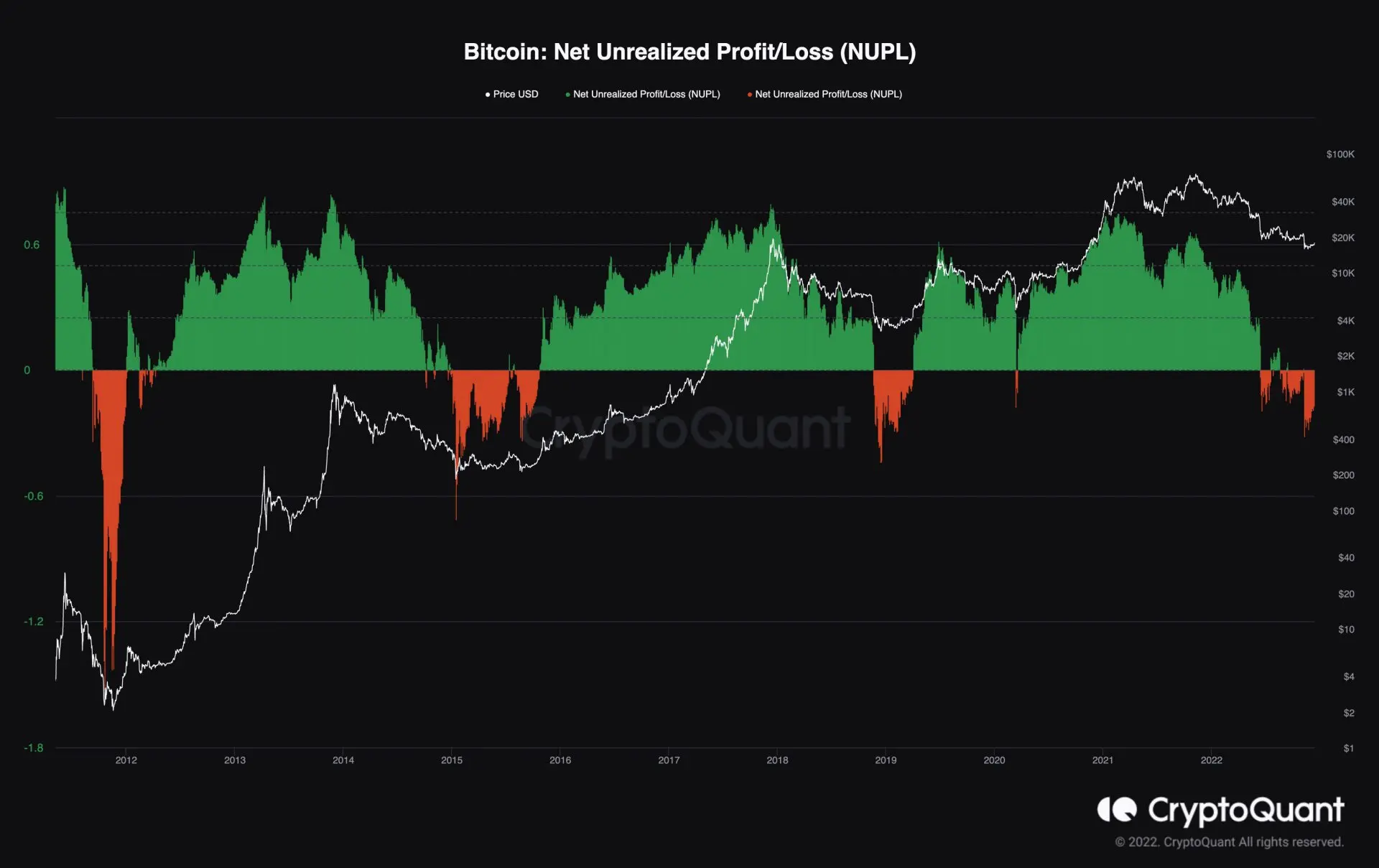 Also Read: MicroStrategy To Unveil Bitcoin Lightning Solutions In Q1 2023: Saylor