Even though we saw one of the biggest events in Ethereum's history yesterday, the crypto market has—by and large—been following the directional bias of Bitcoin. With the largest crypto trading below $20k at press time, the aggregate valuation of all cryptos had fallen by more than 2.6% over the past day to $962.8 billion.
What to expect over the weekend?
From the on-chain perspective, there seem to be quite a few hindrances for Bitcoin. The SOPR, for instance, had been dropping over the past few days. However, at press time, it stood a one-month low level of 0.9965. This indicator, as such, brings to light the degree of realized profit for all coins moved. Values less than 1 usually imply that the coins moved are being sold at a loss.
Consequentially, the current reading and ongoing downtrend bring to light the tarnishing conviction, for participants are letting go of their Bitcoin at losses.
Alongside, the realized cap of BTC has also been rolling down the cliff. As depicted below, the indicator currently stands at levels seen during October 2021. On its part, this metric represents the realized value of all the coins on the network, as opposed to their market value. So, the current trend in play further supports the narrative of participants selling their Bitcoins at loss.
If both of the said trends persist, it'd be challenging for Bitcoin to pose a recovery going forward.
Low liquidity in the Bitcoin market?
Apart from the said roadblocks, it is also essential to note that the Bitcoin market is in the midst of a liquidity crunch. Usually, during bear market extensions, supply is not met with sufficient demand.
Bitcoin's low liquidity phase started roughly about 4 months ago. The same can be confirmed by peeking into the state of the P&L indicator that has been revolving around 0.58. As illustrated below, an uptrend on this front was initiated in early June, and by mid-August, a local peak was also registered. However, the same couldn't sustain for long, and the P&L ratio started declining again.
Per Glassnode,
The interval between dropping below, and reclaiming the 1.0 level, is where bearish sentiment is at its peak, and due to inadequate demand liquidity.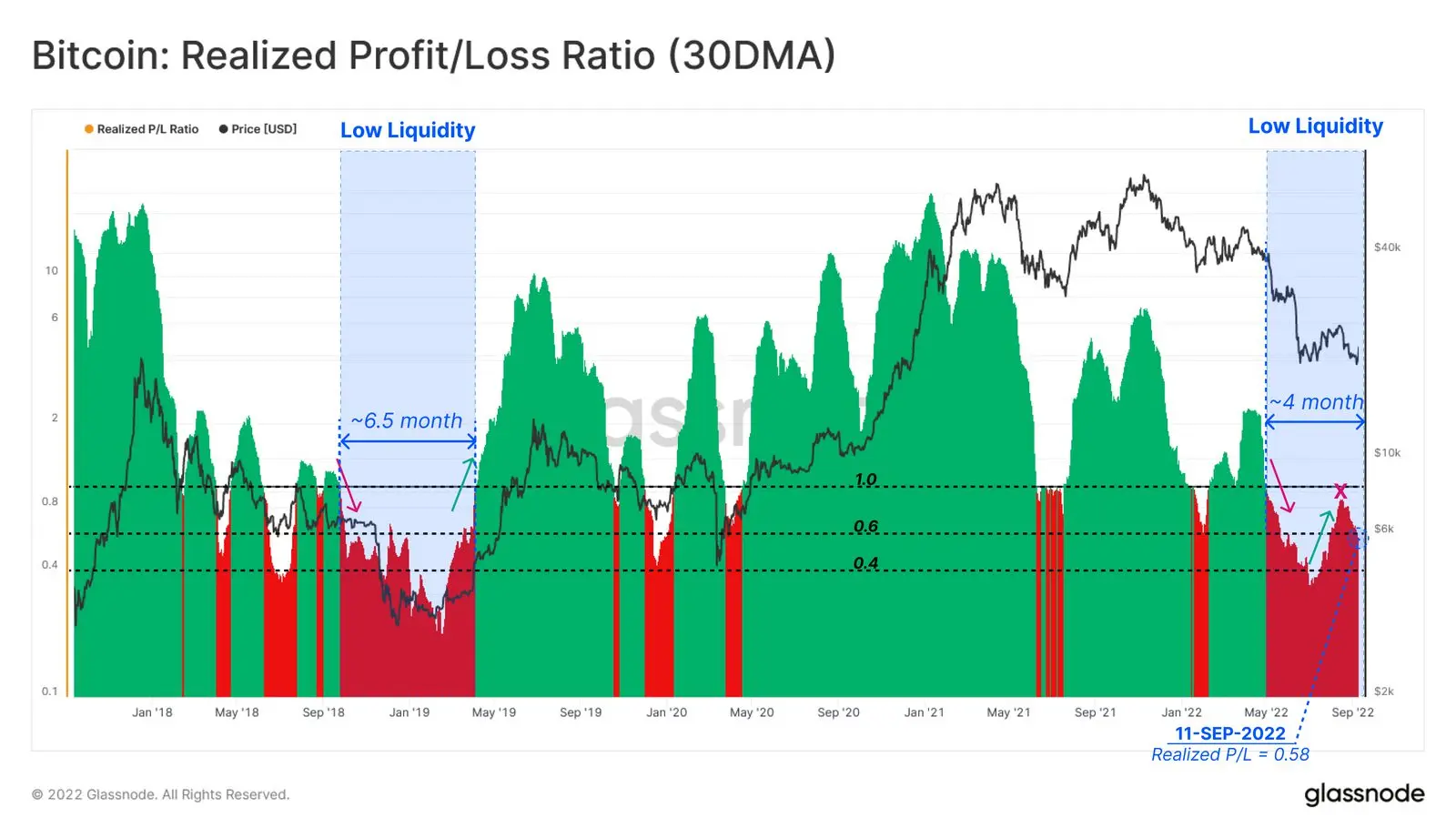 Overall, the metric statistics do not seem to align in Bitcoin's favor at the moment—reducing the odds of a weekend bounce-back.