Looks like the FTX contagion isn't going to stop anytime soon. Despite occurring several days ago, FTX's liquidity crisis continued to cause harm to other platforms. While some were directly affected by the collapse, a few others were impacted by the prolonged bear market that did not seem to be ending. Therefore, platforms like Bitfront decided to take another route and exit the market.
Bitfront, a prominent US-based crypto exchange backed by Line Corp, the Japanese social media giant was making headlines. Earlier today, Bitfront announced that it was shutting shop. The crypto exchange revealed that it would be permanently closing down by March 2023.
Line, however, affirmed that it would persist in its efforts with regard to the blockchain industry. The announcement further read,
"BITFRONT was established to enable users to safely store and freely trade their digital assets. And, from the beginning, we have done our best to be a leader in the blockchain industry. However, despite our efforts to overcome the challenges in this rapidly-evolving industry, we have regretfully determined that we need to shut down BITFRONT in order to continue growing the LINE blockchain ecosystem and LINK token economy."
The platform also revealed that the firm's latest move was instigated by the bear market. In addition to this, it affirmed that it wasn't related to FTX as it said, "is unrelated to recent issues related to certain exchanges that have been accused of misconduct."
Will Crypto Platforms survive the "second-longest bear market"?
A Redditor recently called the ongoing situation of the crypto-verse. "the second-longest bear market ever for crypto." The author of the post even suggested that the current bear market could likely be "the most brutal and longest bear market."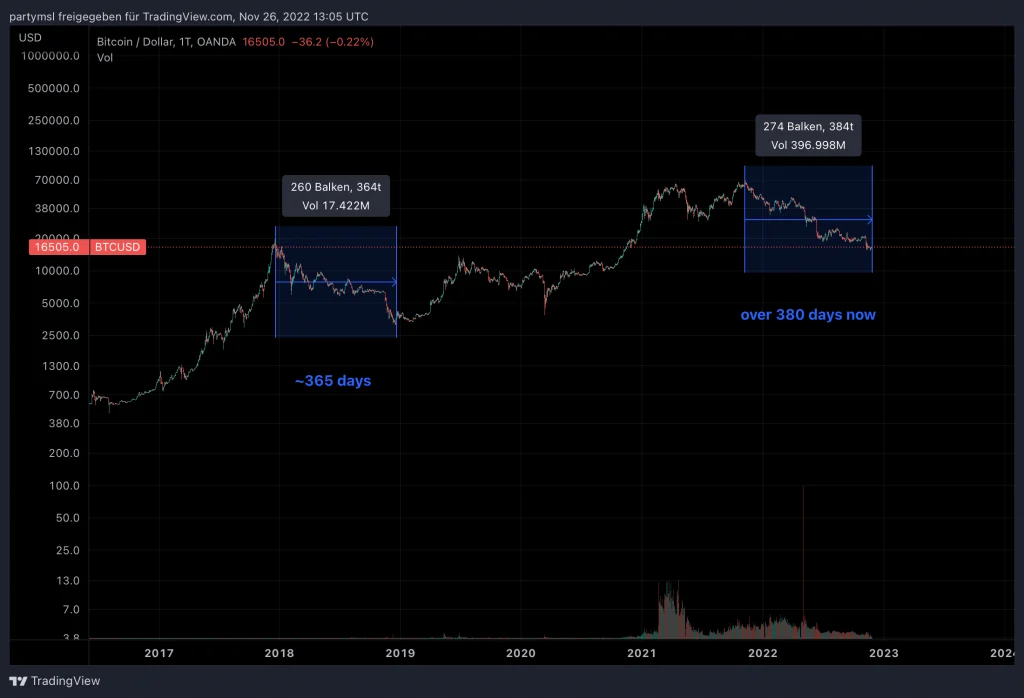 The author believed that the market still hasn't hit bottom. He pointed out how the 2013-2015 bear market took 415 days. Keeping this in mind, the ongoing bear market is likely to end by January. However, with the latest downfall of FTX, this was a far-fetched speculation.
The author further went on to laud the community for surviving this brutal bear market. However, with it prolonging, crypto platforms were certainly at risk.