The original CryptoPunk NFTs are among the most famous pioneer NFTs in the world.
They are also costly and in high demand.
For some time now, these 24×24 pixel punks have been making investors splash millions in transactions, with a goal of possessing their history and exclusivity.
However, this may change soon given how the new kid on the block has been dominating this year.
The Trade: Bored Ape Yacht
On the 25th of August, a Bored Ape Yacht NFT reportedly went for 149.8 ETH, equivalent to 626,256.75 USD. And a Tweet from the Bored Ape Yacht Club page served to confirm the matter.
The Bored Ape NFT sold, uniquely goes by the number 8295, and it was bought by an OpenSea user known as NemoOcean.
The table below shows NFT 8295's, transactions history over the past few months. And it is a clear indication of how profitable these NFT transactions can be.
Source: OpenSea
As you can see, the previous owner did a purchase with about 79.79 Ether. Then three months later, he sold it for 149.8 Ether, a total profit of $292,685.15.
Currently, its selling price is 265 Ether, and you can make an offer to buy it on OpenSea platform.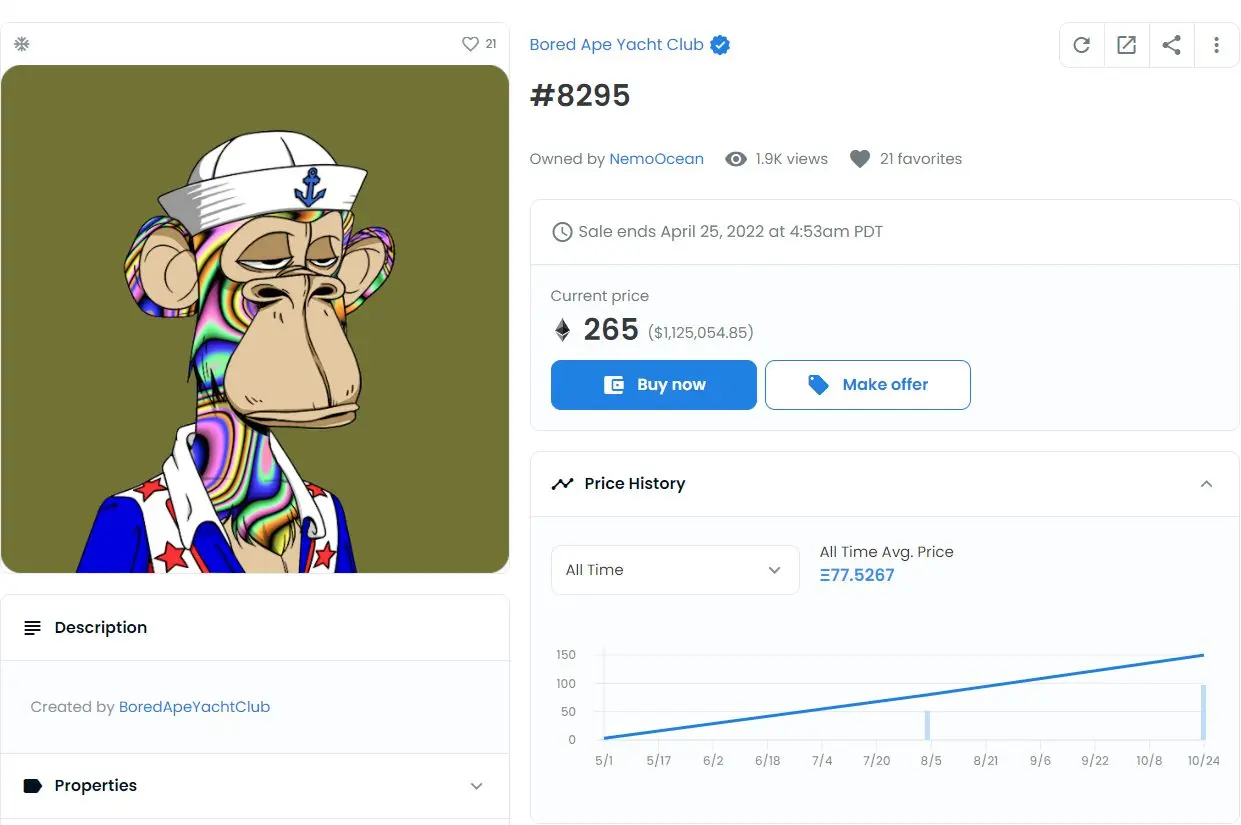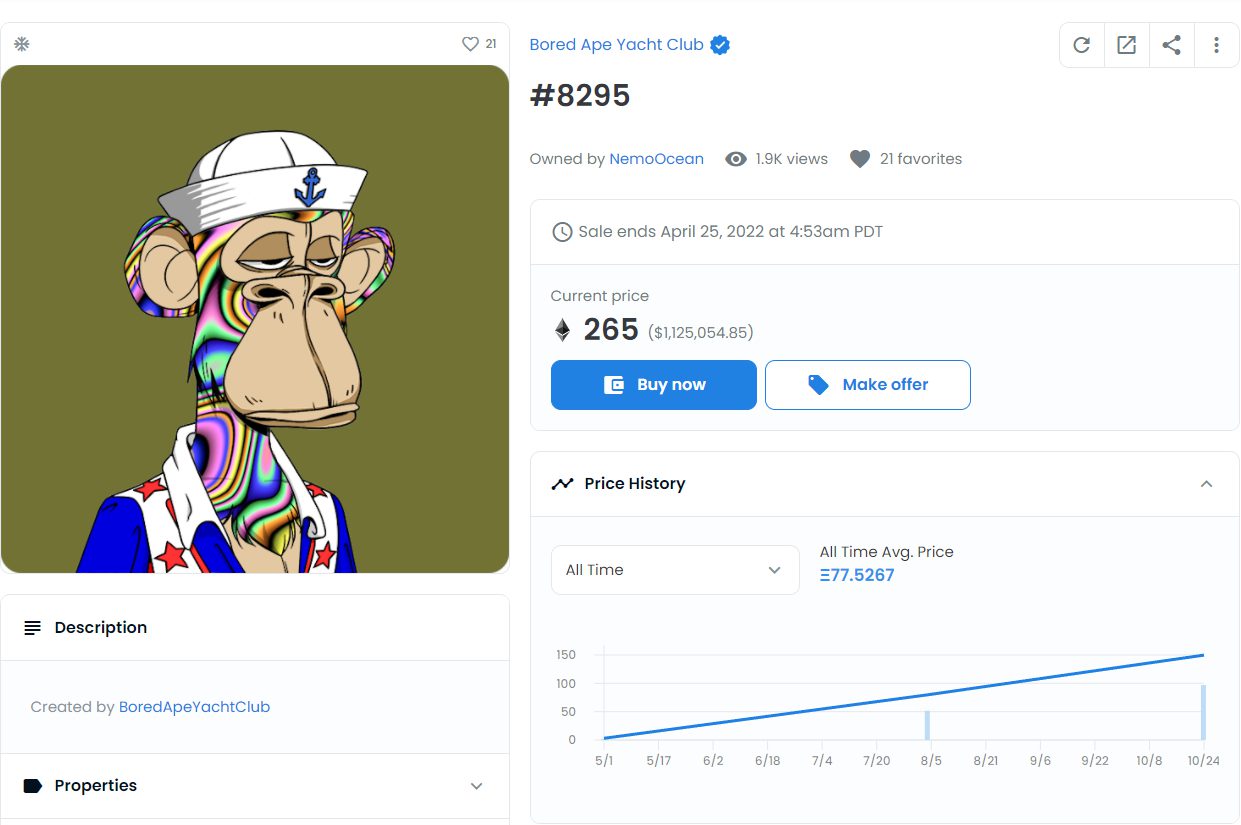 NFT Dominion
With all that has been happening lately, it would be hard to ignore the battle for NFT dominion within the crypto industry.
Currently, out of the top 10 NFT sales, 8 are either from CryptoPunks or Bored Apes. And interestingly, both of their NFTs exist as a unique collection of 10,000 each.
Last week a Bored Ape NFT, broke all records when its owner sold it for $2.68 million. And in the same week, half of the top 10 NFT sales worldwide were from CryptoPunks.
Yet despite this ongoing battle for dominance, their prices keep soaring, and the investors keep collecting.
A number of celebrities are also not being left out in this craze. As it is common knowledge that most of them are heavy collectors of unique items.
In this case, we'll look at Stephen Curry, a professional basketball player with the Golden State Warriors.
He bought a Bored Mutant Ape NFT for 55 ETH ($180 000). A collectible which is unique in its own way with its green zombie eyes, blue fur and a brown tweed suit.
He later did upload it on Twitter as his profile picture
Source: Twitter
Some other pro-athletes in the non-fungible token space include Cleveland Browns' Odell Beckham Jr. and tennis player Naomi Osaka
Punks and Bored Apes Comparison
CryptoPunks was launched in 2017, and its collection has had $1.52 billion in trading volume, making it second to Axie Infinity with $2.7 billion. However, CryptoPunks only needed 18.833 sold NFTs for that. That's a lifetime average of $80.709 per transacted NFT. Furthermore, the most expensive CryptoPunk sold for more than $7.5 million.
The Bored Ape Yacht Club was launched earlier this year and has seen $589 million in NFT trading volume. With 21.751 sold NFTs, that gives the average Bored Ape a $27.079 price tag over its lifetime. The most expensive Bored Ape NFT so far, sold for $2.91 million.
Conclusion
Despite CryptoPunks having many top purchases, the Bored Apes are similarly forging on a solid brand that every day appears to outdo itself in the NFT space.
With its modern illustrations, bright colors, and relatable features, the brand is likely to shoot to greater heights in the coming days.