Speaking at the ongoing BRICS Summit, Russian President Vladimir Putin says that the fading global role of the US dollar is an "objective and irreversible" process. The President spoke on the economic alliances' work for the "global majority" and the de-dollarization efforts they have employed.
Although Putin wasn't physically at the gathering; he appeared at the 2023 BRICS summit via video link from Russia. Moreover, the two-day summit will see more than 40 heads of state gather with the economic alliance to discuss its presence globally, and its intention to strengthen the position of the global south.
Also Read: Putin Holds Call With Iran to Discuss Joining BRICS Alliance
Putin Discusses Irreversible De-Dollarization at BRICS Summit
The entire world is watching to see what unfolds at the long-awaited BRICS Summit. Taking place this week in Johannesburg, the event is tremendously important to the bloc's continued development. With discussion surrounding currency usage and expansion, it could have massive implications for the collective shortly.
Now, speaking at the BRICS summit, Russian President Vladimir Putin discussed the US dollar's fading as an "irreversible process." Indeed, Reuters reported a recorded statement on the developing bloc. "The objective, irreversible process of de-dollarization of our economic ties is gaining momentum," Putin said in a statement made today.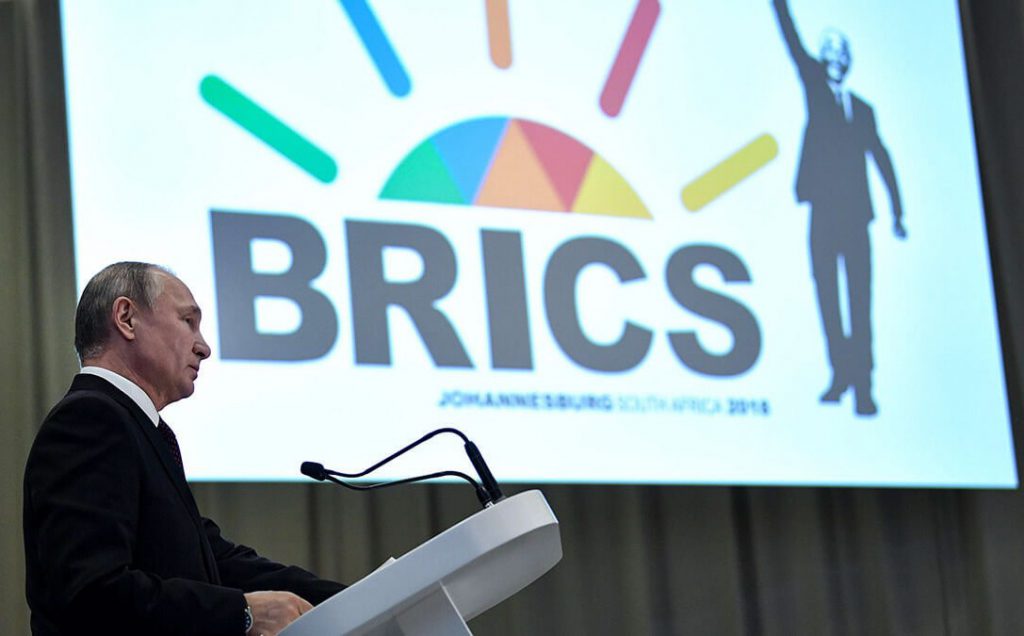 Also Read: China to Urge BRICS Alliance to Embrace G7 Opposition
Additionally, the President discussed the focus on the bloc and the hopeful fruit of its efforts. "We cooperate on the principles of equality, partnership support, and respect for each other's interests, and this is the essence of the future-oriented strategic course of our associate, a course that meets the aspirations of the main part of the world community, the so-called global majority," Putin remarked.
The BRICS bloc of Brazil, Russia, India, China, and South Africa comprises over 40% of the world's population. Additionally, many expect the bloc to embrace an initial expansion initiative following the summit's conclusion. However, Putin did not directly comment on those expansion efforts.