Putting its troubles from 2022 behind, Bitcoin [BTC] commenced 2023 on a positive trajectory. It successfully overcame the fears associated with the "Rektember" trend. This is after it registered a 1.94% surge, a feat not seen in the past six years. Yet, the critical question remains whether Bitcoin will conclude the year on a positive note, especially considering that Q4, notably October, is often regarded as one of the most promising months for the leading cryptocurrency.
In the past, the fourth quarter, particularly October, has shown a tendency to be favorable for crypto. For example, despite the bearish conditions in 2022, Bitcoin recorded an impressive nearly 6% increase in value in the same month. In 2021, BTC saw a remarkable surge of 40% during October. This pattern of positive performance has been observed consistently throughout the years.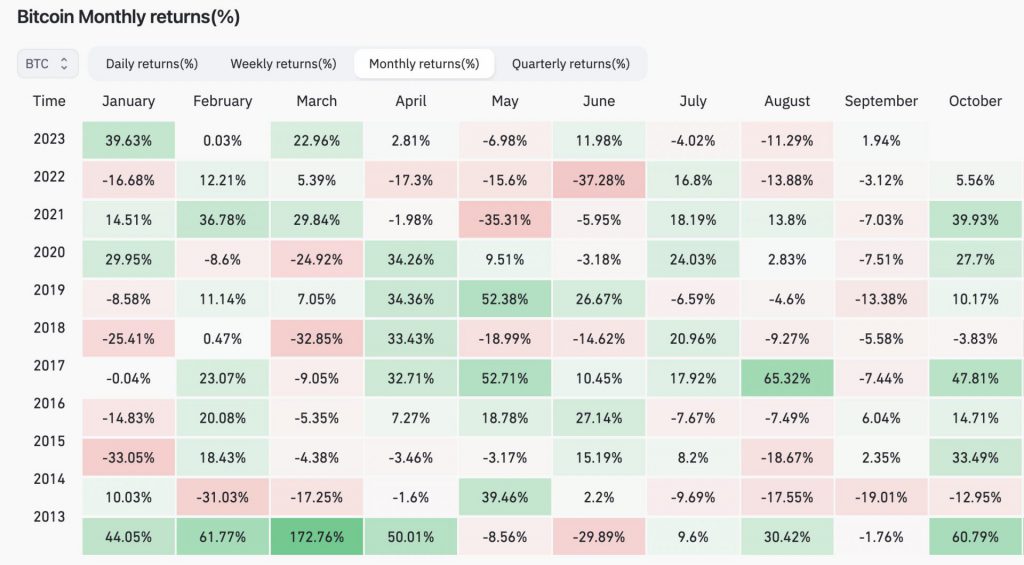 At press time, as BTC trades at $26,410.21, the real question is whether the asset can report history and see a notable surge in the coming month.
Can Bitcoin live up to its October expectations?
In addition to the notable past price increases, experts draw attention to the approaching deadlines for Bitcoin spot exchange-traded funds [ETFs]. Several Bitcoin ETF filings have their second deadlines scheduled for October. The impending deadline pertains to applications submitted by BlackRock, Bitwise, Wisdom Tree, Invesco Galaxy, Fidelity, Hashdex, VanEck, and Valkyrie. More precisely, these highlighted firms face their second deadline falling within the period from Oct. 7 to Oct. 19, 2023. This development has the potential to serve as a significant catalyst in the upcoming month.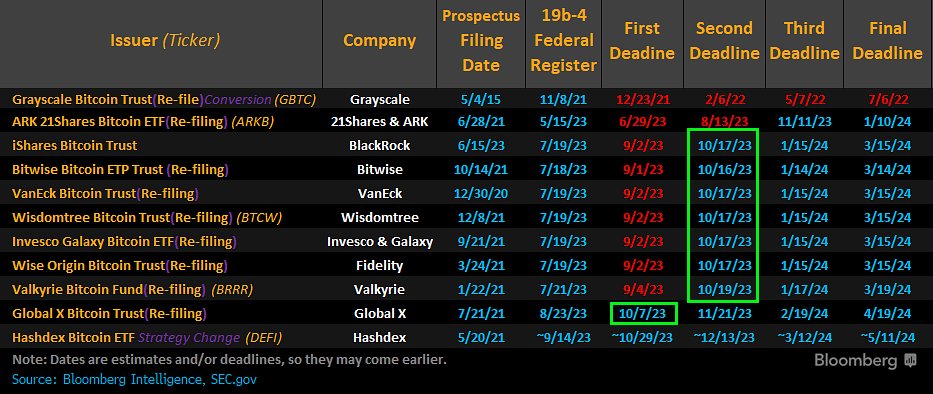 Furthermore, a previous report from JPMorgan indicated that retail interest in Bitcoin is expected to remain strong in the year leading up to the next halving event. This implies that JPMorgan expected enthusiasm and investment from individual retail investors in BTC, reflecting a positive outlook for Bitcoin's performance in the immediate future.
Additionally, October means the commencement of the holiday season, traditionally characterized by heightened consumer expenditure. This uptick in spending can result in greater interest in Bitcoin as individuals seek alternative methods to cover their holiday expenses.
Also Read: JPMorgan Predicts Strong 'Retail Demand' for Bitcoin Leading Up to Halving
So what is the price target for Q4?
According to a recent report from Matrixport, Bitcoin is expected to reach a maximum value of $37,000 by the end of 2023. At present, Bitcoin's volatility index stands at a minimal 1.14%. While reduced volatility can be helpful for the overall market, a prolonged absence of volatility may have negative implications for digital assets.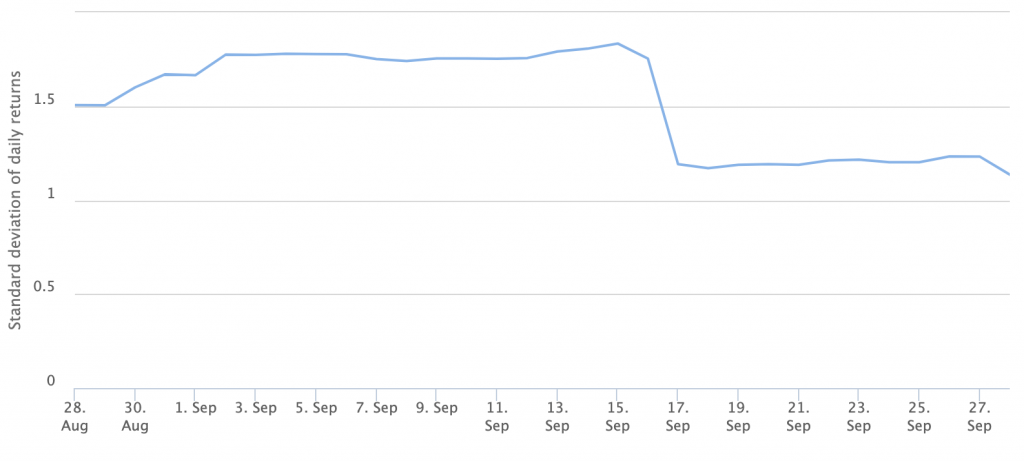 Also Read: Bitcoin Poised to Hit $37K Before 2024 – Matrixport