Dogecoin, just like most of the other coins of the market, had quite an overt haircut during the recent crash. Before 21 January's crash, the coin was trading around $0.1576. However, by Saturday, the coin was on its knees to $0.1200.
Even though the coin has fairly recovered over the last couple of days, it has not yet been able to climb back to its pre-crash levels. At the time of press, Dogecoin was seen trading at $0.1423, down by 5% on the daily tab.
Community to DOGE's rescue?
The price swings of DOGE, have quite evidently managed to garner the attention of people from the community. The token's hashtag has been trending on social media platforms like Twitter over the past few hours.
In fact, Sanbase's data brought to light that Dogecoin's social volume indicator has been whirling around its monthly highs. The readings lately of this metric bring to light that chat conversations, forum posts, comments, and tweets related to Dogecoin have been going out in full steam.
Now, as can be seen from the chart below, DOGE's price has more often than not peaked when whenever the social sentiment has been favorable.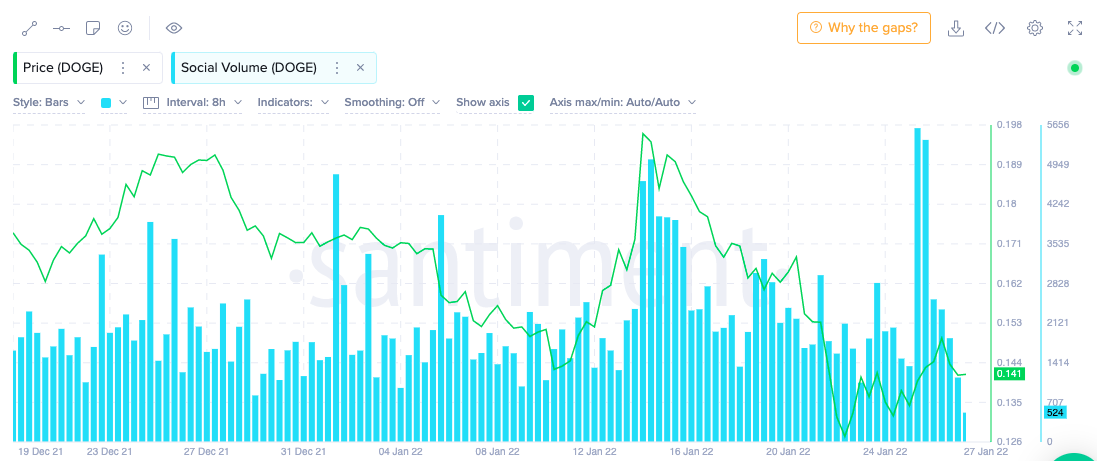 Grimace to play spoilsport?
Well, this time around too, a similar outcome can be expected. Even though the volume peaks recorded over the last couple of days were a direct result of the excitement instigated by its 'Father' Elon Musk and US-based fast-food chain McDonald's, DOGE has been able to stand up for itself.
Post proclaiming that he'd eat a 'happy meal' on TV if McD started accepting Dogecoin as a payment means, Musk set the social media stage right for people to start voicing out their opinions.
READ ALSO: What are top Dogecoin hodlers up to?
A day later, however, the fast-food giant replied stating that it would accept the aforesaid offer only if Musk's Tesla started accepting 'grimacecoin.'
Right after the said events, GrimaceCoin's value indeed shot up astronomically. Nonetheless, it couldn't steal Dogecoin's thunder.
So, #Dogecoin continuing to trend is only a sign of the community's unconditional support towards this coin.
READ ALSO: MrBeast to accept Dogecoin?
Additionally, the Dogecoin market, in its entirety, was seen inclining towards the bulls at the time of press. As per the order book stats from ITB, the buy trade volume has been able to overshadow the sell volume in the half, one, three, and six-hour time frame.


So now, if the pendulum remains inclined towards buyers for the next few hours, DOGE, with the help of buyers and community support would be able to start negating its losses. However, if bears manage to take over, then, the tables would turn over and Dogecoin's downtrend would persist.