Coinbase is reportedly in talks with several major Canadian banks. It is prompting top companies from the traditional finance industry to start supporting the crypto industry. The exchange's executive is hopeful that over the next few quarters, some of the region's larger banks "will start participating" in the crypto economy.
In a recent interview, the Director of Coinbase's Canada operations, Lucas Matheson, revealed that he has been having conversations with Canada's "tier-one banks." He did not specifically name them, but the top-tier banks in Canada are collectively known as the Big Five. They include The Royal Bank of Canada, Toronto-Dominion Bank, Bank of Nova Scotia, Bank of Montreal, and Canadian Imperial Bank of Commerce. Matheson said,
"We have five banks that have the majority of Canadians banking with them and so one of the things that I'm working on in Canada is working closely with tier one banks to start banking crypto and start supporting our industry."
Coinbase launched operations in Canada in mid-August. The exchange labeled this move a "pivotal milestone" within its global expansion strategy. While this development was received positively by the community, it failed to spark fireworks on the entity-investment front.
CoinShares latest weekly report pointed out that asset managers pulled out $55 million from crypto investments last week. Outflows registered in Canada were significantly higher than those registered in the United States. The former contributed $35 million of the negative flows, while the latter's figure stood at only -$5.5 million.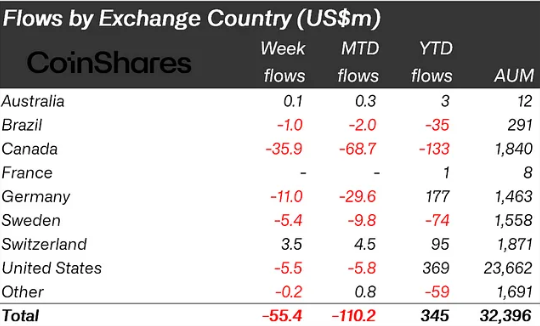 Also Read: FTX Seeks Advice From Mike Novogratz's Firm for Its $3 Billion Crypto
New Regulations Could Help Banks Issue Their Own Crypto Assets: Lawyer
Towards the end of July, Canadian regulators unveiled new bank capital rules. The consultation regarding this is open until Sept. 20. A top crypto lawyer believes that the proposed regulations could pave the way for Canadian banks to issue stablecoins and other crypto assets.
Matthew Burgoyne, a partner at Osler, Hoskin & Harcourt, said in a recent interview that under the proposed regulations, banks could issue "tokenized deposits," or deposits backed by a digital registry. He contended that they could even issue stablecoins, as long as the bank set aside sufficient money to back them up.
Banks have been looking for regulatory clarity so they can offer more crypto products to big business clients. The regulation on the table gives entities some clarity on risk management. It also illustrated how much capital they would have to set aside. "That's the first step," Burgoyne added.
Acknowledging the country's "regulation by engagement approach," Coinbase's Matheson said the regulators have been helpful in finding the right regulatory framework for both the digital asset economy and the country's own ambitions to become a leader in the space.
Also Read: Crypto SIM Swap Scams Fetch Hackers $13 Million in 4 Months