Amidst its growing prominence, could the native cryptocurrency of the Cardano blockchain, ADA make a $1 price in 2023 a reality? Moreover, as it has emerged in 2023, some analysts are betting on the potential of the digital asset to keep ascending.
Additionally, crypto analyst @ali_charts stated that Cardano is confirming a head and shoulders pattern. Subsequently, the analysis noted that a 44% breakout could push the price of ADA to a price of $0.60. Thus, leading the way for a potential $1 trajectory this year.
ADA Heading Toward $1?
The cryptocurrency market has seen a massive bounce back thus far in 2023. Moreover, following the horrendous crypto winter that preceded the year, movement in the industry has been overwhelmingly positive. Primarily seen in the 80% gains that Bitcoin has seen this year.
Alternatively, Cardano has seen a rise in prominence in recent weeks, leading many to question if ADA could be headed toward $1 in 2023. Moreover, Finbold reported that the digital asset has shown signs that the token's bear market could be coming to an end.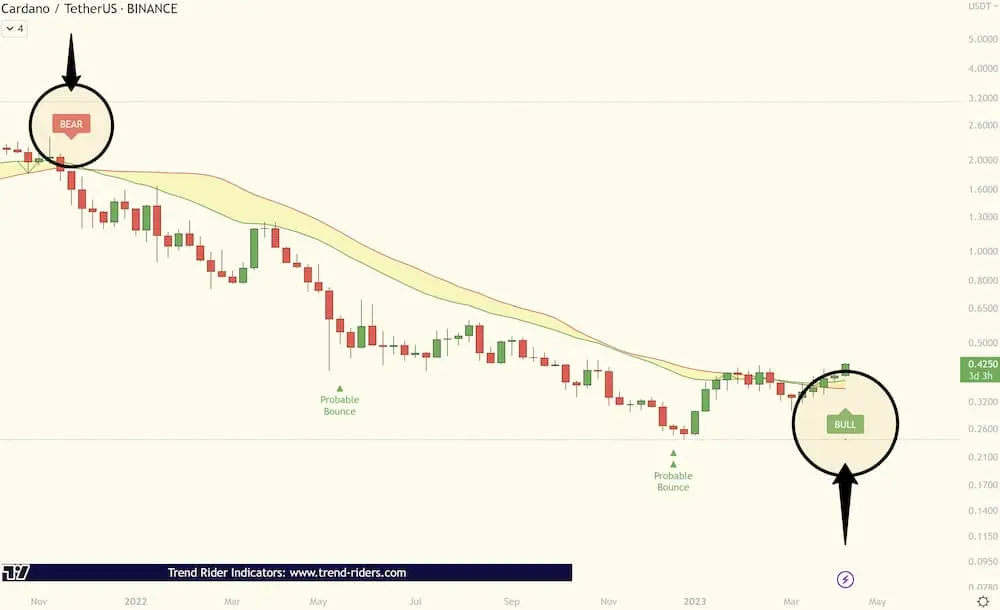 Specifically, the report noted an analysis done by trading expert Trend Rider. Thus, the data noted a signal on the 1-week chart that mirrored the shift for Bitcoin, when BTC was at $22,000. Now, if that signal can hold firm, a bright future for Cardano could be on the horizon.
Additionally, crypto is aided by whale activity in the trading market. Furthermore, the early days of April, and the waning weeks of March, saw whales acquire 560 million ADA, equating to a value of $218.4 million.
Currently, Cardano maintains a price of $0.43, which is up 5.42% over the past 24 hours. Nevertheless, sporting a market cap of $15.2 billion, the Finbold report noted an influx of more than $2 billion to its market value coinciding with its recent price climb.