Cardano was developed, taking inspiration from 16th-century Italian polymath Gerolamo Cardano and launched in 2017. Since its introduction, the Cardano ecosystem has seen significant growth and development.
On September 2, 2021, the price of the native ADA token reached an all-time high of $3.0992. However, from that peak, ADA has experienced a substantial decline of approximately 90%, leading to losses for investors who entered the ecosystem around the time of the token's high point in 2021.
Also read: MetaMask Adds Stripe Fiat Onramp for US Users
According to recent data from IntoTheBlock, approximately 4.17 million Cardano ADA addresses are currently facing a loss.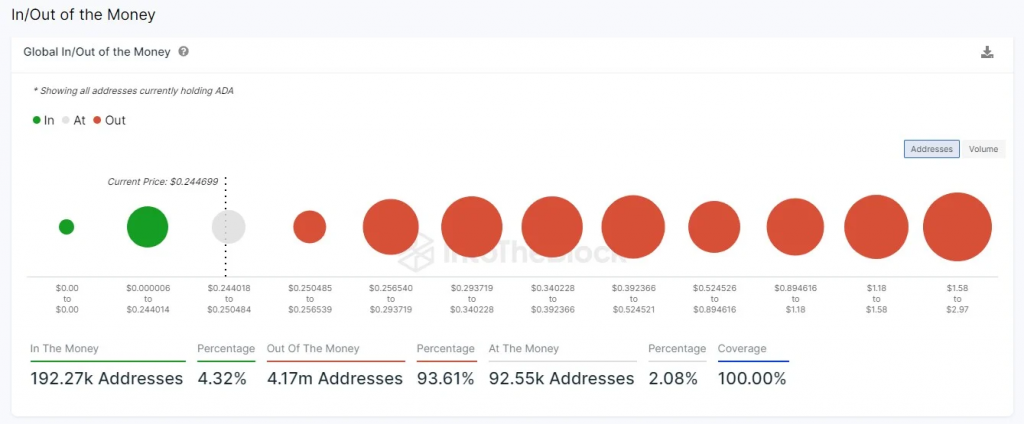 93.6% of Cardano holders are at a loss
IntoTheBlock's "Break Even Price" indicator reveals that 4.17 million Cardano investors' addresses are currently held at a loss. These addresses indicate that 93.61% of the holders are at a loss. The data from the image above shows that 4.32%, or 192.27k addresses, are currently held at profit. 92.55k addresses, or 2.08% of addresses, are holding breakeven.
Also read: Hong Kong Retail Crypto Investors Largely Uninformed on Regulatory Regime: Report
CoinMarketCap data reveal that ADA is trading at $0.2438 at press time, with a 1.1% drop in value over the last 24 hours. ADA is also down by 6.4% in the last seven days and 2% in the last 30 days.