Cardano's demand zone between $1.20-$1.184 continues to be a fail-safe but bearish woes are difficult to overlook. Bearish readings along the RSI and MACD meant that ADA bulls had a mountain to climb in order to gain market control. Those buying ADA tokens should keep a reasonable take-profit and set up short trades if the price closes below $1.184. At the time of writing, ADA traded at $1.23, up by 1.3% over the last 24 hours.
Cardano 4-hour time frame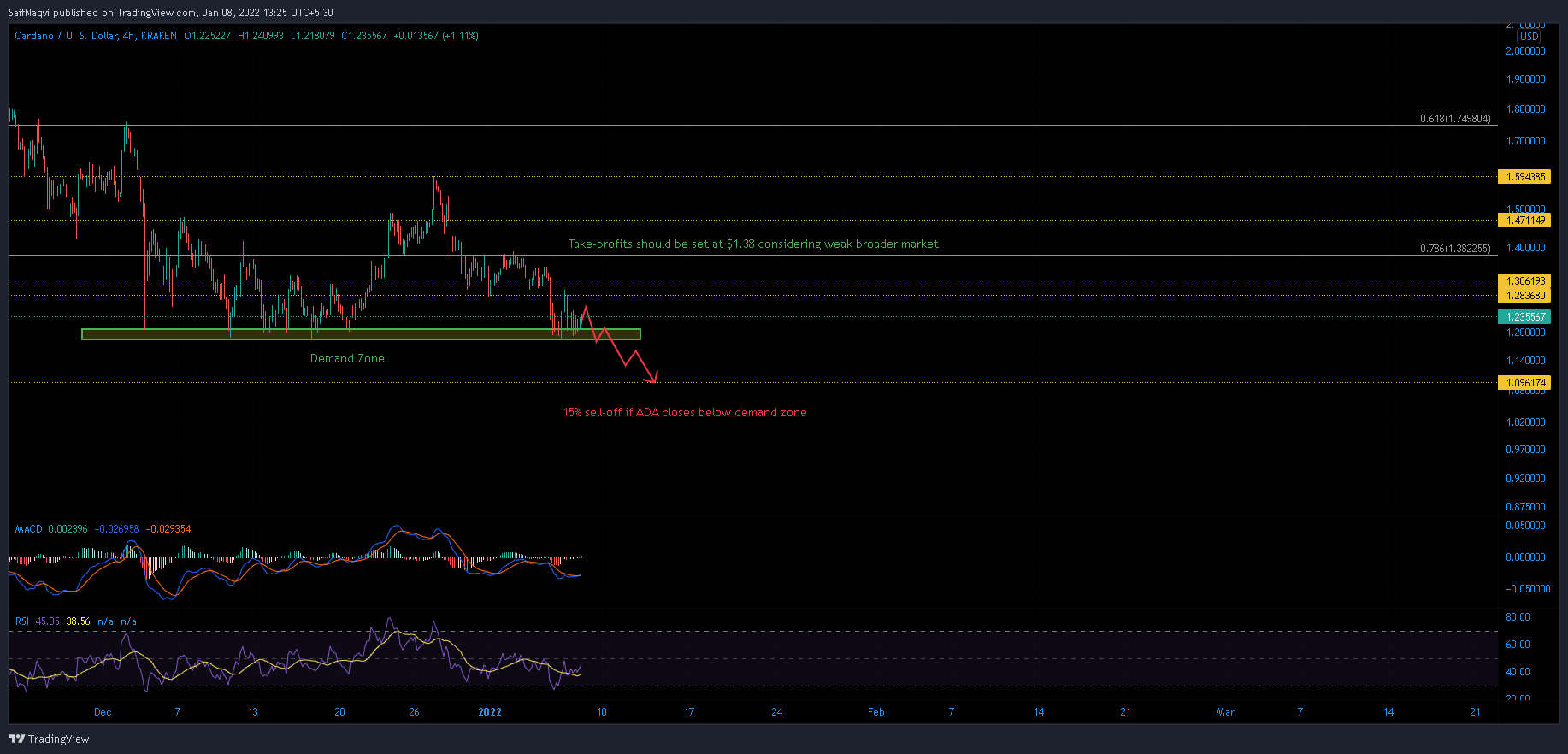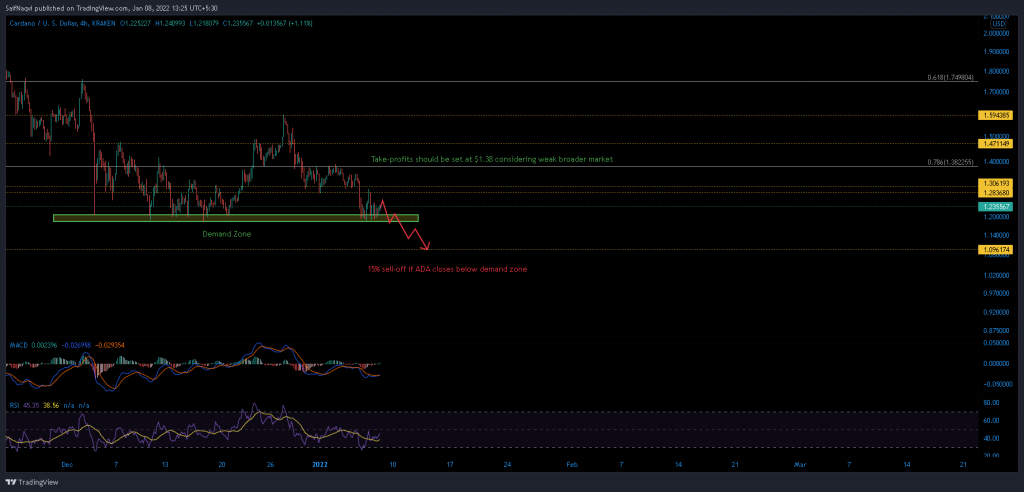 Cardano has been quite susceptible to broader market changes considering a strong correlation with Bitcoin. The king coin's weak end to 2021 weighed heavily on ADA, as the latter suffered a 19% sell-off between 27 December- 1 January. ADA's price took another 12% beating after Bitcoin slipped below $45K a few days ago.
Fortunately, ADA's demand zone between $1.20-$1.184 has been resolute in its defense. The region has been tested eight times since early December but bulls have held strong on each occasion. Save for this development, forming a bullish argument for ADA was strenuous. Bulls had to flip a near-term resistance zone of $1.28-$1.30 and the 50-SMA (not shown) to capture ground above the 78.6% Fibonacci level.
From there, swing highs at $1.47 and $1.59 had to be toppled on strong volumes for a comeback above the 61.8% Fibonacci level. Judging by ADA's indicators, a 45% climb to $1.74 from $1.184 was optimistic, to say the least.
Indicators
ADA's indicators continued to assist sellers. The 4-hour RSI and MACD have traded below their mid-lines for a period of well over a week now. A sustained recovery should not be expected till these indicators move into bullish positions. For the moment, the MACD's fast-moving line and intertwined with the Signal line, suggesting that ADA's demand zone was resisting selling pressure. However, broader market uncertainties still lingered and ADA was vulnerable to breakdown. Should its price close below $1.18, a further 15% decline would take effect, with the closest support available only at $1.02.
Conclusion
Going long on ADA was extremely risky even though its demand zone looked strong. A safer call would be to short ADA once it closes below $1.184. Those who have already initiated longs at ADA's demand zone should maintain a reasonable take-profit of around $1.38.